Grace Online
Join us outside for our weekly in-person Sunday morning Church service, or online via Zoom or Facebook live.   On October 4, we will meet in Buddy Todd Park at 9:30am (2800 Mesa Dr., Oceanside). We have moved all of  small groups, Bible Studies, Saturday Men's Group, etc. to an online format. These small group meetings are being done with the Zoom app (see http://zoom.us) if you'd like more info on the app).
For the in-person services, in an effort to maintain a safe and loving environment, and in keeping with our local county health guidelines, please observe the following: wear a mask when you are not able to maintain a physical distance of at least 6 feet from others not in your household, sit with your household in chairs grouped for physical distancing, please no hugs or handshakes (elbow bumps have become the new standard greeting!), and we lovingly ask anyone who is ill or at-risk to join us via zoom.
We have been pleasantly surprised at how well we've been able to connect with each other online! It is very easy to use, and works on smartphones, tablets, laptop computers…pretty much any device that can get on the internet.  You can even join a meeting with a simple audio only phone (like a home phone or a flip phone) It works best if the app is downloaded to your device before you start, but you should be able to join a meeting by simply clicking on the links below even if you haven't yet installed the app.  If you experience any difficult getting online with us, please send an email to info@gracevc.org.  See you online!
Sunday, October 4, Worship at beautiful Buddy Todd Park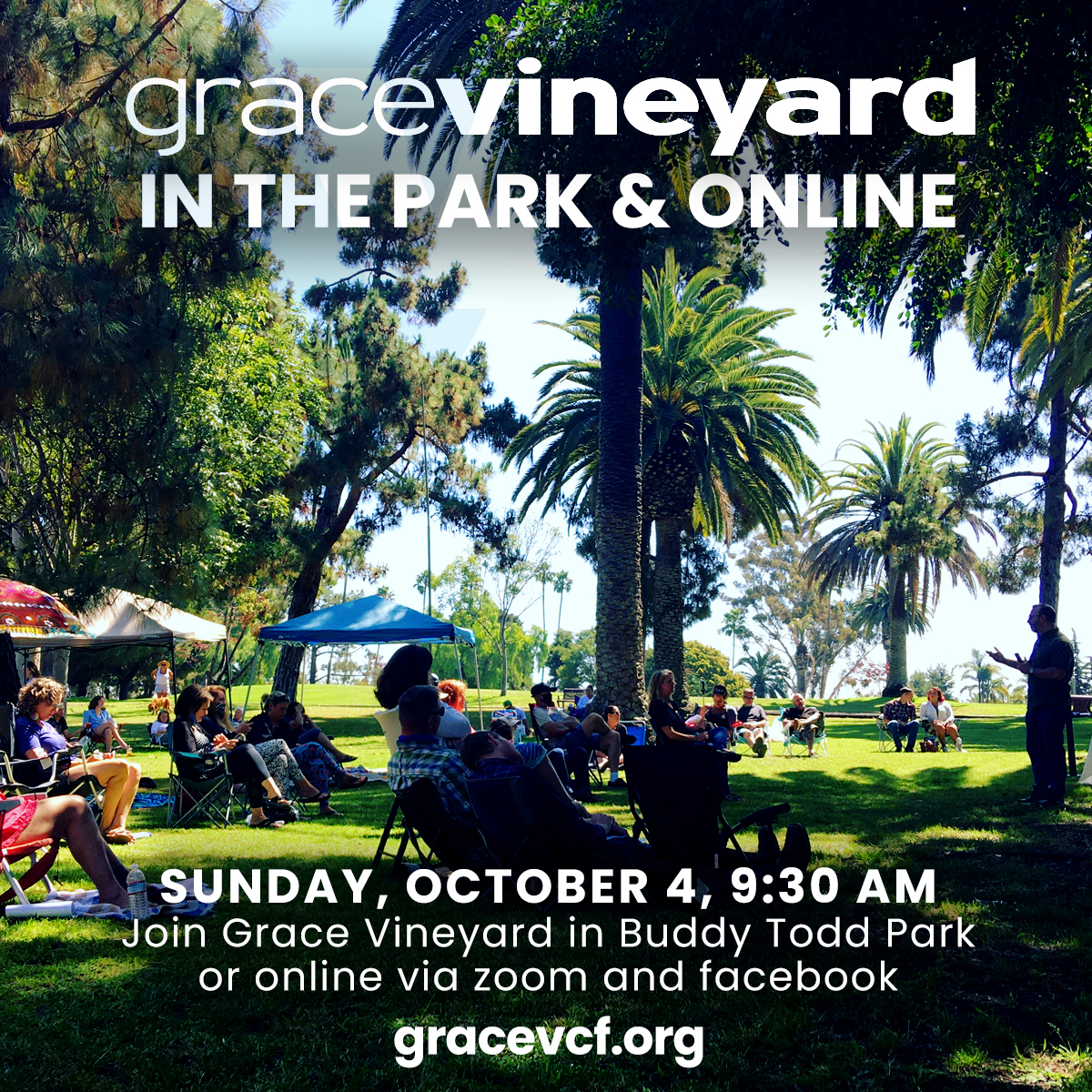 This week we'll worship at Buddy Todd Park, 2800 Mesa Drive in Oceanside. We'll meet in the beautiful grove of trees right next to the parking lot. Bring your own chair and don't forget to bring a face covering to be worn when within 6 feet of people who are not part of your own household.  The service will also be broadcast on Zoom and Facebook live (at the Grace Vineyard Facebook page).  Here's the zoom info you'll need:
https://us02web.zoom.us/j/153112432?pwd=WlJjbWZNeHo0NXBKM0VvbDkrYXV2QT09
Meeting ID: 153 112 432
Password: 684814
One tap mobile
+16699009128,,153112432#
Upcoming Meetings
To join one of our small group meetings this week, either click on the link, click on "Join" from the zoom app and enter the Meeting ID, or for audio-only on a standard phone, dial the number and enter the Meeting ID followed by pressing the '#' button
Sunday Worship Service - 9:30AM (on Zoom)


https://us02web.zoom.us/j/153112432?pwd=WlJjbWZNeHo0NXBKM0VvbDkrYXV2QT09
Meeting ID: 153 112 432, Password 684814
Audio Only
+1 669 900 9128
enter Meeting ID: 153112432#

Sunday Youth Service - 10:00am (on Zoom)


Meeting ID: 950 856 0338
Morning Prayer Online Tuesday thru Thursday at 7am (on Zoom)


Meeting ID: 812 2225 0027
Password: 006314
One tap mobile
+16699006833,,81222250027#,,#,006314#
Please call Shannon Frye with prayer requests or for any questions, at 760.419.4242
Monday Worship Small Group 7:00pm (on Zoom)


Meeting ID: 347-727-206, password: 962822

Women of Grace Tues Night Meeting 7:00pm-8:30pm (on Zoom)


Meeting ID: 853 9877 6026, Password: 049683

Wednesday Youth Group 6:30-8:30pm (on Zoom)


Meeting ID: 950 856 0338
Wednesday Home Group 7:00pm-9:00pm (on Zoom)


Meeting ID: 422 082 264
Password: 955746
Thursday Night Home Group, 7:00pm(on Zoom)


Meeting ID: 480 203 1063
Password: surrender
Men's Virtual Breakfast Saturday 9:00am (on Zoom)


Meeting ID: 480 203 1063
Password: surrender