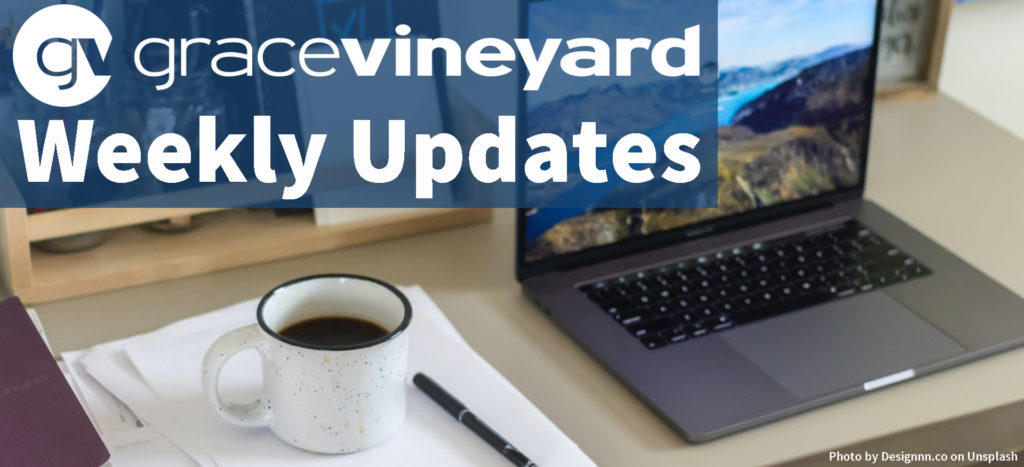 December 10, 2021
Hi Grace Vineyard and Friends,
It's Friday, and it's time for our weekly update.  Let's dive right in…
Men, tomorrow is the 2nd Saturday of the month, and that means it's time for our monthly men's breakfast.  Join us at Ty's Burgerhouse, 515 Mission Ave, at 8am for a delicious breakfast, fellowship, worship, and an inspiring message.  This week our good friend Dustin Nelson is our speaker.  Dustin has recently moved to North County from Florida, with a vision to equip people for ministry and help plant churches.  He has an infectious love for Jesus and humanity.  You'll be glad you came!
Christmas is in the air, and we have several Christmas events to tell you about…
California Artist's Academy Christmas Cabaret
We are always excited when the California Artist's Academy is able to use our beautiful theater for one of their productions.  For those of you who don't know, CAA is a Performing Arts Conservatory for youth ages 8-18, and they have partnered with our church family for many years now.  Throughout the years many of our Grace kids, including both of mine, have been blessed to participate.
This Saturday, at 7:00pm, CAA presents their 8th Annual Fundraiser.
The CAA students, and maybe even a few guests, will be performing a variety of Christmas songs in an informal cabaret setting.
At this FUNdraiser, be sure to nosh on some wonderful treats and have a cup of cider or cocoa.
There will be a raffle with all sorts of fun prizes.
DATE:  Saturday, December 11th
TIME: 7:00pm
ADMISSION: $5 at-the-door
This coming Sunday night, join us for an all-church Christmas party.   We'll have a simple dinner of Pizza and Salad, we'll be showing a short movie, we'll sing a few Christmas Carols, but mostly we'll be just enjoying hanging out together.  See you at the church at 6pm.
Ladies – you'll have your own very special Christmas Party on Saturday, December 18th, from 2-5pm.  There will be Christmas Carols led by Ammee Huzil, a Christmas Devotional led by Treina Nash, finger foods, a $5 White Elephant gift exchange, a Christmas Craft… and just tons of joyful fellowship.  Contact Kim Ohst for more info at 760-519-4558 or kimohst@gmail.com.  Look for a table in the lobby of the church this Sunday for more info.
Christmas Carol Jamboree!
Let the Christmas joy continue on December 20th, 6:30-8:30PM.  A bunch of us are gathering round the piano for indoor caroling at The Nash Home, 936 Sierra Ct, Vista. Join the fun with your clarinet, ukulele, tambourine, etc, or just come lend your voice—music and lyrics will be provided.  Dress for Christmas and bring a favorite holiday appetizer to share. Text your RSVP to Treina Nash @ 760.685.1901
Christmas Eve Candlelight Service
Our friends at The River Family Church have invited us to join them again this year for Christmas Eve at the River Gardens.  Join us for a beautiful evening under the stars, next to the giant waterfall (if you haven't seen this place yet, get ready…it's stunning in its beauty!) with a unique retelling of the Christmas story through song. Of course, we'll end our evening with everyone  holding a candle while we sing "Silent Night."  We are planning a 1 hour service from 5-6pm.  This is such a great way to begin your Christmas celebration.
Sunday Morning – Traci's Story + More Christian DNA
This coming Sunday I'm excited to invite our good friend Traci Blagg to share her Jesus' story.  From time to time we're inviting folks to tell the story of how they became followers of Jesus, and every story is filled with hope and the miraculous hand of God redeeming a life out of darkness into His marvelous light.  If her name sounds familiar, it's because Traci is the physician's assistant who had the vision of the medical clinic at Breath of Heaven Children's Village in Zambia. I think she told us that she had been praying for this for 17 years, and now the vision is reality as we are set to open the clinic in January!  But Traci's story with Jesus begins long before this.
After Traci's story, I'll pick up with the Christian DNA series again, and begin talking about "The Expectant Gene" and how followers of Jesus live a life of hunger and expectation for God to break into their lives in miraculous ways – experiences that cannot be explained by the material world, but must be explained by God's supernatural action in our world.  I think we'll leave Sunday morning with a renewed sense of hope and faith to reach out to God for Him to break into our world with the power and presence of His Kingdom.
We continue to offer an online experience for those who cannot join us in person on Sunday morning. Here's the online info:  Zoom Meeting ID  153 112 432, Passcode 684814.   We'll also be broadcasting the service on Facebook Live at http://facebook.com/gracevcf.
Serving Refugees in North County
Here's a quick update on our opportunity to be "missionaries in our own backyard".    A few weeks ago,  Jane Register from World Relief spoke on a Sunday morning about the refugee situation our world is facing, and the unique opportunities we have to show the love of Jesus to people who have been forced to leave their own home country to seek refuge.  We're working to help our first family this weekend.  A family of 5 – Mom, Dad, and 3 children ages 8, 6, and 4 – have escaped Afghanistan and are living in an apartment in Carlsbad.  They have been living without any furniture since October, and several of us have been collecting the needed furnishings to help them get their new home set up with deliveries starting tonight.  This particular project has mostly been handled by our men's ministry. If you would like to be involved in helping this family or future refugee families, you just need to let us know.  Send an email to info@gracevf.org and we'll get you in the loop.  The refugee situation is rather chaotic, so we have to respond as needs are brought to our attention…in other words we don't know when or what the next need will be, so we don't have the luxury of doing a lot of planning at this point.  If you want to be involved, and are willing to be flexible with the needs as they arise, let us know and we'll include you in the adventure!
And that's it for this week's update.  Have a GREAT weekend, and I'll see you tomorrow or Sunday or both!
Blessings and love,
Ron Ohst
---
Tithes and Offerings Online
THANKS for taking ownership in the life and ministry of Grace Vineyard – it takes all of us!   If you'd like to give your tithe or offering online, click the donate button below.  Please remember we are "getting our house ready for guests" and have several thousand dollars worth of important improvements waiting on our offerings. If your offering is for a specific purpose such as building or benevolence, please note that where it will prompt you with "what's this donation for?"  Thanks!