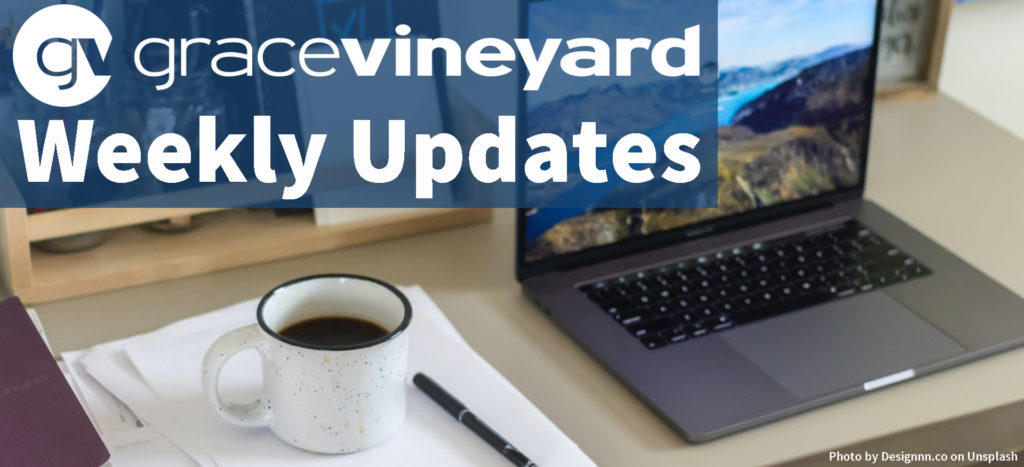 Happy Friday to Grace Vineyard and Friends of Grace Vineyard,
Welcome to a new weekend, and welcome to December! Can you believe we're in the last month of 2021?!  It's shaping up to be a wonderful season for us.  Let me tell you about a few things that are on the calendar…
Ordaining Richard "Snake" Ertel This Sunday
We believe that only God can call a person into a life of ministry, but that people have the honor of recognizing and blessing God's calling on individuals.  It has become clear to our leadership council that Richard Ertel (affectionately called "Snake" by all his friends) is one of those people.  Snake has been preaching, discipling, counseling, officiating at weddings, officiating at funerals, and now has launched a new ministry called "Convicted For Christ".  Tomorrow we are going to ordain Snake as a minister of the Gospel of Jesus Christ, and we hope you can be there to join us in praying for Snake and celebrating his life.  Snake will be bringing the message after we pray over him, and he'll be speaking from Revelation 3:20 where Jesus says, "Here I am! I stand at the door and knock.  If anyone hears my voice and opens the door, I will come in, and eat with that person, and they with me."
We continue to offer an online experience for those who cannot join us in person on Sunday morning. Here's the online info:  Zoom Meeting ID  153 112 432, Passcode 684814.   We'll also be broadcasting the service on Facebook Live at http://facebook.com/gracevcf.
Men's Breakfast December 11
Men, next Saturday is time for our monthly men's breakfast at Ty's Burgerhouse (515 Mission Ave).  We meet at 8am for a great hangout time with biscuits and gravy, eggs, potatoes….let's just say a delicious breakfast.  Our speaker this month is Dustin Nelson, a new friend of our who has recently moved here from Florida.  He is overflowing with love for Jesus and love for hurting people. He's been going out with Michael Aplikoswky and Convicted for Christ, ministering to people without shelter in North County, and we are excited to welcome him for an inspiring word.  Any questions? Text or call Snake at 760-622-4572 or Michael at 760-473-9177.
All Church Christmas Party Sunday, December 12
It's time for a Christmas Party!  We're keeping it pretty simple and very fun — join us at the church on Sunday, December 12th, at 6pm.  We'll have pizza and salads for dinner (that's the simple part),and we'd love for everyone who wants to, to bring their favorite Christmas dessert to share.  We have a short Christmas movie that we'll watch together from the creators of  "The Chosen", and a couple more fun things to do.  It is so great when we spend time together just enjoying each other, having and fun and sharing a meal.  We do hope you'll join us.   If you're planning on coming, could you drop us a line at info@gracevcf.org, or text us at 760-237-4393? Thanks!
Help Us Decorate The Building This Sunday
"Many hands make light work" is really true.  This Sunday (December 5th) right after church, we are decorating our church building for the Christmas season.  We have a tree to set up, and other decorations to make this place look beautiful and festive, and we could use as many men and women who can join us.  We'll provide lunch.  Kim Ohst is overseeing this work, so please text or call and let her know that you can make it (or ask her any questions you may have) at 760-519-4558.
Women's Christmas Party December 18th
Ladies, it's time to mark your calendars for the Women's Christmas Party.  We'll meet at the Church on December 18th from 2-5pm.  There will be Christmas Carols led by Ammee Huzil, a Christmas Devotional led by Treina Nash, finger foods, a $5 White Elephant gift exchange, a Christmas Craft… and just tons of joyful fellowship.  Contact Kim Ohst for more info at 760-519-4558 or kimohst@gmail.com.
Committed to Jesus' Missions
Well, folks, our missions month is over, and now it's time for each of us to renew our commitment for 2021-2022.  We had a really great 4 weeks of Sunday gatherings where global missions was the main focus, and each week brought us to a point of commitment to Jesus' Mission of making disciples from every nation, tribe, tongue…every people group on the planet.   Commitment, as we often say, is measured in terms of time, energy, and money.  I'm asking every person who calls Grace Vineyard their home to join in our shared commitment to Jesus' mission through our mission program, including committing to giving money (whether many dollars or few – whatever you're able to do) that we send to our missionaries around the world for their support.  Seriously, if you can only commit to $5 per month, that is great, cuz I know that every time you give that $5, you'll be thinking about and praying for our missionaries, and that is priceless! Please indicate your commitment (even if you are simply continuing what you did in 2020-2021) by clicking on this link and filling out the form you'll find there: 2021-2022 Missions Commitment.
By the way, if you missed last week's message, we've uploaded a copy to youtube so you can watch it right here:

And that's all I have for you in this week's update.  May your Saturday be filled with joy.  I look forward to worshiping with you on Sunday at 9:30!
With blessings and love,
Ron Ohst
---
Tithes and Offerings Online
THANKS for taking ownership in the life and ministry of Grace Vineyard – it takes all of us!   If you'd like to give your tithe or offering online, click the donate button below.  Please remember we are "getting our house ready for guests" and have several thousand dollars worth of important improvements waiting on our offerings. If your offering is for a specific purpose such as building or benevolence, please note that where it will prompt you with "what's this donation for?"  Thanks!