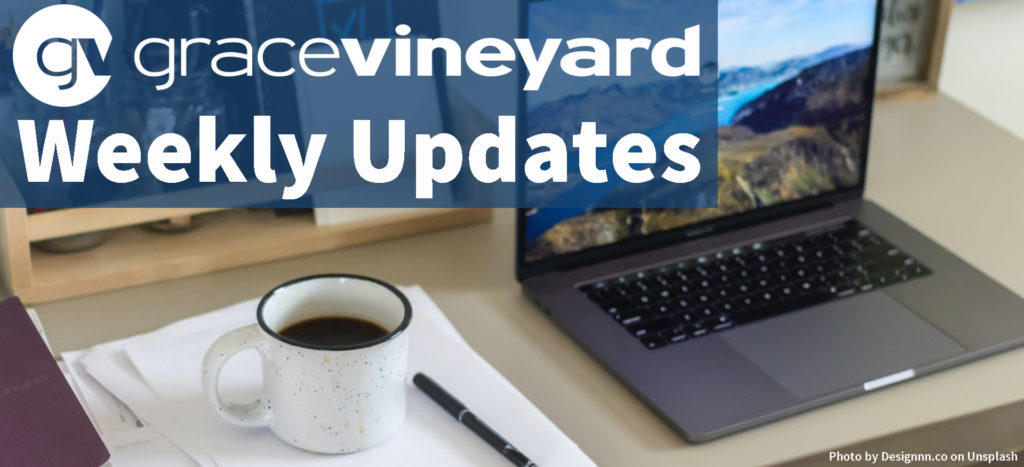 November 19, 2021
Hello Grace Vineyard and Friends!
Welcome to another weekend, and another Weekly Update email.
Two weeks ago we began our annual month of Missions Focus here.  We've had 2 really inspiring guest speakers, and just in case you missed them, or would like to hear them again, we've made the videos of those talks available for you to see on youtube.  On November 7th Jane Register from World Relief spoke about the amazing opportunity that we are experiencing in Southern California right now with displaced people from many nations finding new homes here.  That talk was called "Mission In Our Own Backyard". Jane reminded us of our calling to love and care for refugees, and briefly describes the current state of refugees around the world and especially in California.  You can watch that talk right here:
Then last week we were blessed to have a visit from the new Missions Coordinator for Vineyard USA, Bubba Justice.  His talk was called "Is He Worthy", and inspired us all to help people we already know meet and follow Jesus.  You can watch Bubba's talk right here:
New Series: The Christian DNA

I'm starting a new series this week, and I'm using the metaphor of DNA.  What do you think of when you hear the word "DNA"?  I found a very simple definition on kids.britannica.com that said, DNA "carries all the information about how a living thing will look and function…"   I found a slightly different description on livescience.com that said, "DNA…contains the instructions an organism needs to develop, live, and reproduce. These instructions are found in every cell and are passed down from parents to their offspring."  In John 3, Jesus described people who put their faith in Him as being "Born Again", so I thought we could use DNA as a useful metaphor for some of the characteristics we could expect to find in people that have experienced a new birth in Jesus Christ.  It's really a series on some of the characteristics that seem important in the Christian life.  I'll talk about various "genes" over the coming weeks. We'll talk about the "Missions Gene" this week and next as we explore God's heart for the nations and how we who follow Christ join Him in His mission to make disciples of every nation.  Future talks will likely include the "Healing Gene" as we explore Jesus' teachings on praying for the sick, the "Compassion Gene" as we explore Jesus' teachings on caring for the brokenhearted and those in need…and more "genes" to follow.  Of course, metaphors only go so far, and this one has its limits.  For example, our physical DNA is inherited at birth, while our "spiritual DNA" is both inherited at our new birth AND developed in the long process of growing in our salvation (sometimes called "renewing the mind" and "sanctification").  When it comes to some of our physical traits, you might say "I was born this way".  When it comes to spiritual traits, you might start saying "I was born-again this way."  🙂
For our Grace Vineyard missions program, it's time to renew our commitments in terms of time, energy, and money.  We support our missionaries with a faith pledge program – every year we let the missions team know how much we think we can commit to give on a monthly basis.  You may have heard me say that as a pastor my goal is for every person who calls Grace Vineyard their home to be committed to Global missions, including a financial commitment – seriously, if it needs to be only $5 a month, that will work, cuz every time I write my missions check I pause and think about global missions and pray.  My dream is for all of us to be involved that way.  To renew your annual commitment, or to start fresh, please fill out the form at this link: 2021-2022 Missions Pledge.  Our goal for 2021-2022 is to have $2,000 per month in commitments.
We continue to offer an online experience for those who cannot join us in person on Sunday morning. Here's the online info:  Zoom Meeting ID  153 112 432, Passcode 684814.   We'll also be broadcasting the service on Facebook Live at http://facebook.com/gracevcf.
Ladies Christmas Party
Ladies, it's time to mark your calendars for the Women's Christmas Party.  We'll meet at the Church on December 18th from 2-5pm.  There will be Christmas Carols led by Ammee Huzil, a Christmas Devotional led by Treina Nash, finger foods, a $5 White Elephant gift exchange, a Christmas Craft… and just tons of joyful fellowship.  Contact Kim Ohst for more info at 760-519-4558 or kimohst@gmail.com.
Spring Men's Retreat Registration is Live
Men, we are excited to be back at Palomar Christian Conference Center on Palomar Mountain for our annual men's retreat in the Spring.  The theme of this retreat is "Authentic Men on Fire: What it means to be a Man".   If you've never been to this conference center, you are in for a real treat.  First of all, the food is awesome – and we know that's important to us guys!  There are also lots of great activities available up there, including: paintball, shotguns, hiking, horseback riding, zip line, and more.  The prices have remained the same as previous years, so that's pretty cool — Dorm style room is $175 and a Hotel style room is $225. We arrive on Friday, March 18th in the evening, and will leave the mountain at noon on Sunday, March 20th.  We'll have a table on Sunday in the back of the church where you can register and reserve your spot.  For your convenience we'll have a credit card reader available on Sunday morning for your registration fee (we'll even hold your money for you if you'd like to start giving a weekly or monthly payment).  Call or text Snake at 760-622-4572, or email him at snake@gracevcf.org.
And that's about it for this week's update.  See you on Sunday morning!
with blessings and love to each of you,
Ron Ohst
---
Tithes and Offerings Online
THANKS for taking ownership in the life and ministry of Grace Vineyard – it takes all of us!   If you'd like to give your tithe or offering online, click the donate button below.  Please remember we are "getting our house ready for guests" and have several thousand dollars worth of important improvements waiting on our offerings. If your offering is for a specific purpose such as building or benevolence, please note that where it will prompt you with "what's this donation for?"  Thanks!