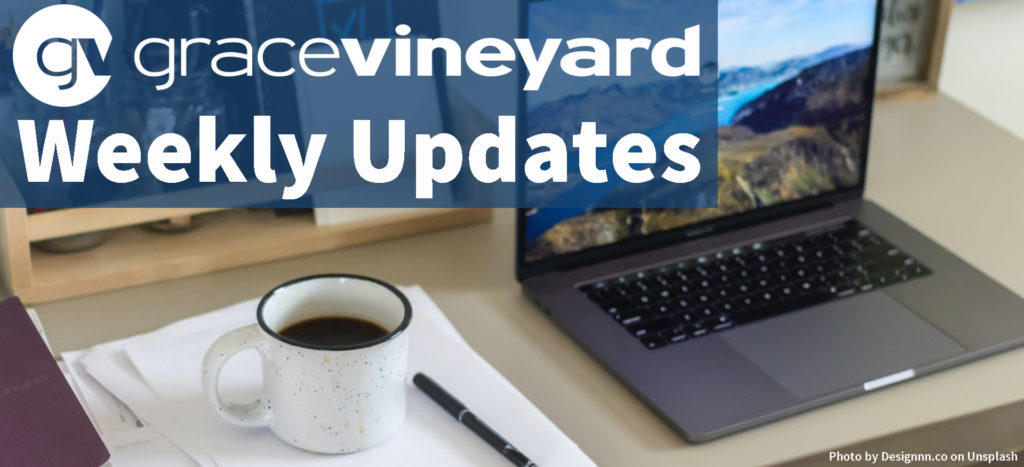 November 12, 2021
Hi Grace Vineyard and Friends!
It's time for our weekly update.  I am REALLY looking forward to Sunday morning AND evening with you this week. Our special guest Bubba Justice is in town for both services. Bubba has been serving as the national coordinator for Vineyard USA for several years, and has recently taken on the role of Missions Coordinator.  In the morning, Bubba will continue our focus on Grace Missions with a talk called "Is He Worthy?"
That title is taken from a passage in the Bible book of The Revelation, where in a dramatic moment in front of God's throne there is a sealed scroll, and a mighty angel asks, "Who is worthy to break the seals and open the scroll?"  John (who is seeing this heavenly vision and recording it for us) weeps because no one is found worthy to open the scroll or even look inside, until one of the elders says to him, "Do not weep!  See, the Lion of the tribe of Judah, the Root of David, has triumphed.  He is able to open the scroll and its seven seals," after which thousands upon thousands of beings burst into worship of Jesus, the "Lamb who was slain". (Revelation 5)  It's a powerful moment, and is beautifully captured in a song we sang at our recent Vineyard National Conference; when we sang it the room just exploded in worship. I want to share a recording of it with you because we're going to learn it and sing it together this Sunday.  Check out this video of the song:
Chris Tomlin – Is He Worthy (Live) from First Baptist Church ATV on Vimeo.
Bubba has told me a little about what He feels the Lord has given him to share with us on Sunday morning, and it's going to be GREAT!  Don't miss it!!
For Sunday mornings, we are meeting in-person, and people can also join us online via zoom.  Here's the online info:  Zoom Meeting ID  153 112 432, Passcode 684814.   We'll also be broadcasting the service on Facebook Live at http://facebook.com/gracevcf.
Sunday Night – Refresh!
Then on Sunday night we'll be back at 6pm for an evening of extended worship and Holy Spirit ministry.  I really would like for all of you who call Grace Vineyard their home to be there if possible.  We are praying for the Holy Spirit to come and refresh and empower us to do the works of Jesus in a profound way.  I'm thinking of that famous prayer recorded in Acts 4, when the brand new church of Jesus Christ gathered and prayed these words: "…enable your servants to speak your word with great boldness.  Stretch out your hand to heal and perform miraculous signs and wonders through the name of your holy servant Jesus." The next verse records the Holy Spirit's response: "After they prayed, the place where they were meeting was shaken. And they were all filled with the Holy Spirit and spoke the word of God boldly."   We're praying for people to be baptized with the Holy Spirit, empowered for doing the ministry of Jesus, for there to be healing, and more.  Please make it a priority to come and call on the Lord with us!
Men's Breakfast Tomorrow (November 13)
Men! – we are meeting tomorrow morning at 8am at Ty's Burgerhouse for our monthly men's breakfast.  Our good friend Bill McLeod will be our special guest speaker.  Men – we really are better together.  This is our opportunity to be together, to get to know each other, to worship together, to be inspired together.  Please join us!
And that's all the time I'm going to take for this week's update.  See you Sunday morning AND Sunday evening.  This weekend could be a game changer!
with blessings and love,
Ron Ohst
---
Tithes and Offerings Online
THANKS for taking ownership in the life and ministry of Grace Vineyard – it takes all of us!   If you'd like to give your tithe or offering online, click the donate button below.  Please remember we are "getting our house ready for guests" and have several thousand dollars worth of important improvements waiting on our offerings. If your offering is for a specific purpose such as building or benevolence, please note that where it will prompt you with "what's this donation for?"  Thanks!