October 21, 2022
Hello from Zambia, Grace Vineyard and Friends of Grace!
I'm writing to you from a hotel room in Ndola, Zambia. Michael Aplikowsky and I are here to participate in the Zambia Vineyard National Conference.  Our flight took off from L.A.X on Monday night at 11:55PM and arrived  here on Wednesday around 12:30PM.  We figure from the time we left my house till the time we landed in Zambia, it took us 33 hours of travel time!  Yeah, we're still a little jet lagged.  But we did plan things so we would have a couple days to get a bodies' time clocks reset to Zambian time , so we're not as jet lagged as we could have been.
We had a great time traveling and had opportunity to pray with several people who worked in the airports and were on our flights…great "holy hellos'".  There's a restaurant in the hotel here, and we sit at the same table every time we eat and are getting to know all the restaurant staff by name, and have prayed with many of them.  Zambia is officially a Christian nation, and I think that might be why people here seem really receptive to the invitation for us to pray with them.  In fact, when we got here, the headline in the newspaper was about the national day of prayer here.
Here's a picture the newspaper the day we arrived, and one of our servers named Edwin who had some heart felt needs we are praying for with him.  It's great to be in the same place for several days because we get to have several repeat encounters and conversations with the people here.  The third picture is of a well on the Ndola Vineyard church's property.  I wanted you to see it to give you a feel of some of the ministry this church is doing.  It is right next to a compound (something like "the projects" in urban areas in the United States, only much more poor), where they don't have running water, so people from the compound come here to pump their own water from this well.
I was invited to speak at 3 of the sessions of the conference.  It's about 11pm here on Friday night, and we've just come back from the first session.  I'll be speaking twice tomorrow (Saturday) and once again on Sunday.  I would really appreciate your prayers that the Lord would use me to encourage these pastors and leaders who face many challenges in ministry here.  I thought you might enjoy a little clip of the worship music:
On Monday we'll be flying to Lusaka where will get to spend about a week at Breath of Heaven Children's Village.  Ted and Judy Lawler will be just arriving on Sunday.  Jennifer Rowe and Mark Goodwin will also arrive on Monday. They are having great success with their work in Uganda with couldyou.org .  They'll be bringing hundreds of the "Could You" cups to donate to the Hope Medical Clinic at Breath of Heaven (check out that website to learn more about this remarkable solution to the the international problem of "period poverty" caused by lack of access to feminine hygiene products that results in women missing several days of work and/or school ever month).  Here's an update that we received on Thursday from Jennifer: "
Wow…where to start…the past two days we have done 4 outreaches. We served two health clinics one with hiv mothers and another with mothers experiencing many different challenges & trauma including rape, child marriage, disabilities and more. We served a secondary school today with 1,000 girls…met with college students young men & women yesterday. We did not have enough CouldYou cups today at the secondary school. We gave away the 1,000 cups for 

Uganda

 in the past two days. The need is so great. I'm so grateful to be here. I have spoken at each event connecting with so many girls, women, boys and children. Mark Anthony has been documenting & connecting with the boys, girls, women & children. We have an amazing team. Words cannot fully express what we've been experiencing.

Please pray for good rest tonight & tomorrow in preparation of the US Embassy on Thursday morning & more outreaches on Friday.
Today was very tough. Our CouldYou team partnered with 3 other organizations in Africa. Our team has been between 11-14 people depending on the outreach. Please pray for every young girl & women who received a CouldYou cup & for those who didn't get to reduce one. Please pray for traveling mercy as we travel back to Kampala.
We are excited that all of us from Grace Vineyard will be serving together at our beloved Breath of Heaven Children's Village.  And by the way, thank you to all who came to the Breath of Heaven banquet on Sunday night.  It was a great event and did a great job of raising funds and awareness for caring for orphans and widows in Africa.
Women's Retreat This Weekend!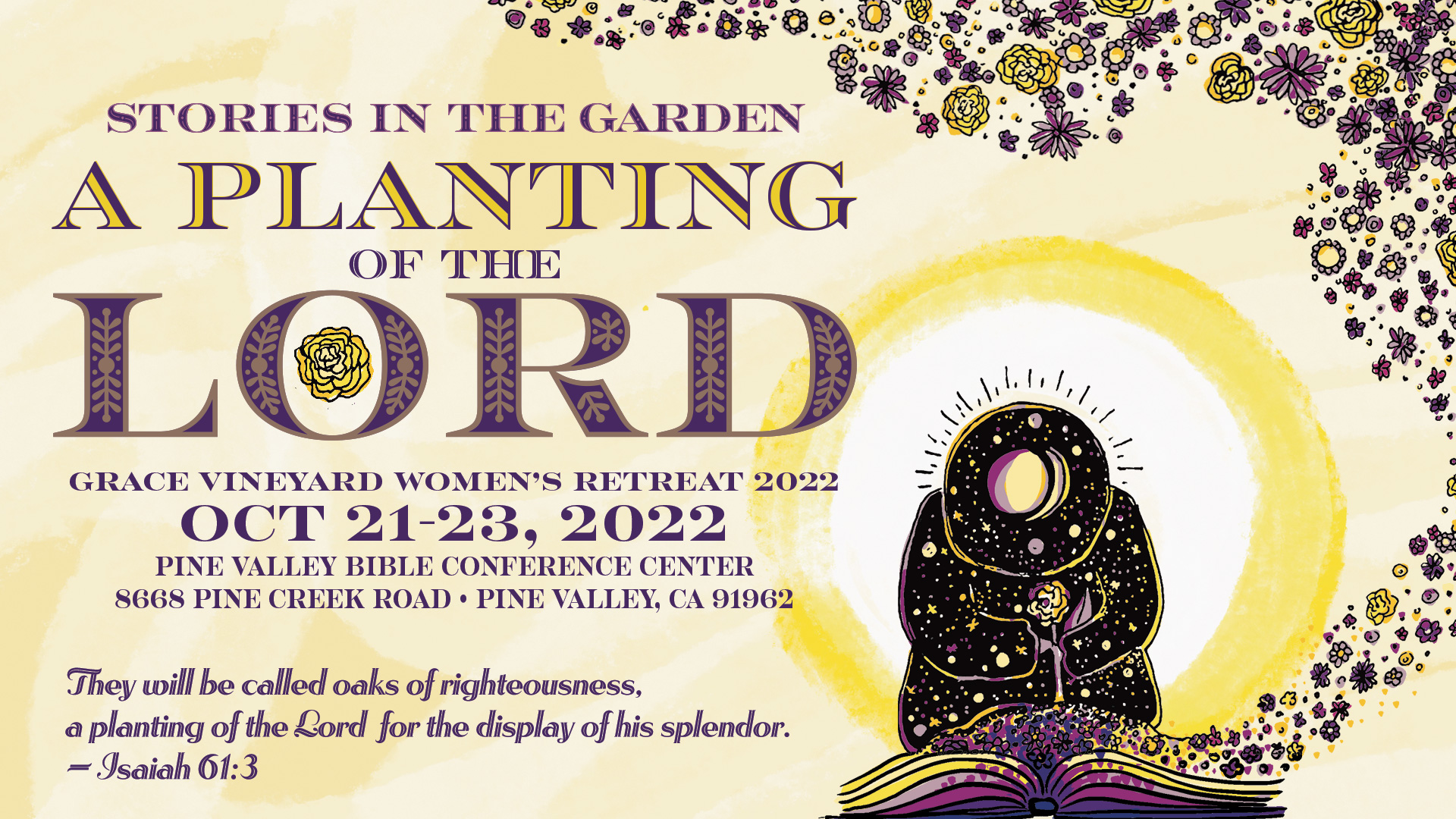 As I write this our ladies are arriving at Pine Valley Bible Conference Center for our "Stories in the Garden" retreat.  It's going to be soooo good!  But remember, prayer support is essential for everything we do in the Lord, so please take some time to pray for our ladies, the speakers, the worship leaders, the creative expression presenters, and everyone involved.  I expect we will be hearing stories of life changing God encounters by the end of the week!
Since so many of our ladies will be at the retreat, I hope the men and the ladies who weren't able to go will make every effort to come together for worship at Grace Vineyard on Sunday morning! This is not the week to skip church!!
For Sunday morning, I'm excited to tell you that our own Steve Rogers will be bringing the message.
His message this week is called "Preparing for the Marathon of Life – how God uses the challenges of life to build the endurance we need".  It is so empowering to understand and apply verses like Romans 8:28, and James 1:2-4, and more to your life when you are experiencing situations that don't seem tasteful, to say the least, at the moment, but you discover in the Lord that He is using them for your benefit and builds strength in you that you are going to need as you go through the Marathon of Life.
Honduras Missions Trip Interest Meeting
Steve Rogers is planning on leading a missions trip to Honduras in mid February.  We are building a team from Grace for this trip! If you'd like to learn more, join Steve after church this Sunday, October 23, to learn more about the trip and how to apply to be part of the team.  If you are at the retreat this weekend but would still like to go, please contact Steve at 760-500-4324, or srogers@gracevcf.org and he'll help you get the info you need.
And that's it for this Grace Vineyard Update from Zambia!  I miss you guys.  We appreciate your fervent prayers for all that's happening with our Grace Vineyard family.
With blessings and love,
Ron Ohst
---
Tithes and Offerings Online
THANKS for taking ownership in the life and ministry of Grace Vineyard!  And thanks to all of you who are stepping into a lifestyle of generosity with your tithes and offerings.  It really does take all of us doing our part with the income God has entrusted to us for His church. If you'd like to give your tithe or offering online, click the donate button below.