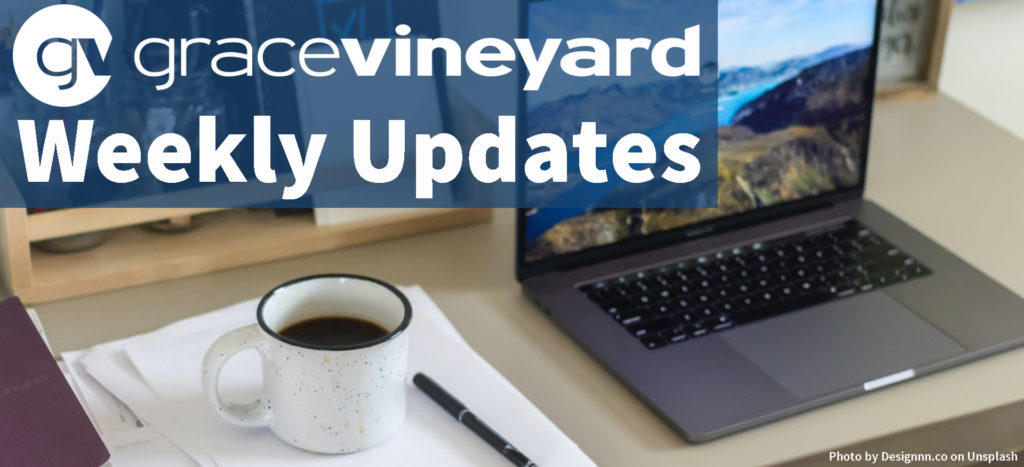 January 6, 2023
Hello Grace Vineyard and Friends of Grace Vineyard,
Welcome to the first weekly update email of the new year.  Happy New Year to all of you!
As I've been thinking about you all and praying for all of us in recent days, I've found myself focusing on the simple but powerful idea we shared during Advent last month – that it's all about love, as Jesus described in the "Great Commandment" talk where He said that all the teaching and revelation of the Hebrew Bible hang on the commandments first to love God with all our hearts, souls, minds, and strength, and second, to love our neighbor as we love ourselves – and how that idea flows into our theme for January – Cherishing the Nations.  Last week, on the first Sunday of 2023, Sharon Mitchell did an excellent job of helping us Cherish the Nations and see the beauty of the Gospel across cultures.  Her enthusiasm and love were infectious.  If you missed her, you can watch last Sunday's sermon right here:
This coming Sunday we have a very special family joining us on our journey of learning to more fully love the nations of people the Lord loves…but I'm not sure if I'm even supposed to mention their names here in an email update than can be found on the internet.  I will tell you that there are 4 of them – 2 parents and their 2 young adult daughters, and they have given their lives to loving people in a nation in Asia where it can be very dangerous to be a follower of Jesus.  And I'll tell you that all 4 of them share the love of Jesus in the power of the Holy Spirit.  And I'll tell you that you are sure to be inspired, challenged, and encouraged in our journey of learning to love well.  I hope you'll all join us on Sunday at 9:30 for a very special morning.
In my recent emails I've been telling you about new Bible Studies that our women's ministry is launching this month, as well as a really fun event we're doing together in two weeks.  Here are those details and a couple new things:
Soul Line Dancing & Chili Cook-Off
Come and join the fun as we line dance to soul music and eat yummy chili on Saturday, January 21st from 5:30-8:30pm. We'll have a 70s costume contest, Chili competition, kids activities, photo booth and more. Tickets are $10/person. Kids under 13 are free. Call Kim Ohst for details 760.519.4558.
Stories in the Garden Saturday Morning Group
The first Saturday of the Month beginning this weekend on January 7th we'll meet at the church 9-10:30 am to share the truth of who God is in our individual stories. We'll have a short devotional, one woman will tell her story and we'll have a chance to interact with and encourage the storyteller. Please sign up in the church lobby so we know who will attend. For more information, please call Michele Goane 619.952.6100.
Carlsbad Beach Walk January 14th
Saturday, January 14th our ladies will meet at 9am on the grassy area at the corner of Pine and Carlsbad Blvd. Please let Kathy know if you plan to attend 760.583.1779.
Mysteries of the Messiah Monday Night Zoom Group
We're offering Mysteries of the Messiah by a Messianic Rabbi on Zoom with Robin Spillman 6:30-8:30pm. Study Guides are $15. For more information, please call Robin at 760.583.3677.
The Chosen Season 2 Study on Mondays
We'll also offer the Chosen Season 2 Women's Bible Study in person at Kim Ohst's home (4965 Calle Sobrado, Oceanside) Monday nights 6:30-8:30pm.  For more info or to sign up please contact Kim at kimohst@gmail.com or 760.519.4558.
Stories in the Garden Writing the Story Saturday Morning Group for Women And Men

"Stories in the Garden: Writing the Story" will be on the third Saturday of the Month beginning February 18th, meeting at the church 9-10:30am.  Have you ever wanted to write devotions, short stories, poetry, your memoir or a novel? When it comes to writing, there are many different ways to express your creativity and share your message. If you are curious about the craft of the written word, join Michele Goane and others as we create community around writing with the purpose to encourage, equip and have accountability on the journey.  No experience is necessary. All levels are welcome. Please bring a journal or writing paper and pen.  This group is for women and men.  If you are interested in this group, please call Michele Goane 619.952.6100 or email her at goaneplaces@gmail.com.  
2023 Women's Retreat – Time to Begin Saving
We'll be holding our Women's Retreat at Pine Valley October 20-22.  The cost will be $230 for private bath lodge rooms, $210 for shared bath lodge rooms and $180 for dorm rooms.  You can begin to pay for this retreat and we'll keep track of it for you.  If you pay online at
www.gracevcf.org/give
 or in person, please note that it's for the women's retreat.  If you end up not attending, we will refund your money.  Please email 
kimohst@gmail.com
 or text Kim Ohst at 760.519.4558 to let her know what type of room you are reserving.  We have limited availability.
And that's gonna do it for this week's email update.  Have a great rest of your weekend and I'll see you when we all come together to worship our amazing Lord and King on Sunday morning.  Let's all press into the endless resource of God's Grace.  God is love, and we love because He first loved us (John 4:16-19).  His Grace is one more overflow of His love, and it's His Grace that empowers us to grow in love – love for Him and love for each other. Let's press in!
With love and blessings,
Ron Ohst
---
Tithes and Offerings Online
THANKS for taking ownership in the life and ministry of Grace Vineyard!  And thanks to all of you who are stepping into a lifestyle of generosity with your tithes and offerings.  It really does take all of us doing our part with the income God has entrusted to us for His church. If you'd like to give your tithe or offering online, click the donate button below.