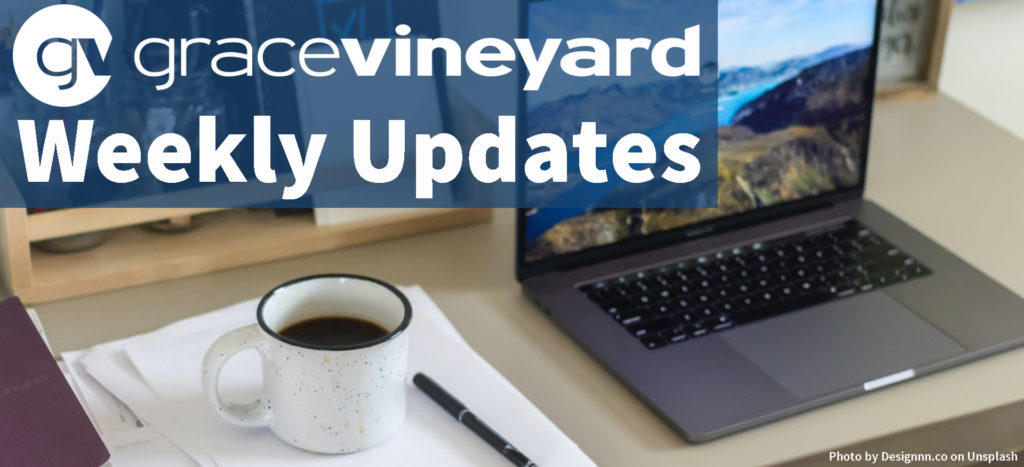 January 20, 2023
Hello Grace Vineyard and Friends of Grace,
Happy Friday to you.
What a wet week we've just had!  I think we're all thankful for the rain, and I hope you all managed to stay dry, but I also suspect we're all thankful for a forecast that looks dry for a while again.  It looks like it's gonna be a beautiful weekend both in terms of weather and in terms of our life together as Grace Vineyard.  I'm looking forward to seeing you all tomorrow night (Saturday) for a ton of fun with the Chili Cook-off and the Soul Line Dancing.  I'm gonna be there, and I'm planning on enjoying all the chili flavors I can sample, but I'm not making any promises about line dancing.  However, Soul Music is just so fun, and it's almost impossible to keep from smiling and tapping your feet to it, so who knows, I might see if my feet will work.  PLEASE COME – it just won't be the same without you.   The lobby is already decorated, there's a photo booth, activities for kids, a 70s Costume Contest, and more.  A big THANK YOU to all the people who have worked so hard to put on another fun fellowship event for us all.  I love our Grace Vineyard Family!   It starts at 5:30pm tomorrow and we should be done by 8:30, so it's nice, easy, fun night for us all.
Special Guest Josh Armstrong on Sunday
I'm excited to have another great guest speaker join us this Sunday.  Remember, our theme this month is "Cherishing the Nations: the beauty of the Gospel across cultures".  Our guest this week is Josh Armstrong, the missions pastor a the Vineyard Church in East Tennessee, where he helps to catalyze and develop disciple making movements in several areas both nationally and internationally.  He also serves at the national level on the Missions team for Vineyard USA as a "missions mobilizer" for 3 of the Vineyard USA regions including our Southern California region.   He's also the coordinator for Sub-Saharan Africa Missions with the Vineyard, and as you know, we have a special connection to a particular nation in Sub-Saharan Africa called Zambia!  Josh has a rich ministry history: he was the regional coordinator for Fellowship of Christian Athletes, he's been a chaplain at a Christian High School, he's been a youth pastor, and he and his family also spent 3 years as missionaries in Haiti, where they helped launch several projects, including a disciple making movement that is still going strong.   What a wealth of experience he has to draw on as he shares with us this Sunday!
ATTENTION SPANISH SPEAKERS
On the last Sunday of this month, January 29th, our guest speaker will be Ruben Quintero, leader of the Vineyard USA Hispanic Association.  After church on the 29th,  everyone who speaks Spanish, or who would be interested in joining us, are invited to meet with Ruben and hear from him what it could look like for us to start a Spanish ministry at Grace Vineyard.  This is something I have really wanted for many years.  Ultimately I would love to see a La Viña church planted in Oceanside.  If you are interested in joining us, would you text or call me at 760-713-6478 please?  And join me in praying that we could reach the Spanish speaking people in Oceanside with the Gospel of Jesus and the power of the Holy Spirit.  You can learn more about the Vineyard Hispanic Association here:  https://vineyardusa.org/associations/hispanic-association/
Missions Pledge for 2023
One of the things we do annually during our Missions Emphasis Month is invite everybody to get involved financially with our Grace Vineyard Missions program.  We support our missionaries with a pledge system: people in our congregation pledge to give a certain amount for missions every month, and our Missions Team in turn lets our missionaries know what they can depend on from us as they prepare their budgets for the coming year.  If you have already been giving to missions, and plan on continuing into the new year, it is important that you let us know so that we can let our missionaries know.  Please click here to fill out your 2023 pledge form online:  gracevcf.org/pledge23.  If you'd like to learn more about the missions we support, please check out gracevcf.org/missions.
International Potluck January 29
In keeping with our "Cherishing the Nations" theme for January, we're doing international fare for our monthly after-church potluck on 1/29.  If you haven't already told us what you're bringing (we texted everybody for whom we have cell numbers this week, asking what you'll be bringing), please sign up with Susan Franke in the lobby at church this Sunday.  You can also text what you're bringing to 760-754-2974.  That will help us prepare.  Our monthly potlucks have been such a nice way for us to connect with each other and I hope you'll all be able to join us the last Sunday of this month. I'm definitely looking forward to some international dishes!
Just a couple more things to mention for you…
Stories in the Garden Writing the Story Saturday Morning Group for Women And Men

"Stories in the Garden: Writing the Story" will be on the third Saturday of the Month beginning February 18th, meeting at the church 9-10:30am.  Have you ever wanted to write devotions, short stories, poetry, your memoir or a novel? When it comes to writing, there are many different ways to express your creativity and share your message. If you are curious about the craft of the written word, join Michele Goane and others as we create community around writing with the purpose to encourage, equip and have accountability on the journey.  No experience is necessary. All levels are welcome. Please bring a journal or writing paper and pen.  This group is for women and men.  If you are interested in this group, please call Michele Goane 619.952.6100 or email her at goaneplaces@gmail.com.
2023 Women's Retreat – Time to Begin Saving
We'll be holding our Women's Retreat at Pine Valley October 20-22.  The cost will be $230 for private bath lodge rooms, $210 for shared bath lodge rooms and $180 for dorm rooms.  You can begin to pay for this retreat and we'll keep track of it for you.  If you pay online at
www.gracevcf.org/give
 or in person, please note that it's for the women's retreat.  If you end up not attending, we will refund your money.  Please email 
kimohst@gmail.com
 or text Kim Ohst at 760.519.4558 to let her know what type of room you are reserving.  We have limited availability.
And that's it for this week's email update.
I look forward to spending a great weekend with you!
Blessings and love,
Ron Ohst
---
Tithes and Offerings Online
THANKS for taking ownership in the life and ministry of Grace Vineyard!  And thanks to all of you who are stepping into a lifestyle of generosity with your tithes and offerings.  It really does take all of us doing our part with the income God has entrusted to us for His church. If you'd like to give your tithe or offering online, click the donate button below.