September 30, 2022
Hello Grace Vineyard and Friends!
I hope you're having another great week.  While I'm typing these words I'm listening to the message Dustin Nelson brought last week while a bunch of us were at the Marriage Getaway and I'm getting so pumped up!  I loved how he started by having you all pray healing prayer for each other and the Lord showed up and showed off.  The same thing happened with us the week before – one of the ladies who's hand was healed on the previous Sunday showed me this week how she can still move it where it couldn't move  before we prayed on the 18th.  Wow.  I'd love for you get inspired and hear what Dustin shared with us – watch it right here:
Sons and Daughters
This week people all over the nation were celebrating National Daughters Day and National Sons Day. People were posting pictures of their daughters and sons on social media and talking about how much they love their kids. I didn't want to miss out, so I joined in the fun.
It just filled my heart to look through old photos to find pics of my daughter Charissa, our son Bryce, and Mika, the son we gained through Breath of Heaven sponsorship along with our co-sponsors Frank and Traci Blagg.  Family is such a beautiful gift from the Lord.  And family is especially beautiful in the church – the family of God – where Psalm 65:6 is fulfilled – "God sets the lonely in families…"  If you have been blessed with a natural family with children, rejoice and celebrate them.  If you don't have kids of your own, press into your spiritual family in the church of Jesus Christ, and rejoice and celebrate with us!
I can't miss the obvious segue here – Breath of Heaven Sponsorship.   If you've been around Grace Vineyard even just a little, you've probably heard me talk about the incredible blessing of sponsoring orphans in Zambia in Breath of Heaven Children's Ministry.  Breath of Heaven has  a vision of 14 houses in their Village with 12 kids and a widowed house mother living family-style in each of these 4 bedroom houses – for a total of 168 kids moving from a life of hopelessness into a hope and a future.  We currently have 10 of the houses up and running, and our new high school and vocational school campus is scheduled to open in January!  I really would love to see more of you join us who have opened up our hearts and our wallets to love orphans and widows and watch in awe as this vision becomes reality.  Please come to our fundraising banquet on Sunday, October 16th, at 4pm.  Click here for all the details.
Face to Face TONIGHT in the Oceanside Harbor
Here's another "family" segue – Ladies – don't miss a special edition of Face to Face, our monthly women's small group, tonight. We'll have a women's get together at Oceanside Harbor (go right on N. Harbor Drive as you come into the Harbor area) in the grassy area by the small fishing pier.  Nancy Beck will be sharing a message on Hope as the Anchor for our Souls.  We'll be there at 5pm, but come when you're able.  Robin will be bringing soup and bread.  You can bring food/drinks to share.  Please bring your own chair and a lantern/flashlight if you have one.  Call or text Kim Ohst 760.519.4558 for more details.    
This Saturday – Movement SD
And one more time with the family theme — we have an opportunity to join with our extended spiritual family in the churches of Oceanside (and beyond) as we come together for a night of worship and evangelism at the Oceanside Amphitheater this Saturday, October 1st, from 4-10pm.  We're praying to expand the family as people hear and respond to the good news of Jesus Christ and become members of His family.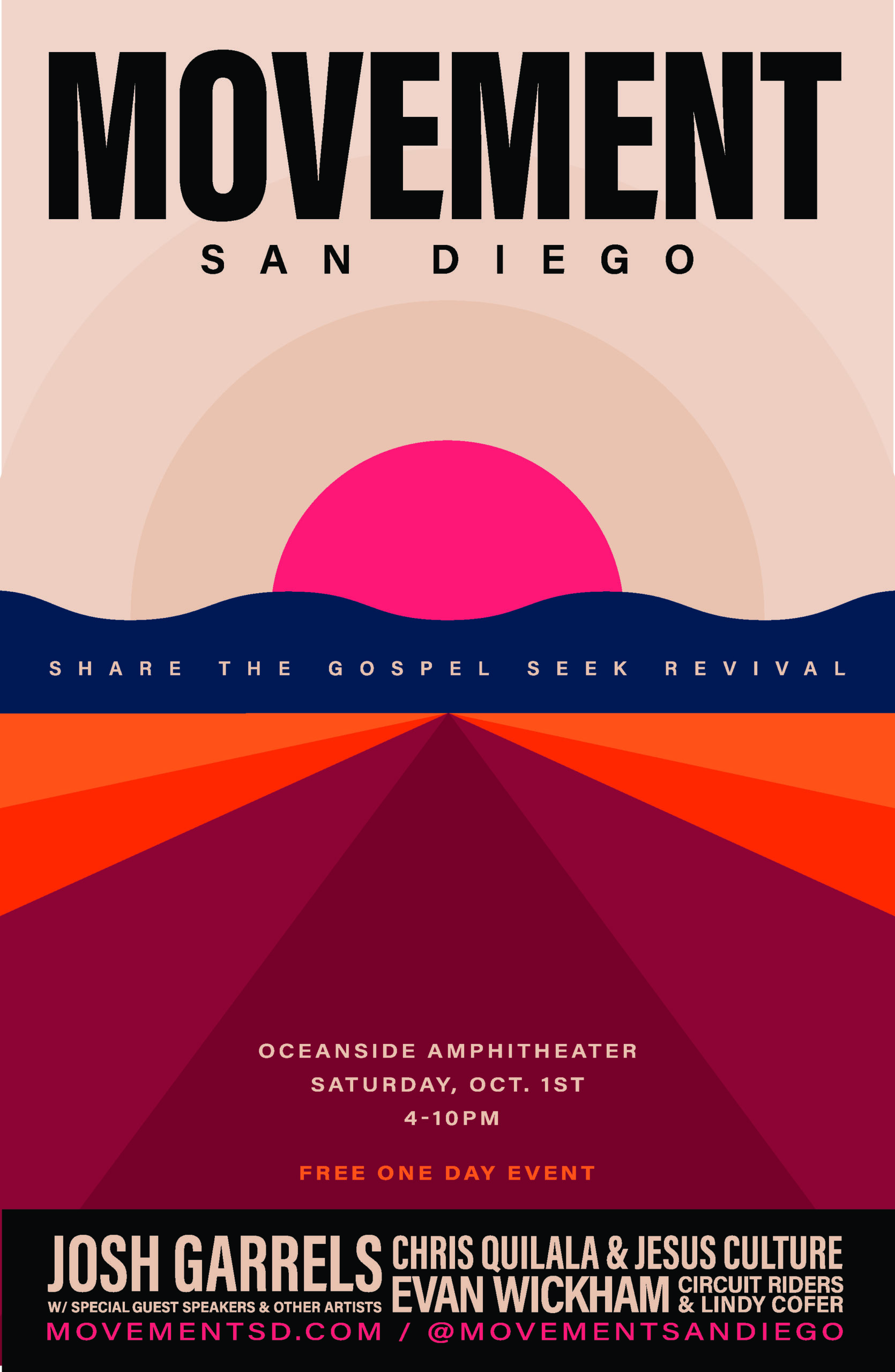 We are invited to this free event with Josh Garrels, Evan Wickham, Chris Quilala, Circuit Riders and Lindy Cofer, Mike Doyle, Zack Curry, Brian Sumner, Jason Graves and other speakers and musical guests on Saturday, October 1st at the Oceanside Amphitheater as we share the good news of Jesus and seek revival in San Diego.  Please bring everyone you know!  Go to movementsd.com for more info.
Make & Bake Sale For Women's Retreat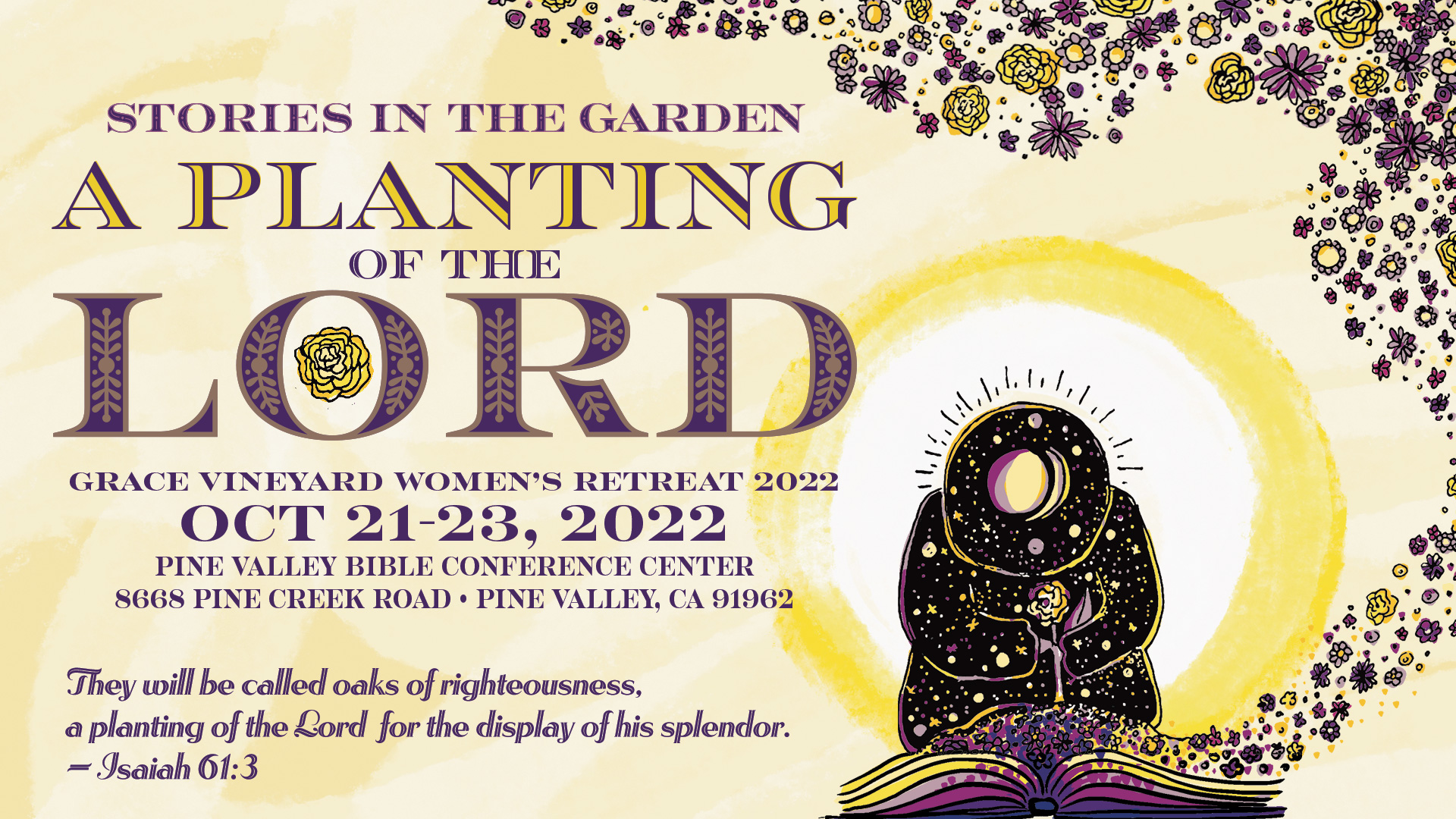 We want to make sure none of our Grace Vineyard ladies miss out on our Women's Retreat for financial reasons, so we're putting on a Make & Bake sale this coming Sunday to raise funds for scholarships.  Our women's retreat is coming up quickly and your window for registering is now open, but the rooms are filling up quickly so don't delay.  The retreat is at Pine Valley in Alpine this year, October 21-23, and is called "Stories in the Garden, A Planting Of The Lord".  We'll explore our stories- the good and the hard parts and see how God can bring beauty from ashes.   Treina Nash will be the main speaker.  We'll also hear from Michele Goane and Ammee Huzil will  be leading worship and creative expression.  We have a table in the lobby for sign-up, and you can also sign up online by clicking here.  The cost is $165 for a dorm room, $190 for a shared bathroom lodge and $210 for a private bathroom lodge (these have already been filled, unless you are rooming with someone who's already reserved one).  Scholarships are available on a first come, first-served basis.  The scholarship is for $80, so you pay $85 to receive a dorm room.  That brings us back to this Sunday – to pay for the Scholarships we are putting on a "MAKE & BAKE SALE" this Sunday, October 2nd right after church.  Please help make this a success by coming this Sunday and buying some of the crafts and baked goods for sale.  Also  everybody (both men and women) is invited to donate  your favorite craft items or baked goods. In order to receive a scholarship, you'll need to serve at the Make & Bake Sale.  Please call Kim Ohst for more info at 760-519-4558.    I'm personally awaiting another batch of Nancy Beck's famous fudge, if I'm gonna be honest with you!  Of course I'm also looking forward to another batch of Kim Ohst's famous pesto!   Contact Kim at the number I just gave you if you can help out with this, please!   We'll also gladly receive scholarship donations.
Coming Up Next Saturday
Next Saturday, October 8th we have a few events you'll want to know about.
Sidewalk Worship
We'll meet in the lobby at Grace Vineyard at 2:30pm next Saturday, March 8th.  We'll pray for a bit and then walk over to the Regal theater courtyard where we'll worship and connect with people that are in the area.  This is a perfect way to practice being fishing buddies like Dustin described last Sunday!   Susan Franke will be in the lobby this Sunday with more info.  Please see her and let her know that you're coming so that she can make sure to have lyrics ready for you so you can sing along with the worship. You can also call/text her at 760-419-2273.
Ladies Hosp Grove Walk
Next Saturday is our day for another Ladies walk/hike. Meet at the Hosp Grove playground off Jefferson at 9 am. Please call Kathy Green at 760-583-1779 and confirm if you plan to attend!
Retreat Work Day Saturday:  All the ladies who'd like to help with retreat preparations are welcome at the Ohst home (4965 Calle Sobrado, Oceanside 92056) from 11am-3pm on Saturday October 8th.   We'll be making decorations, centerpieces and name tags.  You can call/text Kim for more details 760.519.4558.
Men's Breakfast next Saturday: Men – it's time for our next Men's breakfast. As always, make sure to reserve the 2nd Saturday morning on your calendar to be with your brothers from Grace Vineyard.  We'll be at Ty's Burgerhouse, 515 Mission Ave, at 8am for great food, fellowship, worship, and and inspirational message.
I'm excited for you to meet my friend Jeff Ross at this breakfast.  Jeff works with Urban Youth Collaborative and is absolutely on fire for Jesus as he empowers Christian youth in middle school and high school to run student-led ministries on their campuses.  He's all about making disciples of today's youth, and it comes from his amazing story of encountering Jesus in a very dark place.  You are going to love his excitement and his amazing story.  Join us!
Sunday Morning
Sunday morning we're planning to return to our journey through 2 Timothy.  It has been a really great time in the Word these last weeks, hasn't it?!  We find ourselves at Paul's words – "But know this, that in the last days perilous times will come…."  He goes on to describe the kind of darkness we see all around us, but then contrasts the people of the dark times with Timothy, starting with some "But you…" statements.  The message for us is that in perilous times, we who are called "children of the light" are called to let our light shine brighter.  I look forward to unpacking this message with you Sunday morning at 9:30.  I look forward to seeing you then!  If you need to stay home for some reason, you can join us via zoom at: Zoom Meeting ID  153 112 432, Passcode 684814.
And that's it for this week's update email.  See you all tomorrow afternoon at the Oceanside Amphitheater for MovementSD and then again on Sunday morning.  Let's be Jesus' fishing buddies!
with love and blessings,
Ron Ohst
---
Tithes and Offerings Online
THANKS for taking ownership in the life and ministry of Grace Vineyard!  And thanks to all of you who are stepping into a lifestyle of generosity with your tithes and offerings.  It really does take all of us doing our part with the income God has entrusted to us for His church. If you'd like to give your tithe or offering online, click the donate button below.