September 23, 2022
Hello Grace Vineyard and Friends!
I hope you're ready for a great weekend, cuz that's the plan!
Today a bunch of married couples will be driving out to Palm Desert for the Marriage Getaway, and you know they're going to have an amazing weekend.  If you are not going, would you please take a moment to pray for those that are going right now?   I think there are about 325 couples planning on being there, and we want to pray that each marriage is blessed!
For Grace Vineyard on Sunday I've invited one of our favorite speakers – the ever joyful and inspiring Dustin Nelson.
Dustin will be preaching from Luke 5:1-11 with a sermon he's calling "Fishing Buddies".  It's going to be about living naturally supernatural; church on the go.  I know we're all going to be inspired, encouraged, exhorted, and filled with joy.  Here's the text for us to get in our spirits before coming together on Sunday:
Luke 5:1-11 (NASB)

5 Now it came about that while the multitude were pressing around Him and listening to the word of God, He was standing by the lake of Gennesaret; 2 and He saw two boats lying at the edge of the lake; but the fishermen had gotten out of them, and were washing their nets. 3 And He got into one of the boats, which was Simon's, and asked him to put out a little way from the land. And He sat down and began teaching the multitudes from the boat. 4 And when He had finished speaking, He said to Simon, "Put out into the deep water and let down your nets for a catch."  5 And Simon answered and said, "Master, we worked hard all night and caught nothing, but at Your bidding I will let down the nets." 6 And when they had done this, they enclosed a great quantity of fish; and their nets began to break; 7 and they signaled to their partners in the other boat, for them to come and help them. And they came, and filled both of the boats, so that they began to sink. 8 But when Simon Peter saw that, he fell down at Jesus' feet, saying, "Depart from me, for I am a sinful man, O Lord!" 9 For amazement had seized him and all his companions because of the catch of fish which they had taken; 10 and so also James and John, sons of Zebedee, who were partners with Simon. And Jesus said to Simon, "Do not fear, from now on you will be catching men."  11 And when they had brought their boats to land, they left everything and followed Him.
I thought you might enjoy hearing what Dustin preached when he was with us back in July.  You can watch that talk right here:
Speaking of inspirational, if you missed Elisha Vasquez's story last Sunday, you're going to want to watch this (heck, if you were here, you'll want to see it again!)
Wasn't that amazing?!  I love how our Grace family is living out the Gospel of the Kingdom in every day life, in such a naturally supernatural way.  Keep it up.
Movement SD – October 1st at Oceanside Amphitheater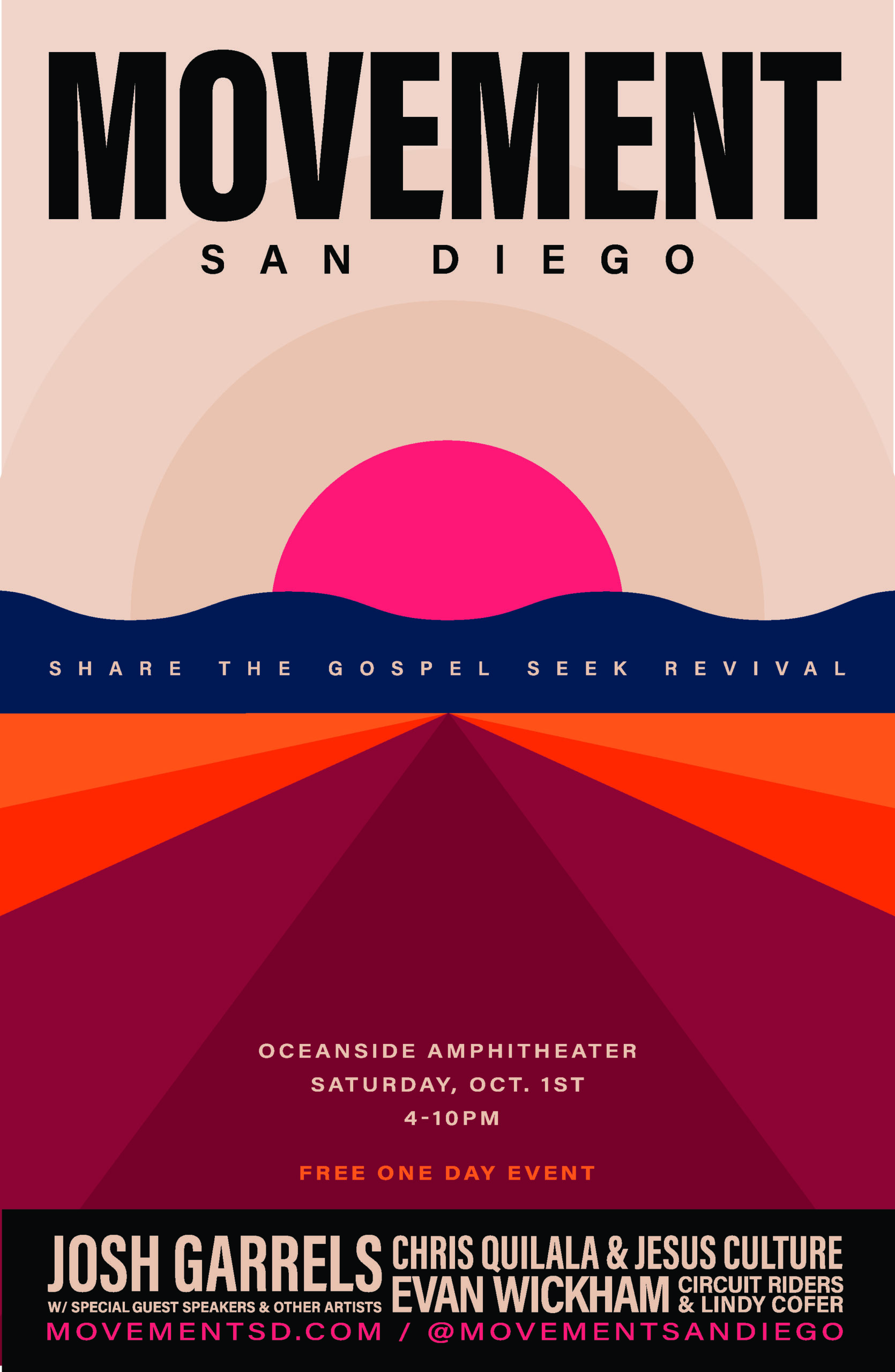 I know I keep mentioning this in my emails, but I really want to make sure we take advantage of this opportunity to partner with other churches in our region to worship Jesus and share the Good News of the Kingdom.  There's a few things for us to do:  invite people, of course, with the invitation fliers and business cards available in the lobby at church; volunteer at the event to be part of the prayer team, security, and more by clicking here; and join people every Sunday morning at 7:14 at the Oceanside amphitheater to pray for Oceanside and the MovementSD event in particular.
Make & Bake Sale For Women's Retreat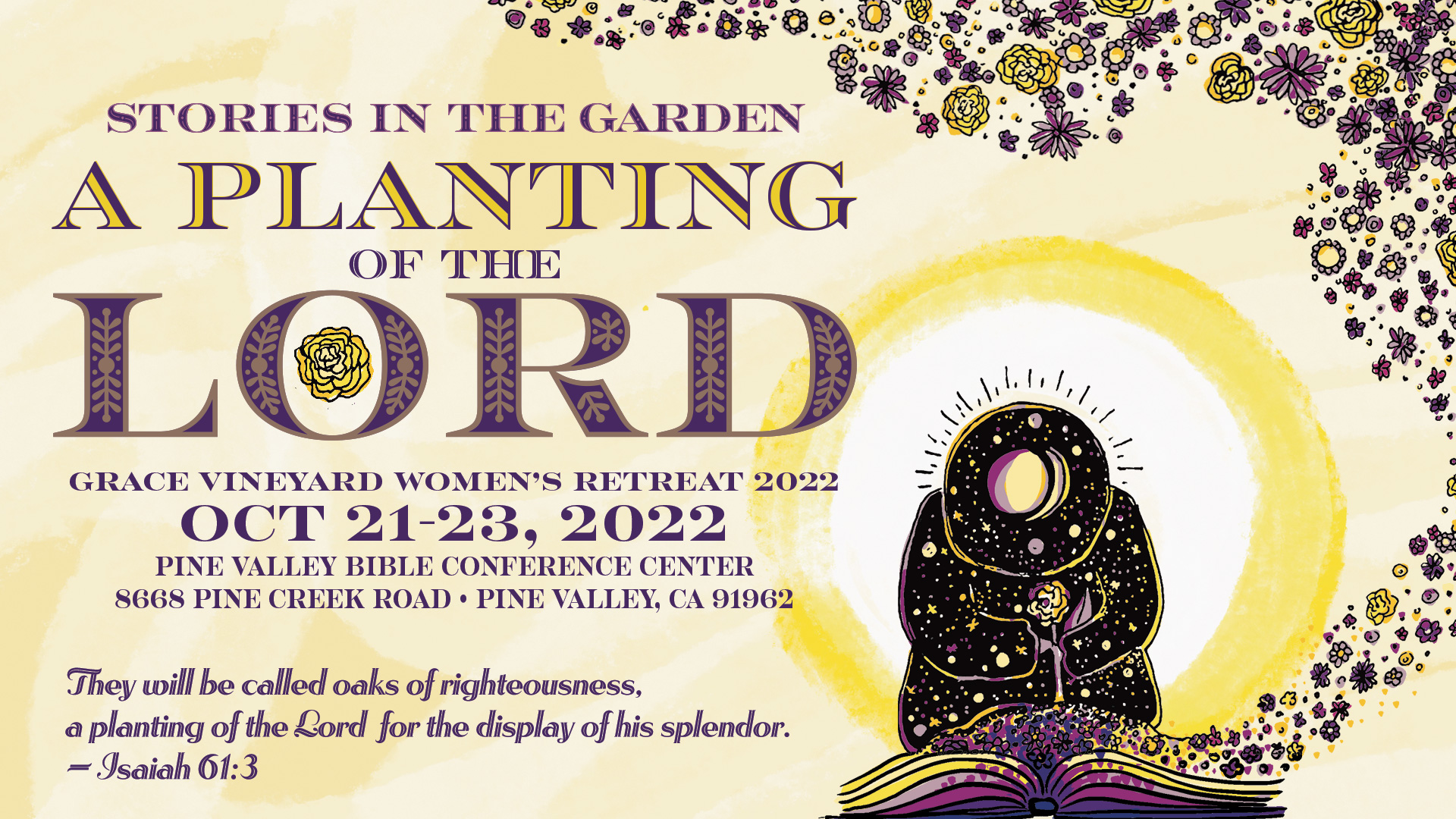 Our women's retreat is coming up quickly and your window for registering is now open, but the rooms are filling up quickly so don't delay.  Our retreat is at Pine Valley in Alpine this year, October 21-23, and is called "Stories in the Garden, A Planting Of The Lord".  We'll explore our stories- the good and the hard parts and see how God can bring beauty from ashes.   Treina Nash will be the main speaker.  We'll also hear from Michele Goane and Ammee Huzil will  be leading worship and creative expression.  We have a table in the lobby for sign-up, and you can also sign up online by clicking here.  The cost is $165 for a dorm room, $190 for a shared bathroom lodge and $210 for a private bathroom lodge (these have already been filled, unless you are rooming with someone who's already reserved one).  Scholarships are available on a first come, first-served basis.  The scholarship is for $80, so you pay $85 to receive a dorm room.  To pay for the Scholarship we are putting on a "MAKE & BAKE SALE" next Sunday, October 2nd right after church.  To receive a scholarship, you'll need to serve at the Make & Bake Sale.  Please call Kim Ohst for more info at 760-519-4558.  To make this a success, everybody (both men and women) is invited to donate  your favorite craft items or baked goods.  I'm personally awaiting another batch of Nancy Beck's famous fudge, if I'm gonna be honest with you.  Contact Kim at the number I just gave you if you can help out with this, please!
One more thing, while I've got your attention: would you please think about coming to the Breath of Heaven Banquet with me on October 16th at 4pm?  This is our annual fund raiser for the Breath of Heaven Children's Village in Zambia.  I'll be one of the speakers and I'll be sharing about the impact being a sponsor has had on me and our "son" Mika who is now in college.  When he came to Breath of Heaven he could not speak English, had no education, and had no hope or future.  Now he is recognized as the best interpreter at Breath of Heaven (I know. He interpreted for me when I preached there last August), and he is planning on becoming a pastor…and he hopes someday to build one of the homes for orphans at Breath of Heaven!   So awesome!!!   Someone reading this hasn't given going to the banquet a second thought…until now; if that's you, please give it a second thought, and click here to learn more.
And that's it for me.  I get to drive out to Palm Desert now for an incredible weekend at the Marriage Getaway.  I'll see some of you there!
Richest blessings to all of you,
Ron Ohst
P.S.
For the convenience of those who must join us online this Sunday, I try to put the zoom info in my email each week.  Here you go:  Zoom Meeting ID  153 112 432, Passcode 684814
---
Tithes and Offerings Online
THANKS for taking ownership in the life and ministry of Grace Vineyard!  And thanks to all of you who are stepping into a lifestyle of generosity with your tithes and offerings.  It really does take all of us doing our part with the income God has entrusted to us for His church. If you'd like to give your tithe or offering online, click the donate button below.