September 10, 2022
Hello Grace Vineyard and Friends of Grace.
Happy Saturday to you all.  I hope you are having a great end of your week.  I'm pretty pumped right now…last night Dustin Nelson (the guy that does Jesus Party on the beach in Oceanside) took me with him to a church planters conference of sorts in a coffee shop in San Clemente (A coffee shop that also houses a church) and it was awesome!  I met a guy there who coaches people in a very simple model of church planting, often called DMM, in Indonesia (DMM stands for Disciple Making Movements – click here for one webpage that defines DMM), and through his coaching there are 525,000 Muslim background disciples of Jesus!  Not a typo – half a million disciples of Jesus Christ in the country with the world's largest Islamic population.  I met a vibrant girl, probably in her early 20s, who can't help but tell everyone about Jesus and has started a church in a park.  I met a young man around the same age who is doing the same thing among the down and out in Los Angeles and has started a church in a home in Malibu.  I heard reports of 24 churches started in coffee shops in Southern California…these are all grass roots, lead-people-to-Jesus and-form-new-communities-of-worshippers types of churches.  It was so inspiring to worship with these people and hear their stories.  And that all makes me excited to tell you about an evangelism/worship event coming up at the Oceanside Amphitheater on October 1st called MovementSD.  Check out this short video clip to tell you more about it:
MovementSD Saturday October 1
A bunch of churches from Oceanside and surrounding cities are partnering to make this happen.  Tomorrow we'll have invite cards for each of you to grab and invite everyone you know to come to the amphitheater on October 1.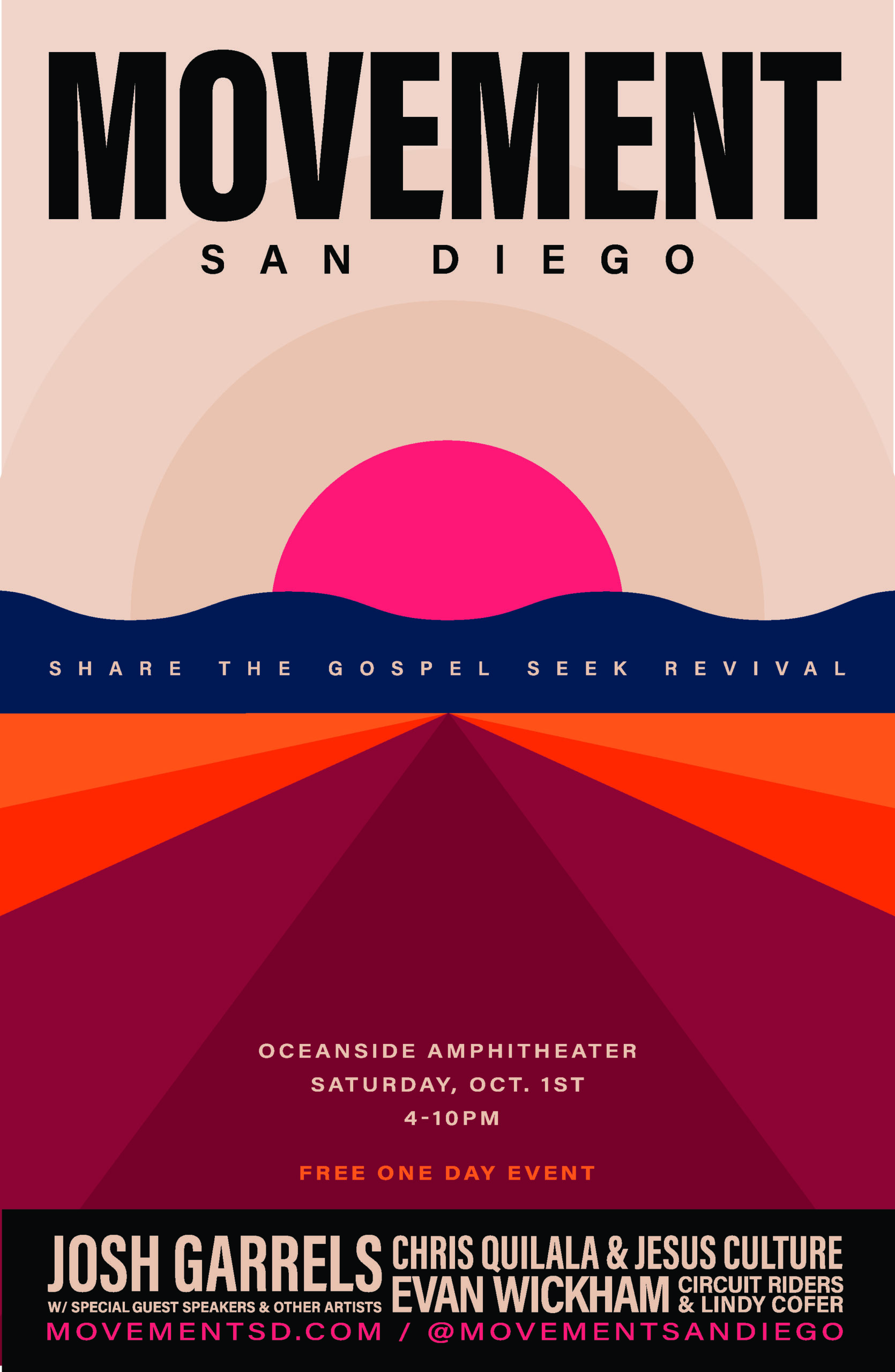 Guarding the Treasure part 3
Two weeks ago I preached a message called "Guarding the Treasure", from Paul's letter to Timothy (2 Timothy in the Bible) where he is urging Timothy to guard the treasure that had been entrusted to him. We looked at 3 practices we can implement to guard the treasures God has entrusted to each of us. I didn't know at the time if I was supposed to do a part 2, but the following week in my prayers I felt I was to go deeper with part 2 which we did last week.  The same thing happened again this week, so I guess it became a series.  Tomorrow we'll be reading Paul's words at 2 Timothy 2:8-25, in case you'd like to read ahead to get your heart around the message we'll be contemplating together.  I'd love for you to hear what I said last week (and the week before) so you can be up to speed for tomorrow.  So if you get a chance, watch last week's sermon right here:
If you'd like to see the 1st week in this series, you can catch that one right here (volume's a little low on this one, so you might need to crank it up to hear appropriately):
Here's a couple of things coming up for the women that I want to make sure you are aware of: first, we've got two new Women's Bible Studies that we'll be launching this month.
On Saturdays, beginning September 17th, we will launch another session of "Find Your People" in person in the Grace Vineyard Kids area from 11am-12:30pm.  People enjoyed this study so much that we thought we'd do it again at a new time to make it available for a wider audience.  Workbooks for this study are $20.  Please call Nancy Beck for more info at 760-696-2078.  Then on Mondays, beginning September 19th, we'll be doing a study based on season 1 of The Chosen, the new series on the life of Jesus that you can watch at https://watch.angelstudios.com/thechosen  This is a really creative look at the life of Jesus that I have thoroughly enjoyed.  There are 2 options for joining this study: either in-person at my house, or online via zoom, led by Robin Spillman.  Workbooks are $20, but are not required for this study.  There will be a table in the lobby this Sunday with more info for both of these studies. You can also contact Kim Ohst at 760-519-4558 for more info.
Women's Retreat October 21-23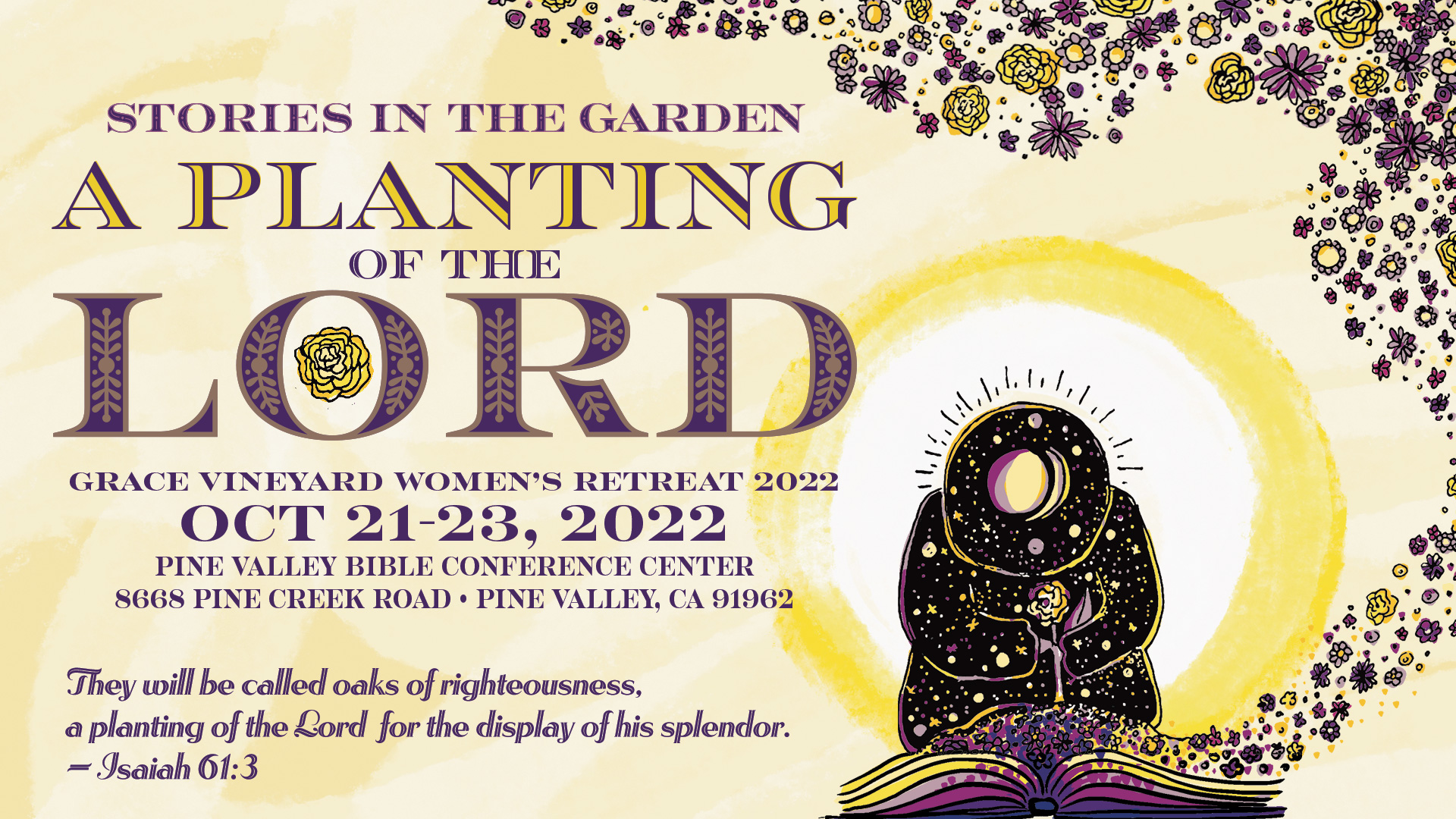 It's time to register for the Women's Retreat, October 21-23. Did you know that He's at work in your story, and that if He's at work, there will be a joyful ending? Sometimes He gives us a cup of suffering and most times those hard things are a part of the process—our process— in creating the display of His splendor. When we submit and surrender, our life's broken places can be rebuilt into beauty.  Join us for a special time away featuring teachings from Treina Nash and Michele Goane, worship and creative expression with Amy Huzil. There will be a registration at the table in the lobby this Sunday.  You can also register online by clicking here: https://gracevcf.org/stories-in-the-garden-retreat/.
Annual Breath of Heaven Banquet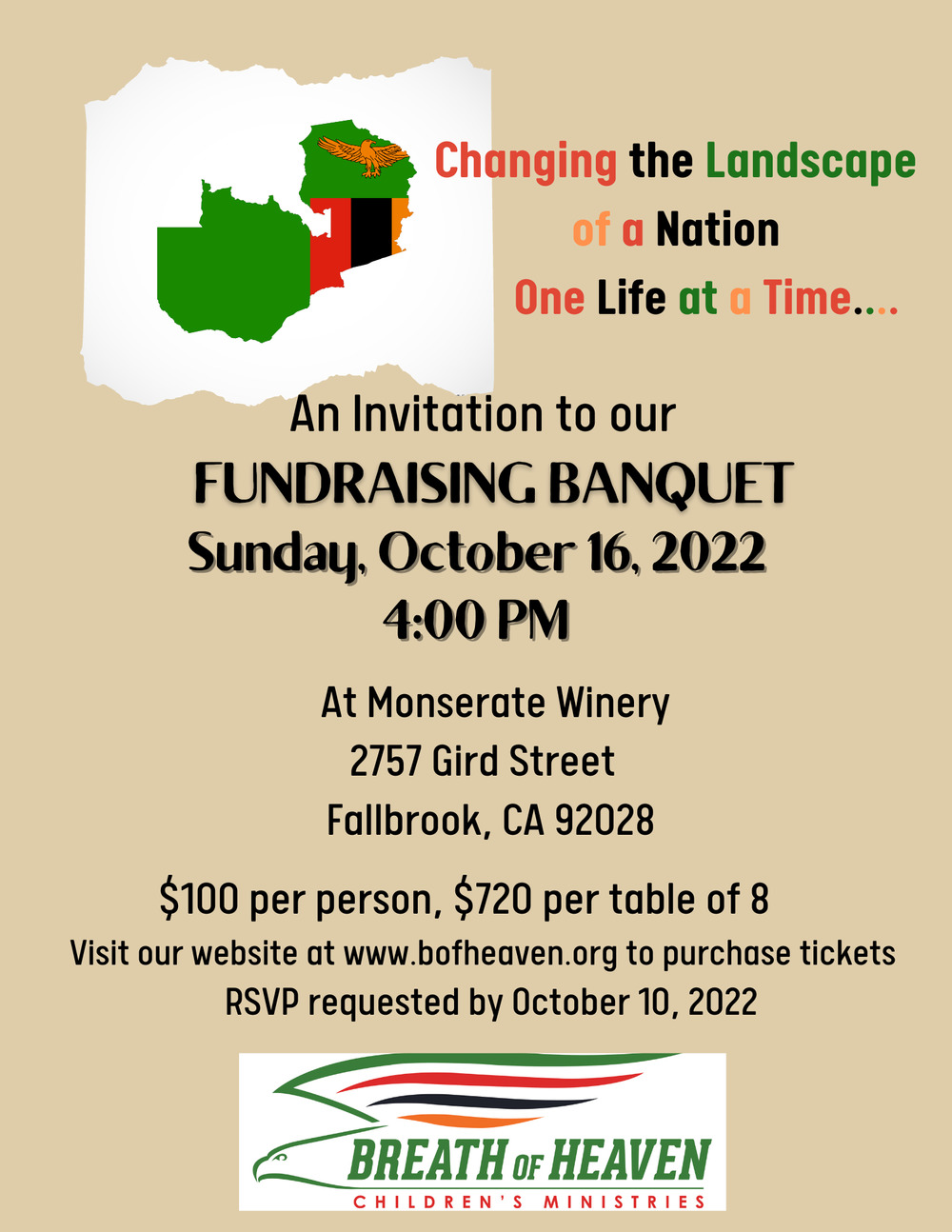 Finally, I want to invite you to something very near and dear to my heart.  Most of you would know that I recently got back from a trip to Zambia where we partner with a really amazing orphan care organization called Breath of Heaven Children's Village. I love this place, I love the staff, I love the kids, I love the mission…together we are providing a hope and a future for Zambia's orphans, and we are changing the landscape of a nation, one life at a time.  On October 16, at 4:00PM, we are having our annual fundraising banquet for Breath of Heaven. I really hope you'll come and support this amazing organization.  Plus, if it's any interest to you, I'm one of the speakers at the event.  Please register and get more details at https://www.bofheaven.org/events.
By the way, I'll be returning to Zambia the last week of October, along with Michael Aplikowsky, to speak at the Zambia national Vineyard Conference in a city called Ndola, and I would love it if you would be praying for us as we prepare to minister to a bunch of pastors and leaders. After the conference we'll be heading over to Breath of Heaven in Lusaka to spend time with the staff and children there. (Some people have also asked about helping with the travel costs, which is greatly appreciated, so if you wanted to donate to that need click here.)
And that's it for this week's Grace Vineyard update.  I'll see you all on Sunday morning!
I'd love to see you in person tomorrow, but if you need to watch from afar, you can join us via zoom at https://us02web.zoom.us/j/153112432?pwd=WlJjbWZNeHo0NXBKM0VvbDkrYXV2QT09, Meeting ID: 153 112 432, Password: 684814.
Let's worship!!
With love and blessings,
Ron Ohst
---
Tithes and Offerings Online
THANKS for taking ownership in the life and ministry of Grace Vineyard!  And thanks to all of you who are stepping into a lifestyle of generosity with your tithes and offerings.  It really does take all of us doing our part with the income God has entrusted to us for His church. If you'd like to give your tithe or offering online, click the donate button below.