September 2, 2022
Hello Grace Vineyard and friends of Grace Vineyard.
It's September!  For some of us, that means a new rhythm of living as our kids go back to school.  For all of us in San Diego it means the tourists are about to go home!  In some ways, September might be my favorite month around here.  Beautiful weather without "May-Gray" or "June-Gloom", peaceful beauty at the beaches, a sense of new beginnings…how about you?  What's your favorite month (if you have one, that is)?
We have another great week planned here in our Grace Vineyard family.
Missions Highlight – Brad and Lisa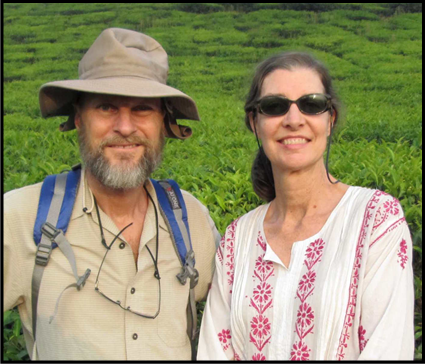 Brad and Lisa are the local coordinators for a new training program for cross-cultural workers. New workers preparing for ministry abroad spend three months living and working with Muslims in the immigrant neighborhoods of San Diego. Classwork each morning and internships among refugees in the afternoons gives them a practical understanding of ministry challenges before they move to the field. Brad and Lisa are bringing their many years of experience in ministry overseas to help train and prepare the next generation as they are sent out to bring the Good News to those still unreached.  I've visited their work in San Diego, and it's AMAZING!  And the fruit of this training program is undeniable. What a blessing to have Brad and Lisa right in our own back yard.  They'll be with us this Sunday to tell us some fresh stories and then we'll pray for them in our missions moment.  Don't miss it – this is your opportunity to meet them in person.
Guarding the Treasure
When we were together last Sunday, we talked about the importance, even urgency, of guarding the treasure that God has entrusted to each of us.  No matter how long we've been following Jesus – whether a few days or many years – we each carry the treasure of our experiences in the Lord and our knowledge of Jesus.  If we don't guard that treasure and pass it on to the next generation, it quite literally can be lost.  Indeed, there are entire nations that once were centers of the Holy Spirit's power and the joyful celebration of Jesus that now appear only to have a few smoldering embers of a once bright fire.  This is sobering.  In our Bibles we have a letter that the apostle Paul wrote to Timothy just before Paul was martyred, where he urges Timothy to guard this treasure.  We looked at 3 specific ways we are called to guard the treasure.  You can watch that message right here:
This Sunday, I'm going to continue looking at these theme, focusing on Paul's words in 2 Timothy, Chapter 2.  There Paul tells Timothy that he needs to strengthen himself in the grace that is in Christ Jesus.  He then mentions 3 kinds of strength that Timothy will need to keep guarding the treasure – the strength of a soldier, the strength of an athlete, and the strength of a farmer.  Here's how we find it in the Bible:
"You then, my son, be strong in the grace that is in Christ Jesus. And the things you have heard me say in the presence of many witnesses entrust to reliable men who will also be qualified to teach others.  Endure hardship with us like a good soldier of Christ Jesus.  No one serving as a soldier gets involved in civilian affairs — he wants to please his commanding officer.  Similarly, if anyone competes as an athlete, he does not receive the victor's crown unless he competes according to the rules.  The hardworking farmer should be the first to receive a share of the crops.  Reflect on what I am saying, for the Lord will give you insight into all this." –2 Timothy 2:1-7
Join us at 9:30 for another great Sunday of worship, the Word, prayer ministry, and fellowship.  I encourage you to come in person if at all possible.  Of course, we are continuing to offer on online option via Zoom at https://us02web.zoom.us/j/153112432?pwd=WlJjbWZNeHo0NXBKM0VvbDkrYXV2QT09, Meeting ID: 153 112 432, Password: 684814.
Here's some upcoming ways to connect for the women and the men:
Women's Hike Saturday, September 10
For September's Ladies Walk/Hike, we'll be walking around the pier starting at 9am on Saturday, September 10th.  Meet us on the sidewalk across from 333 Pacific restaurant.  We'd love it if you would text or call Kathy Green at 760-583-1797 if you plan on coming.  What a great way to enjoy God's beautiful creation and each other.
Monthly Men's Breakfast September 10
Men, join us for biscuits and gravy, eggs, potatoes, bacon, OJ, Coffee, fellowship, worship and an inspirational message from Kent Franke.  How can you resist that?!  We'll experience all of this on Saturday, September 10, at 8am at Ty's Burgerhouse, 515 Mission Ave.
MovementSD Evangelism Event October 1st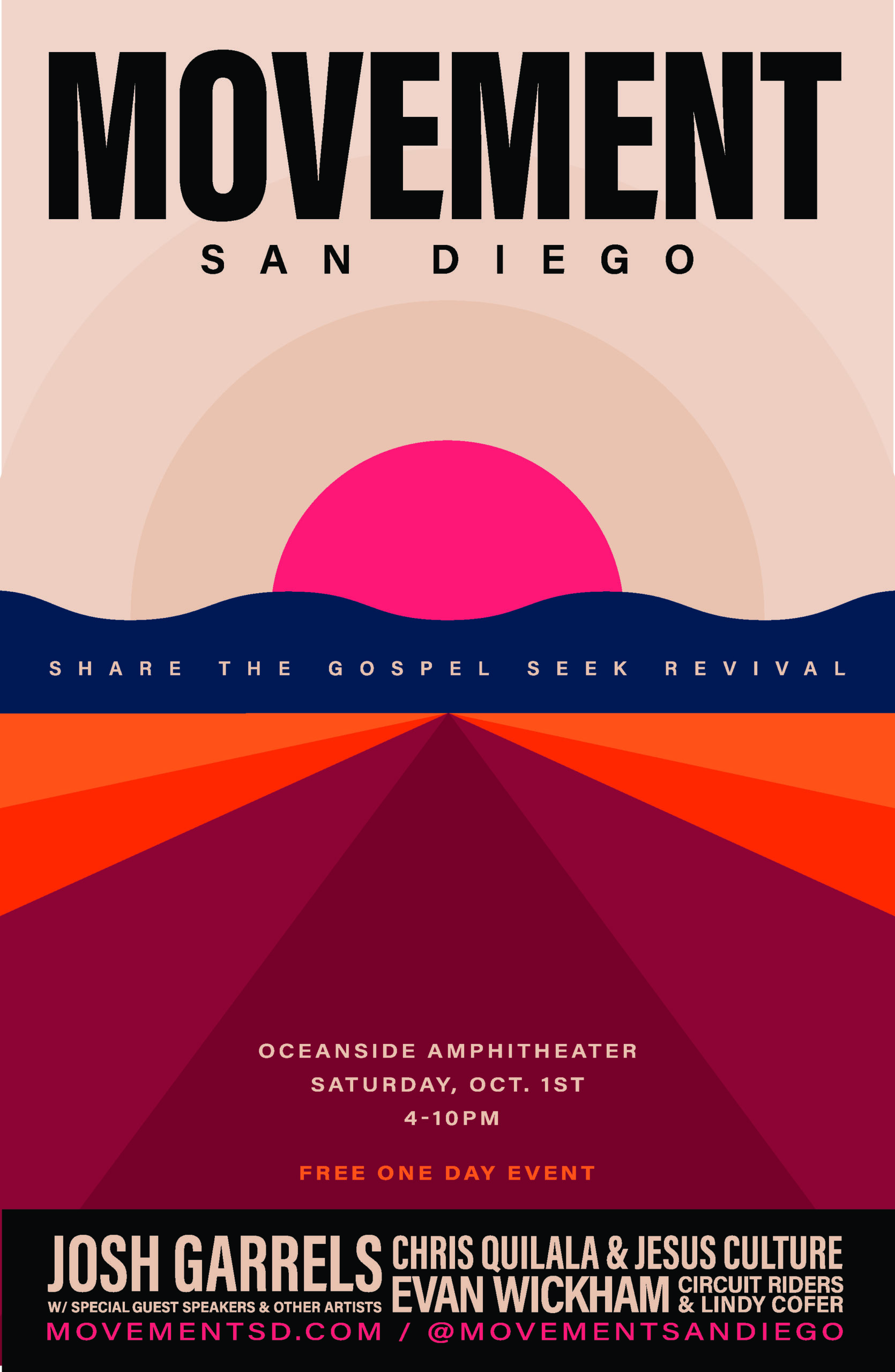 Start inviting your friends to this free event with Josh Garrels, Evan Wickham, Chris Quilala, Circuit Riders and Lindy Cofer, Mike Doyle, Zack Curry, Brian Sumner, Jason Graves and other speakers and musical guests on Saturday, October 1st at the Oceanside Amphitheater as we share the good news of Jesus and seek revival in San Diego.  Check out more info at movementsd.com.   We've put a stack of fliers and business size cards next to our Grace Vineyard invitation cards on the granite counter in the lobby.  I joined a group of people from movmentsd at the amphitheater last Monday to worship and pray for this event, and I think it's going to be pretty awesome, so I'm encouraging you to get involved with prayer and inviting!
We've also got two new Women's Bible Studies that we'll be launching this month.
On Saturdays, beginning September 17th, we will launch another session of "Find Your People" in person in the Grace Vineyard Kids area from 11am-12:30pm.  People enjoyed this study so much that we thought we'd do it again at a new time to make it available for a wider audience.  Workbooks for this study are $20.  Please call Nancy Beck for more info at 760-696-2078.  Then on Mondays, beginning September 19th, we'll be doing a study based on season 1 of The Chosen, the new series on the life of Jesus that you can watch at https://watch.angelstudios.com/thechosen  This is a really creative look at the life of Jesus that I have thoroughly enjoyed.  There are 2 options for joining this study: either in-person at my house, or online via zoom, led by Robin Spillman.  Workbooks are $20, but are not required for this study.  There will be a table in the lobby this Sunday with more info for both of these studies. You can also contact Kim Ohst at 760-519-4558 for more info.
Women's Retreat October 21-23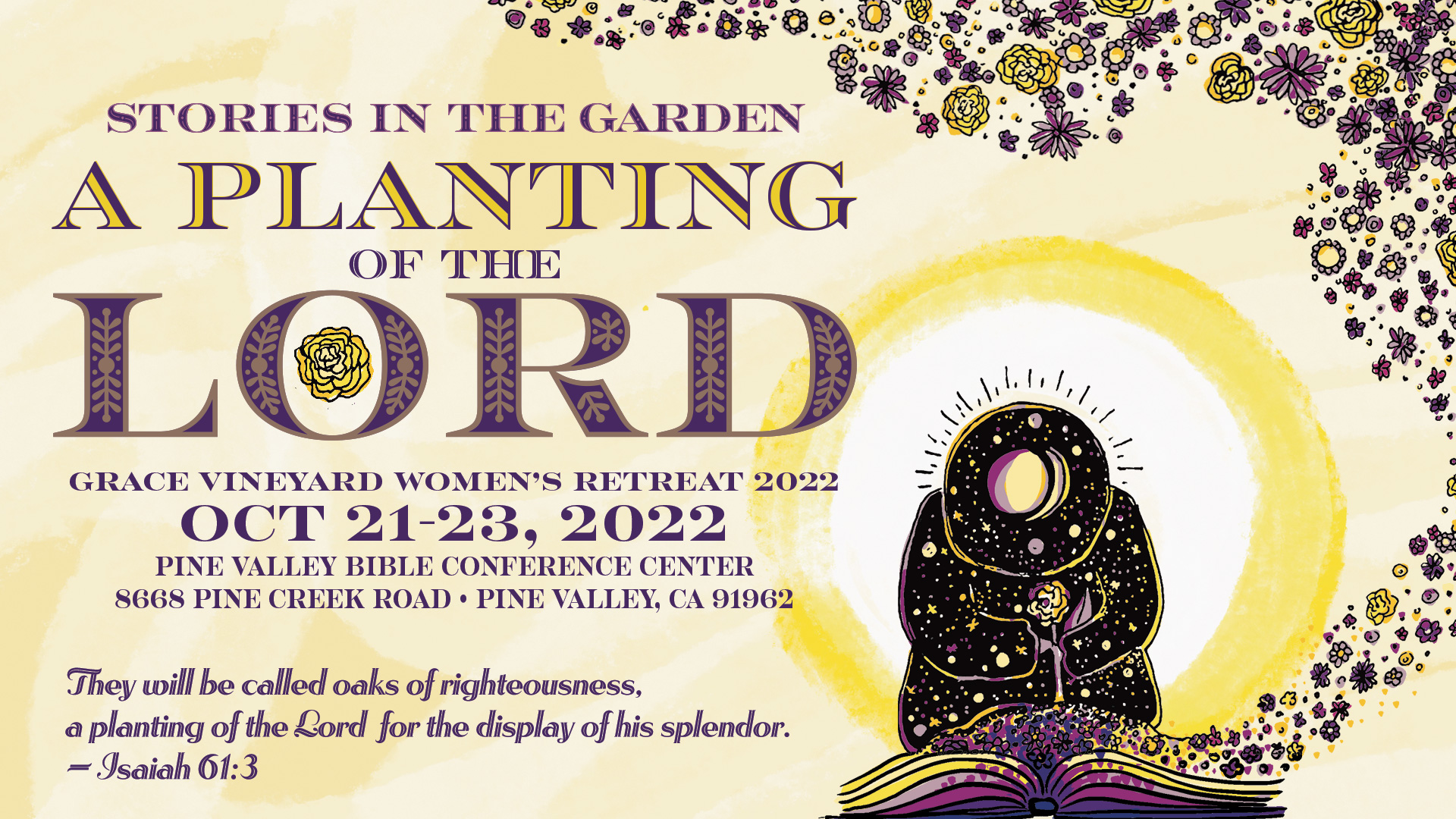 It's time to register for the Women's Retreat, October 21-23. Did you know that He's at work in your story, and that if He's at work, there will be a joyful ending? Sometimes He gives us a cup of suffering and most times those hard things are a part of the process—our process— in creating the display of His splendor. When we submit and surrender, our life's broken places can be rebuilt into beauty.  Join us for a special time away featuring teachings from Treina Nash and Michele Goane, worship and creative expression with Amy Huzil. We will begin registration this Sunday.
Annual Breath of Heaven Banquet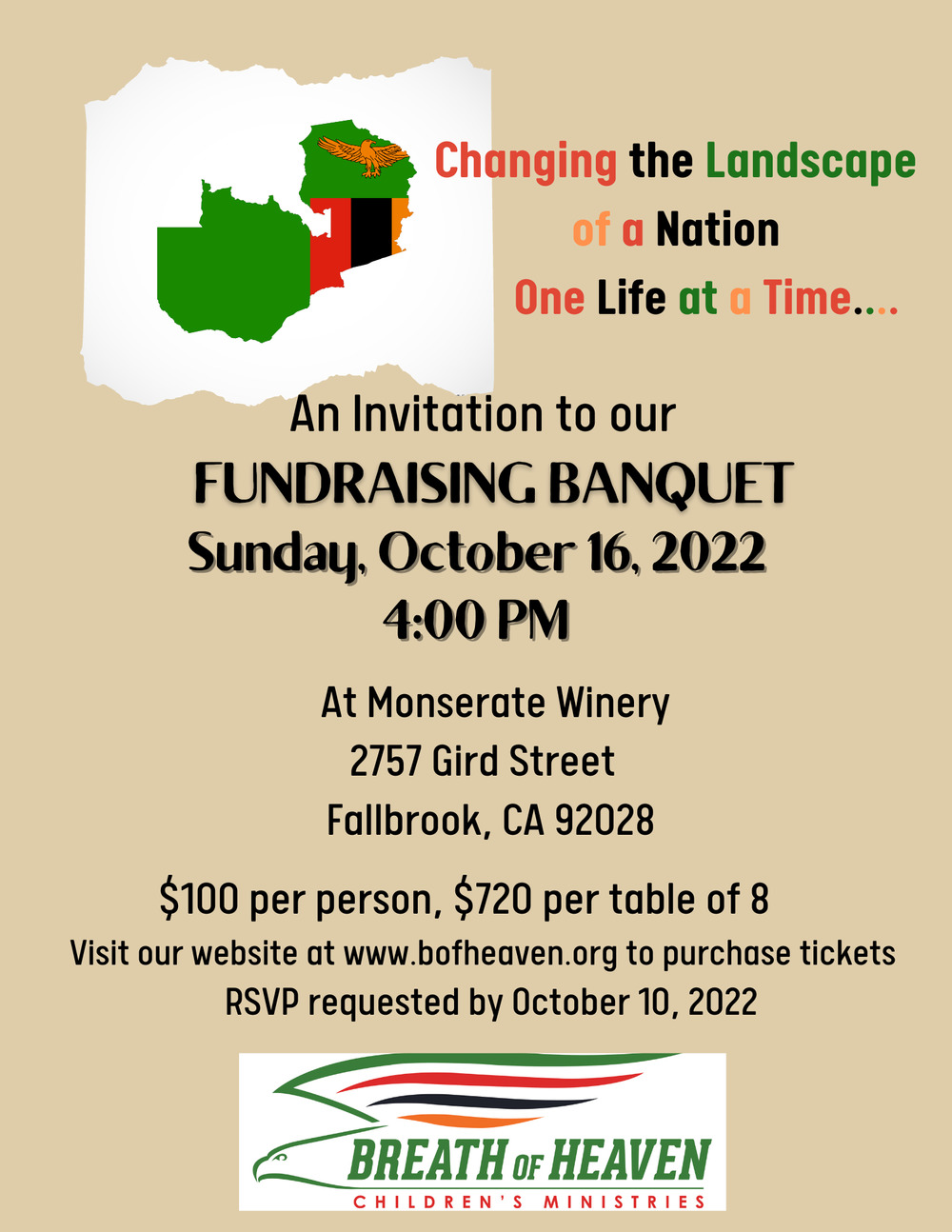 Finally, I want to invite you to something very near and dear to my heart.  Most of you would know that I just got back from a trip to Zambia where we partner with a really amazing orphan care organization called Breath of Heaven Children's Village. I love this place, I love the staff, I love the kids, I love the mission…together we are providing a hope and a future for Zambia's orphans, and we are changing the landscape of a nation, one life at a time.  On October 16, at 4:00PM, we are having our annual fundraising banquet for Breath of Heaven. I really hope you'll come and support this amazing organization.  Plus, if it's any interest to you, I'm one of the speakers at the event.  Please register and get more details at https://www.bofheaven.org/events.
And that's it for this week's Grace Vineyard update.  Try to stay cool on Saturday, and I'll see you all on Sunday morning!
With love and blessings,
Ron Ohst
---
Tithes and Offerings Online
THANKS for taking ownership in the life and ministry of Grace Vineyard!  And thanks to all of you who are stepping into a lifestyle of generosity with your tithes and offerings.  It really does take all of us doing our part with the income God has entrusted to us for His church. If you'd like to give your tithe or offering online, click the donate button below.