April 21, 2023
Hello Grace Vineyard and friends of Grace,
It's another beautiful Friday in Oceanside!  I hope you are enjoying this beautiful spring weather.  It's time for our weekly email update.
We had a great time together last weekend, and I'm looking forward to another great weekend with you.  Last Saturday Mark Newell led a group of folks from our church on a "Jesus Walk", and a few of the folks who went told us stories on Sunday morning.  I thought you'd enjoy hearing those again in case you missed it, so check out this video:

Wasn't that awesome?  They said we'll probably doing this again in about a month, so stay tuned, and join us next time!
Last Sunday we began a sermon series called "Empowered" which will lead us right up to Pentecost Sunday on May 28.  We'll be talking about topics related to the Holy Spirit as we prepare our hearts to celebrate Pentecost, praying that we too will experience a fresh baptism of the Holy Spirit.
This Sunday I'll be continuing with a message I'm calling "The Throne in My Heart: How the Lordship of Jesus is Key to Spirit-filled Living".  We'll be looking at some Bible Passages that settle the issue of who's in charge of my life like,
1 Corinthians 6:19-20

19 Do you not know that your body is a temple of the Holy Spirit, who is in you, whom you have received from God? You are not your own; 20 you were bought at a price. Therefore honor God with your body.
There's important preparation for both individual infilling of the Spirit and church-wide revival, and it involves turning away (aka repentance) from living as though I am living for my own desires and appetites above the Lord's plans for my life.  The result of such a turn is an entrance into life that is true living indeed.  I hope you'll make plans to join us for these "Empowered" Sundays.
Last week, we began the series with some teaching on the role of the Holy Spirit as a Revealer of Truth.  If you missed that one, you can watch it right here:
African Orphan Fundraiser is Monday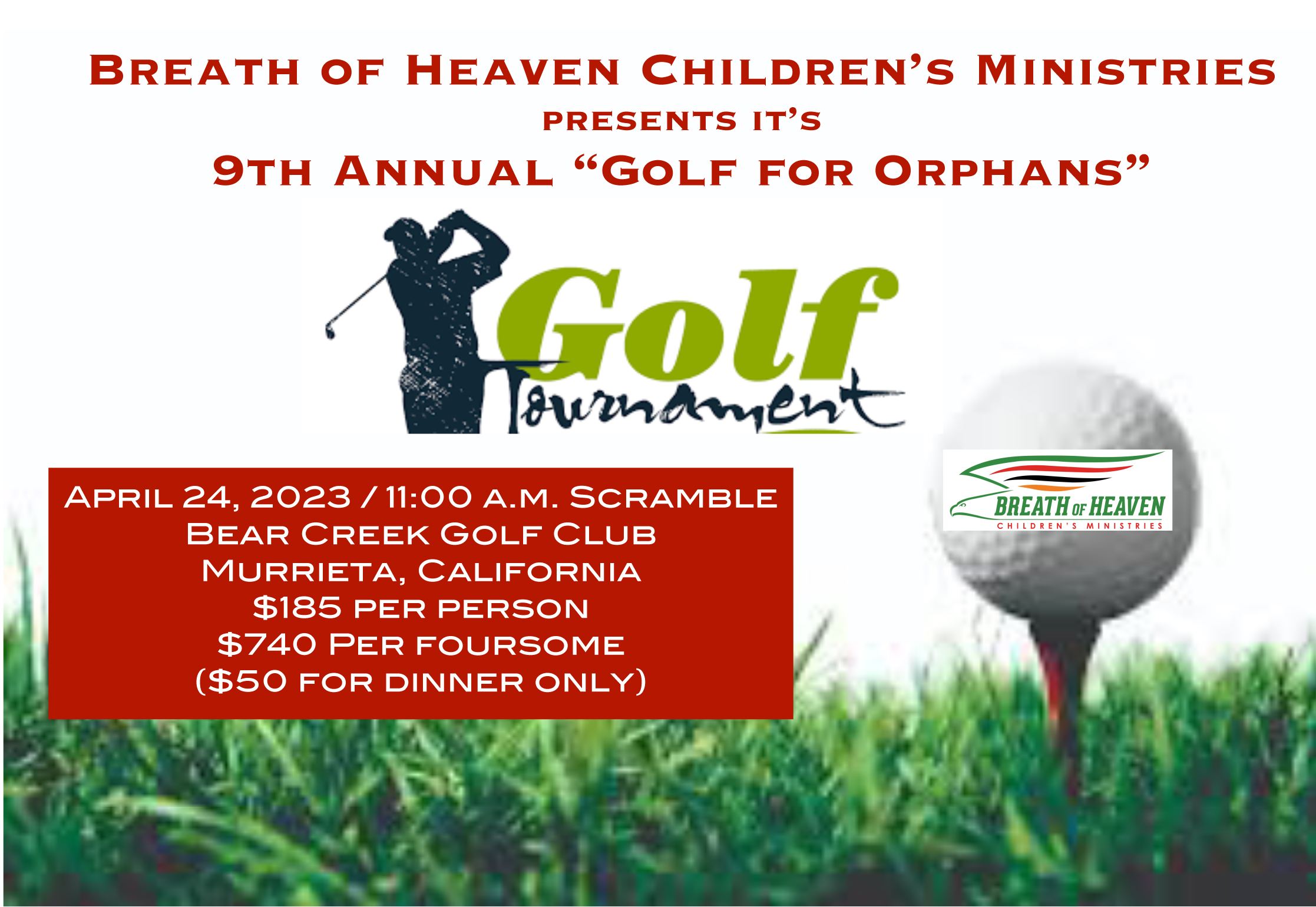 I've been telling you about this fundraiser for orphans in Zambia, and this is your last chance to jump in.  Now, if you're like me and don't golf, you can come for just the dinner at the end of the tournament.  But if you golf, you're in for a very fun day on a beautiful golf course – the Bear Creek Golf Club.  Breath of Heaven Children's Village in Zambia is an amazing place, with an amazing vision, and much of that vision has already been accomplished – 100% of the funding comes from donations and fundraisers like this one on Monday.  Here's some highlights of where we stand today and our current needs:
• Eight homes currently house 96 orphaned children. Over 30 children still need sponsorship.
• Two "transition homes" are preparing older children for reintegration into the community, career development and/or the pursuit of higher education.
• Hope clinic is open and providing medical attention to those on the Breath of Heaven properties, as well as the local community. We still have need for medical equipment. Our most immediate need is a blood analyzer so that samples do not have to be sent to an outside source for analysis.
• The Breath of Heaven Technical Secondary School opened in January and the Vocational Training College will open in June. Donations are needed to finish furnishing the facilities and to put the landscaping in place.
To sign up for the golf tournament or the dinner only,  email Tom LaManna at tomlamanna50@gmail.com or go to the Breath of Heaven website www.bofheaven.org.  Dinner will be served immediately following the tournament.  I look forward to seeing some of your faces there on Monday!
Monthly Ladies Walk/Hike Saturday, April 29th
Our monthly ladies walk/hike is coming up Saturday, April 29th, at Hosp Grove. We'd love to have you join us. We'll m
eet at the Hosp Grove playground off Jefferson at 9 am. Please call Kathy Green at 760-583-1779 and confirm if you plan to attend!
Help Us Refill Our Building Fund
Most of you know we were able to purchase our beautiful building near the end of 2019.  What an amazing blessing for our church family! With ownership comes responsibility, especially with a 70 year old building.  We still have many upgrades to do (have you noticed the hole in the lobby ceiling, for example,  or the tattered and mismatched carpet in the theater aisles?).  You might consider making a one time large donation, or perhaps, making a modest monthly donation to the building fund.  To do so, you can just click on the donate button at the bottom of this email, and when you have an option to say "what's this donation for:" just put "building fund".
That's it for now!  I'll see you Sunday morning.
with blessings and love,
Ron Ohst
---
Tithes and Offerings Online
THANKS for taking ownership in the life and ministry of Grace Vineyard!  And thanks to all of you who are stepping into a lifestyle of generosity with your tithes and offerings.  It really does take all of us doing our part with the income God has entrusted to us for His church. If you'd like to give your tithe or offering online, click the donate button below.