April 14, 2023
Hello Grace Vineyard and Friends of Grace Vineyard,
Spring has come and the rains have done their work, and creation creation is in full bloom all around us!  I chose a header graphic for this week's update with Spring flowers in mind so I could bring that image to our imaginations.  And it feels like there is also a blooming in a spiritual sense all around us.  I constantly am hearing stories of people hungry for encounters with the Lord. It's an exciting time to be a follower of Jesus!
Here's some opportunities around here for you to jump into the life that's blooming all around:
Jesus Party is Back
If I don't get this email out early enough for you to make it today, at least you'll know for next Friday: our good friends Dustin and Nina Nelson are launching Jesus Party starting tonight!  They meet on the beach every Friday at 6:22 near lifeguard tower #2.  This is a great place to enjoy worship, fellowship, Holy Spirit Stories, evangelism, prayer, and more  They took a break when the weather got too cold outside, but now that Spring is here, they're back at it.  Join us in praying for an outpouring of the Holy Spirit on these gatherings, with multitudes meeting Jesus, and Jesus Parties multiplying up and down the coast of San Diego.
Jesus Walk Saturday Morning
Saturday morning  (April 15th)  beginning at 10am, a group of us will be meeting at the Oceanside Transit Parking Structure for a "Jesus Walk".  We will be walking, worshiping, praying, fellowshipping and anything else Holy Spirit leads us to do.  Ultimately we are praying for some "Holy Hello's" with people we meet along the way.  Please join us for a great adventure!  If you have any questions, reach out to Mark Newell at (760) 715-1611‬.  In case you're new to the phrase "Holy Hello", it's what happens when a normal hello turns into a God focused conversation, that often leads to prayer for the person you're talking to and most importantly, an invitation for the person to begin following Jesus.  People seem to be more hungry for real encounters with the living God than ever before, so wherever you find yourself throughout the week, pray for and look for opportunities to meet people and experience Holy Hello's.
Empowered Series: Pentecost 2023
Starting this Sunday, and for the following 6 Sundays culminating on Pentecost, May 28, we will be joining Vineyard churches across the nation with a series of talks on the Holy Spirit.  This week's topic is on the role of Holy Spirit as The Revealer.  He reveals who Jesus really is, He reveals the true nature of God the Father, He reveals truth and insight that we need in our daily lives, and so much more.  I'm praying that we will all grow in our understanding of the third person of the Trinity, and we that will all experience His powerful infilling in our lives! I hope you're hungry and thirsty for all the life that God has available for us!
Ladies Tea Saturday, April 22nd
Ladies, you are invited to join us for a lovely afternoon tea on Saturday, April 22nd, beginning at 1pm.  Our theme for the tea is "Relationships that Refresh the Soul".  Margy Hill will be our speaker.  Tickets are $10 and you can sign up at the table in the lobby to bring food or host a table.  For more information, please call Kim Ohst 760.519.4558.
Breath of Heaven Golf Tournament Fundraiser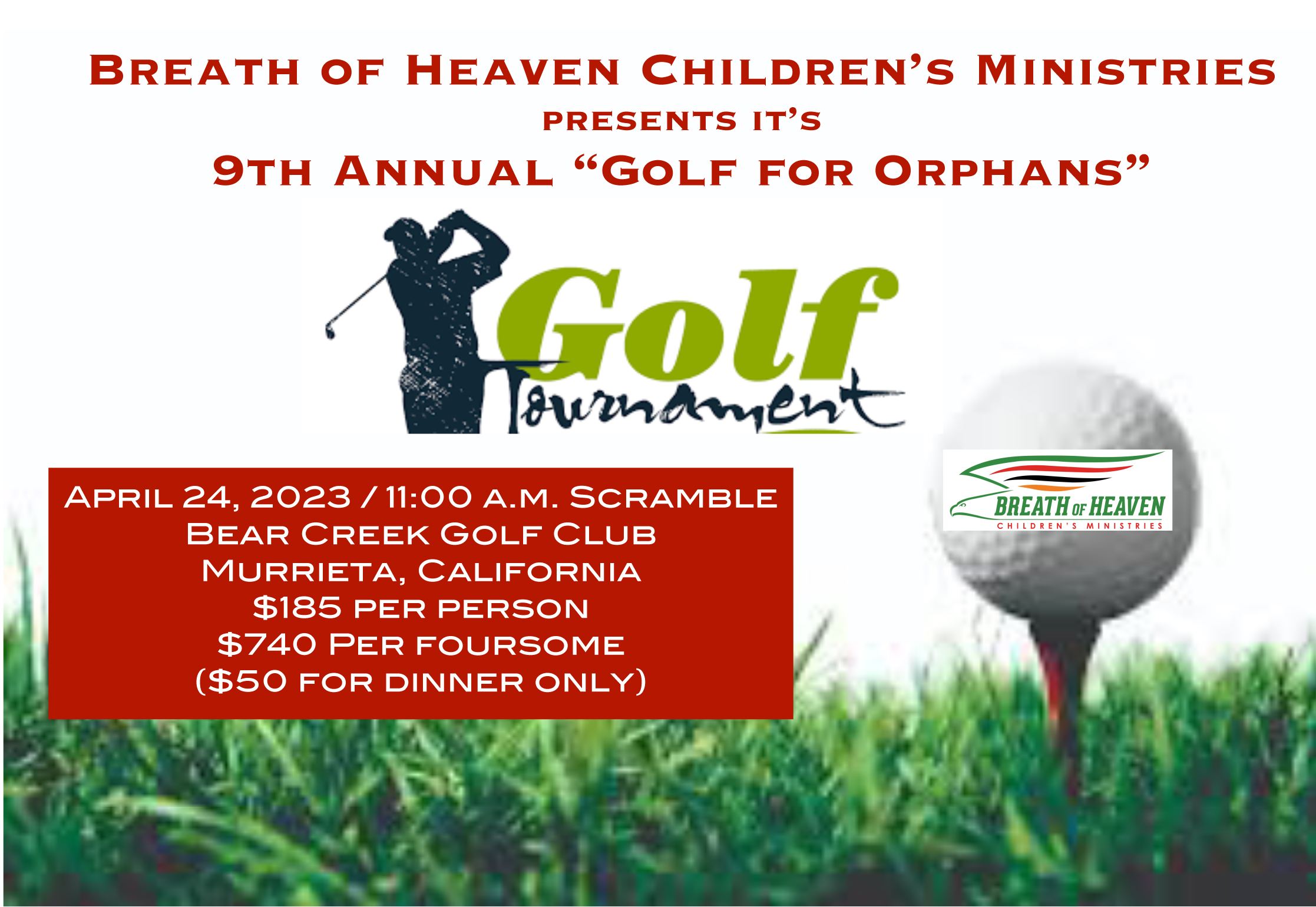 The  annual Breath of Heaven Golf Tournament is on April 24, and it is time to register! The purpose is to raise funds for our orphan care village in Zambia, Africa. If you don't golf, keep reading, cuz I also don't golf either, but there's a way for us non-golfers to also get involved – we just go to the banquet after the tournament.  To sign up for the golf tournament email Tom LaManna at tomlamanna50@gmail.com or go to the Breath of Heaven website www.bofheaven.com.  Dinner will be served immediately following the tournament.
In a few short years, much of the vision of Breath of Heaven has already been completed, but we still have work to do, so please join us in this fundraising event.  The vision is to have a children's village for orphaned children consisting of 14 homes, an elementary school, high school and vocational college, a church and a medical clinic.  Here is where we stand and our needs in each of these areas:
• Eight homes currently house 96 orphaned children. Over 30 children still need sponsorship.
• Two "transition homes" are preparing older children for reintegration into the community, career development and/or the pursuit of higher education.
• Hope clinic is open and providing medical attention to those on the Breath of Heaven properties, as well as the local community. We still have need for medical equipment. Our most immediate need is a blood analyzer so that samples do not have to be sent to an outside source for analysis.
• The Breath of Heaven Technical Secondary School opened in January and the Vocational Training College will open in June. Donations are needed to finish furnishing the facilities and to put the landscaping in place.
Breath of Heaven Children's Ministries is a non-profit corporation that is giving orphaned and vulnerable children in Zambia "hope and a future". Please join us for golf. If not, please consider supporting us in any manner you can. Help us serve the needs of the most vulnerable children in Zambia.
Monthly Ladies Walk/Hike Saturday, April 29th
Our monthly ladies walk/hike is coming up Saturday, April29th, at Hosp Grove. We'd love to have you join us. We'll m
eet at the Hosp Grove playground off Jefferson at 9 am. Please call Kathy Green at 760-583-1779 and confirm if you plan to attend!
And that's it for this week's update.  Enjoy a beautiful Saturday!
I look forward to seeing you all on Resurrection Sunday at 9:29 AM!
With blessing and love,
Ron Ohst