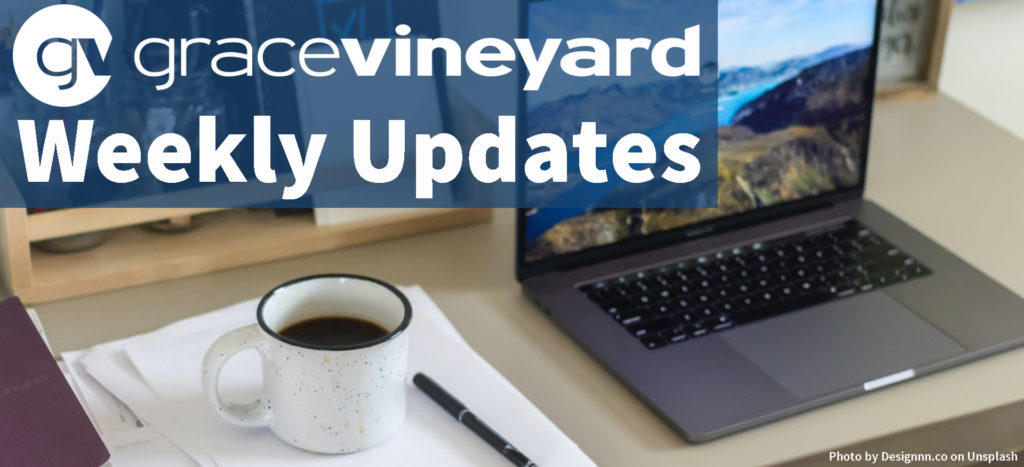 March 31, 2023
Hello Grace Vineyard and Friends of Grace Vineyard,
We are just about to enter April, so be ware of the practical jokesters in your lives, because tomorrow is April Fools' Day.  🙂 I wonder who will have the most creative prank foisted upon them?!
We've got another great Sunday to share together this weekend.  First of all, it's Palm Sunday, the day we remember Jesus' triumphal entry into Jerusalem, beginning the final week before His sacrificial death on Good Friday for our sins in order to bring us salvation, followed by His resurrection on Sunday morning.   There are so many beautiful places in the Bible fill that fill my heart as they explain the love of God for us in Jesus' death and resurrection.  Here's just one:
Ephesians 1:4-8
In love  he predestined us to be adopted as his sons through Jesus Christ, in accordance with his pleasure and will—  to the praise of his glorious grace, which he has freely given us in the One he loves. In him we have redemption through his blood, the forgiveness of sins, in accordance with the riches of God's grace  that he lavished on us with all wisdom and understanding.
Beautiful! I'm thankful beyond words for the immeasurable love of God.  I look forward to spending time this coming Sunday with you thanking and praising Jesus for His loving kindness.
Special Guest from Kenya This Sunday
For Sunday morning, a wonderful opportunity came to us.  Most of you probably know Joel and Cindy Incorvaia, our dear friends who travel to Kenya to minister there with Harvest International Ministries (H.I.M.) .  The network of churches they work with there now has approximately 4500 churches!   The name of the bishop for H.I.M that Joel and Cindy work with in Kenya is Simon Karisa, and he's in San Diego this week.  Joel asked if Simon could speak at Grace Vineyard this Sunday while he's in California, so we have the great pleasure of hosting Simon Karisa this weekend.  This is a unique opportunity for all of us to hear first hand about how the Kingdom of God is expanding in Kenya, and to enjoy the preaching ministry of an important leader of the church there.  I hope you'll make every effort be with us for this special service on Sunday.
Night of Art and Worship April 2nd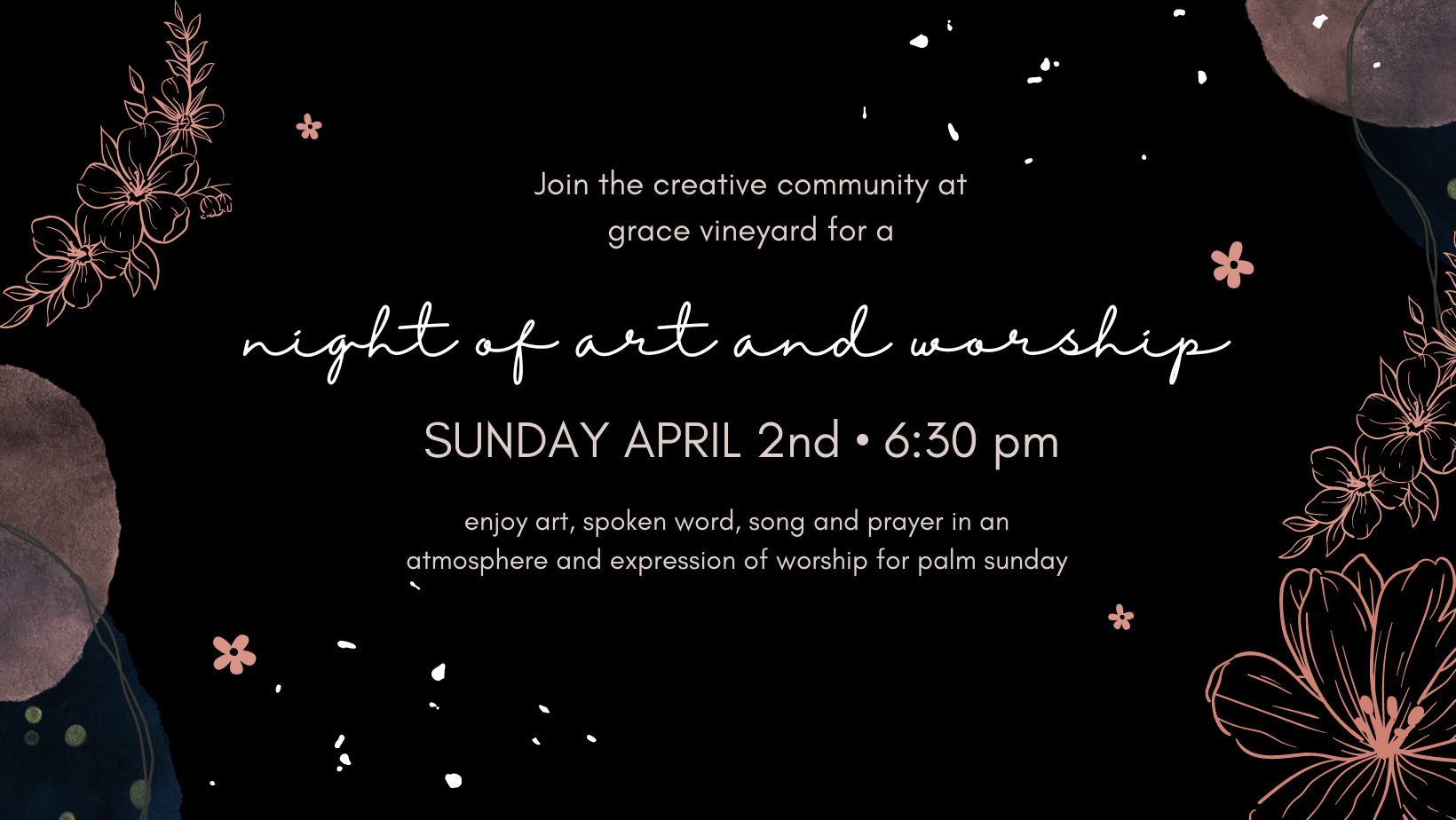 Our  Palm Sunday experience continues on Sunday night with "A Night of Art and Worship". Join us for a special, extended time of worship and ministry Sunday Night, starting at 6:30PM. We'll have live music on the terrace as well as art in the lobby — all expressions of praise are welcome as we honor Palm Sunday, the day that Jesus rode into Jerusalem as a humble King.
ARE YOU CREATIVE?
We are looking for people who want to share a creative expression that night. If you have a song, a work of art, a poem, spoken word or even a culinary treat you'd like to share with our community, please submit your work/expression of interest to Amy Huzil via email : Ammeepearl@gmail.com .
We will also be needing volunteers for food and refreshments ~ contact Amy by email or phone (858-254-8008) to get involved.
Last Day to Sign Up: Two New Women's Bible Studies in April
We have 2 new women's Bible Studies launching in April. The first is a Monday Night Zoom Study on the Names of God:  Beginning Monday, April 10th 6:30-8:30pm, we'll do a 10 week study via Zoom using the book He Is…Knowing God by Name by Carrie D. Rogers and the corresponding videos.  Books are $25 and the study will be led by Robin (760.583.3677).  Last day to sign up is this Sunday, April 2nd.
The second is a Monday Night In Person Study on Job:  Monday, April 10th 6:30-8:30pm begins the Lisa Harper study of Job: A Story of Unlikely Joy at Kim Ohst's home (4965 Calle Sobrado, Oceanside).  Books are $25 and the last day to sign up is this Sunday, April 2nd. Please text or call Kim for more info 760.519.4558.
Ladies Tea Saturday, April 22nd
Ladies, you are invited to join us for a lovely afternoon tea on Saturday, April 22nd, beginning at 1pm.  Our theme for the tea is "Relationships that Refresh the Soul".  Margy Hill will be our speaker.  Tickets are $10 and you can sign up at the table in the lobby to bring food or host a table.  For more information, please call Kim Ohst 760.519.4558.
Breath of Heaven Golf Tournament Fundraiser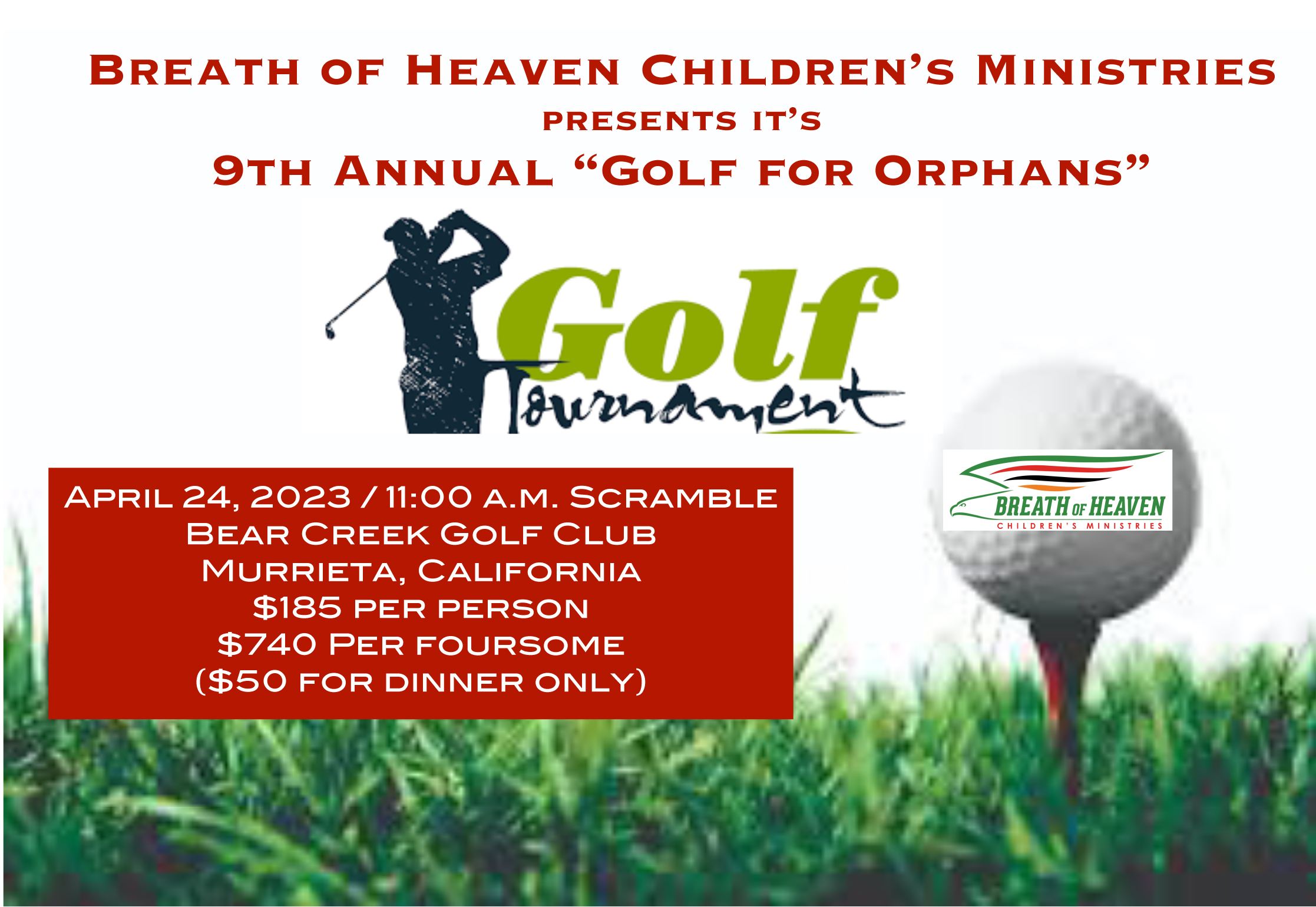 You've probably heard me mention many times the orphan care ministry we partner with in Africa, Breath of Heaven Children's Ministries, and  I  want to make sure you know about our annual Breath of Heaven Golf Tournament on April 24 to raise funds for our orphan care village in Zambia, Africa. If you don't golf, keep reading, cuz I also don't golf, but there's a way for us non-golfers to also get involved – we just go to the banquet after the tournament.  To sign up for the golf tournament email Tom LaManna at tomlamanna50@gmail.com or go to the Breath of Heaven website www.bofheaven.com.  Dinner will be served immediately following the tournament.
The vision of Breath of Heaven is to have a children's village for orphaned children consisting of 14 homes, an elementary school, high school and vocational college, a church and a medical clinic. Thanks to sponsors, donors, and fundraising events such as this year's golf tournament, we have achieved many of these goals. Here is where we stand and our needs in each of these areas:
• Eight homes currently house 96 orphaned children. Over 30 children still need sponsorship.
• Two "transition homes" are preparing older children for reintegration into the community, career development and/or the pursuit of higher education.
• Hope clinic is open and providing medical attention to those on the Breath of Heaven properties, as well as the local community. We still have need for medical equipment. Our most immediate need is a blood analyzer so that samples do not have to be sent to an outside source for analysis.
• The Breath of Heaven Technical Secondary School opened in January and the Vocational Training College will open in June. Donations are needed to finish furnishing the facilities and to put the landscaping in place.
Breath of Heaven Children's Ministries is a non-profit corporation that is giving orphaned and vulnerable children in Zambia "hope and a future". Please join us for golf. If not, please consider supporting us in any manner you can. Help us serve the needs of the most vulnerable children in Zambia.
I'll see you on Sunday morning at 9:30.  Once again, I plan on being in the lobby at 8:30 to seek the Lord for the continued outpouring of His Spirit on our nation in this season of revival.  Everyone is welcome to join me.  It's a great way to prepare our hearts for the in-breaking of God's Kingdom amongst us.
Richest blessings and love to each of you,
Ron Ohst
---
Tithes and Offerings Online
THANKS for taking ownership in the life and ministry of Grace Vineyard!  And thanks to all of you who are stepping into a lifestyle of generosity with your tithes and offerings.  It really does take all of us doing our part with the income God has entrusted to us for His church. If you'd like to give your tithe or offering online, click the donate button below.