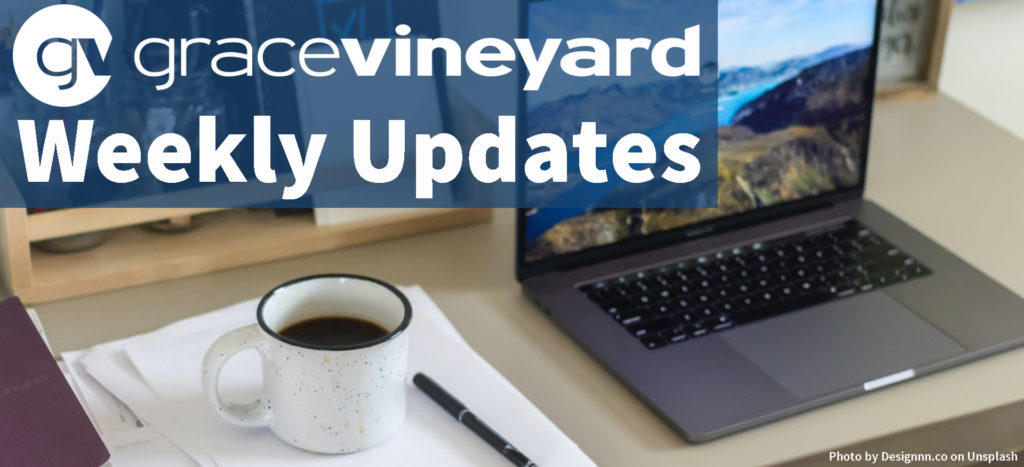 March 25, 2023
Hello Grace Vineyard and Friends!
Happy Spring!  I admit, I had to look it up because I thought the first day of Spring is always March 21, but apparently I was wrong. Almanac.com says, "In 2023, the March equinox happens on March 20, at 5:24 P.M. EDT. This falls on a Monday and is the astronomical beginning of the spring season in the Northern Hemisphere and the autumn season in the Southern Hemisphere."  So there you go – we are already in the 6th day of Spring today.  Here's another piece of date trivia – Easter always falls on the first Sunday after the first full moon after the first day of Spring.  That's why the date moves around every year.  This year Easter is on April 9th, and that's coming up soon.  Easter, of course, is the most important celebration on the Christian Calendar because we celebrate the Resurrection of Jesus.  And in that wonderfully prophetic way God established the Jewish holidays to point to Messianic truths, Jesus was resurrected on the first day of the Jewish Festival called "First Fruits" (Shavuot in Hebrew).  The apostle Paul used this symbolism when he wrote that Jesus is the firstfruits of all who will be resurrected:
1 Corinthians 15:20-26  "20 But Christ has indeed been raised from the dead, the firstfruits of those who have fallen asleep. 21 For since death came through a man, the resurrection of the dead comes also through a man. 22 For as in Adam all die, so in Christ all will be made alive. 23 But each in his own turn: Christ, the firstfruits; then, when he comes, those who belong to him. 24 Then the end will come, when he hands over the kingdom to God the Father after he has destroyed all dominion, authority and power. 25 For he must reign until he has put all his enemies under his feet. 26 The last enemy to be destroyed is death."
I think that is really cool, and another truth related to our current series "Living the Future Now – how the in-breaking of God's kingdom changes everything".  Resurrection is an end of the world event that will take place after the final judgement day when God makes all things new.  But in Jesus' first coming, that end of the world event has already broken into this present age.  It's one more example of the "already and the not yet" or "living in the presence of the future" aspect of the Kingdom of God that is often called the mystery of the Kingdom.  This Sunday I'm planning on continuing our series by talking about the implications for we who follow Jesus, because we too are "already/not yet" people, and that fact really impacts our lives as Christians.  Misunderstandings about this "mystery of the kingdom"  have caused confusion for followers of Jesus throughout the centuries, so I think it will help to dig into the Bible and learn more about this topic.  I hope you'll join me on Sunday at 9:30.  Come with expectation and prayer that God's Kingdom will break in on us in powerful ways as we gather together in His Name.  We've seen an increase in the Holy Spirit's work amongst us lately, and I want to keep pressing in for More!
Last Day to Sign Up For Messiah in the Passover
Speaking of Spring, and Easter, and First Fruits also brings to mind the Jewish holiday of Passover, celebrating the incredible way God delivered the Children of Israel out of slavery in Egypt.  Passover is another prophetic holiday, finding it's fulfillment in Jesus, the Passover Lamb who takes away the sins of the world.  We are hosting Chosen People Ministries' Michael Cohen for a Messiah in the Passover banquet this coming Thursday, and this Sunday is the last day to sign up.  Seating is limited, and there is a full banquet provided by the Thursday night home group, so you need to sign up; the cost is $10.  The Messiah in the Passover presentation is a powerful visual message not only of Israel's freedom from slavery in Egypt, but of the redemption of individuals from the bondage of sin through the atoning work of Jesus.  The program is designed to give participants a deeper understanding both of Passover and of the Communion table.   We will hold the dinner in the back of the church where we have our potlucks.  You'll find this to be a uniquely inspirational evening.  There will be a signup table in the lobby after church this Sunday.  PLEASE NOTE – the starting time is 6 PM (in previous emails I was incorrect and said it was 6:30 PM. Sorry for that error).
Night of Art and Worship April 2nd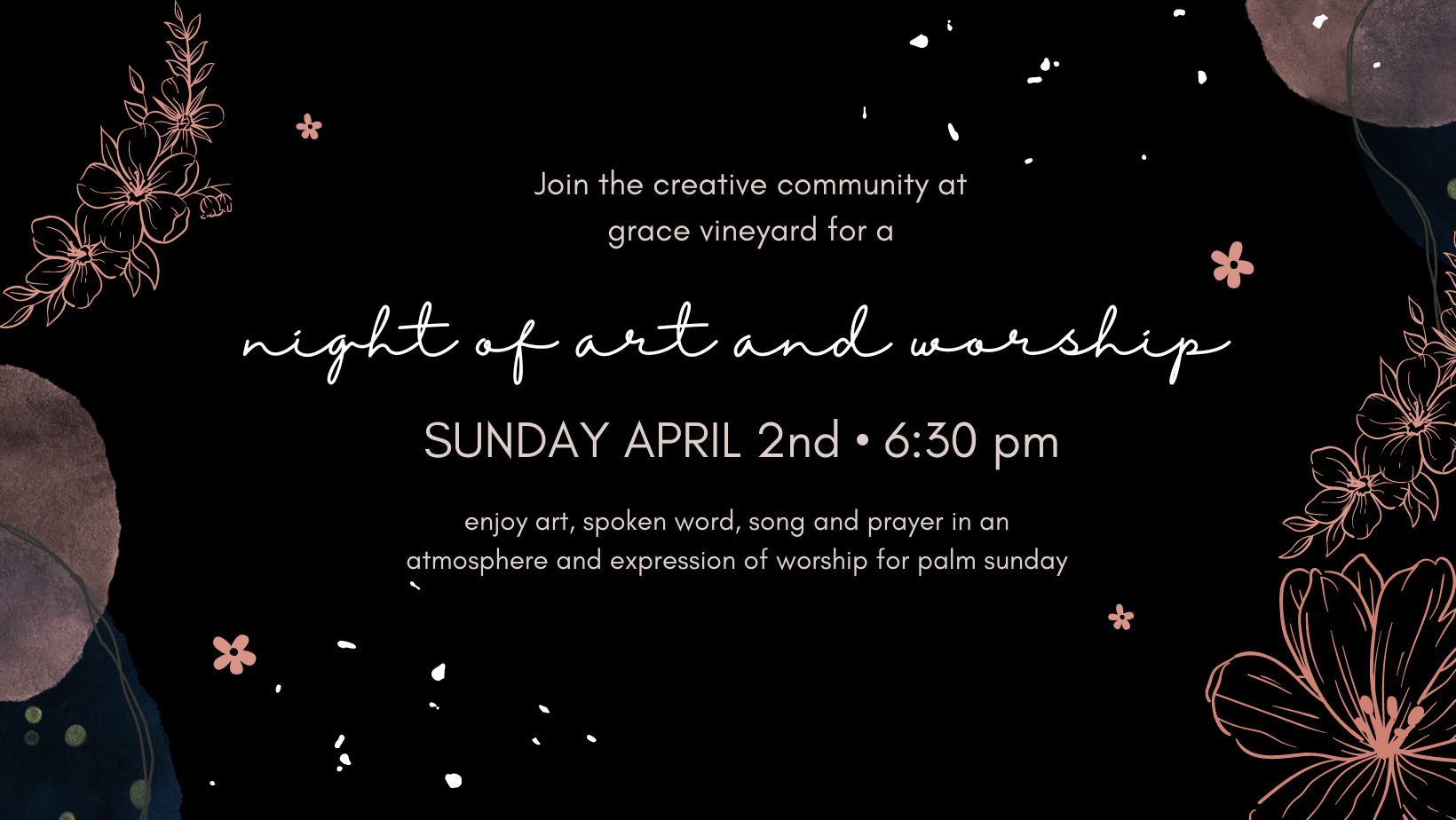 Join us for a special, extended time of worship and ministry next Sunday night, April 2nd, starting at 6:30PM. We'll have live music on the terrace as well as art in the lobby — all expressions of praise are welcome as we honor Palm Sunday, the day that Jesus rode into Jerusalem as a humble King.
ARE YOU CREATIVE?
We are looking for people who want to share a creative expression that night. If you have a song, a work of art, a poem, spoken word or even a culinary treat you'd like to share with our community, please submit your work/expression of interest to Amy Huzil via email : Ammeepearl@gmail.com .
We will also be needing volunteers for food and refreshments ~ contact Amy by email or phone (858-254-8008) to get involved.
Last Day to Sign Up: Two New Women's Bible Studies in April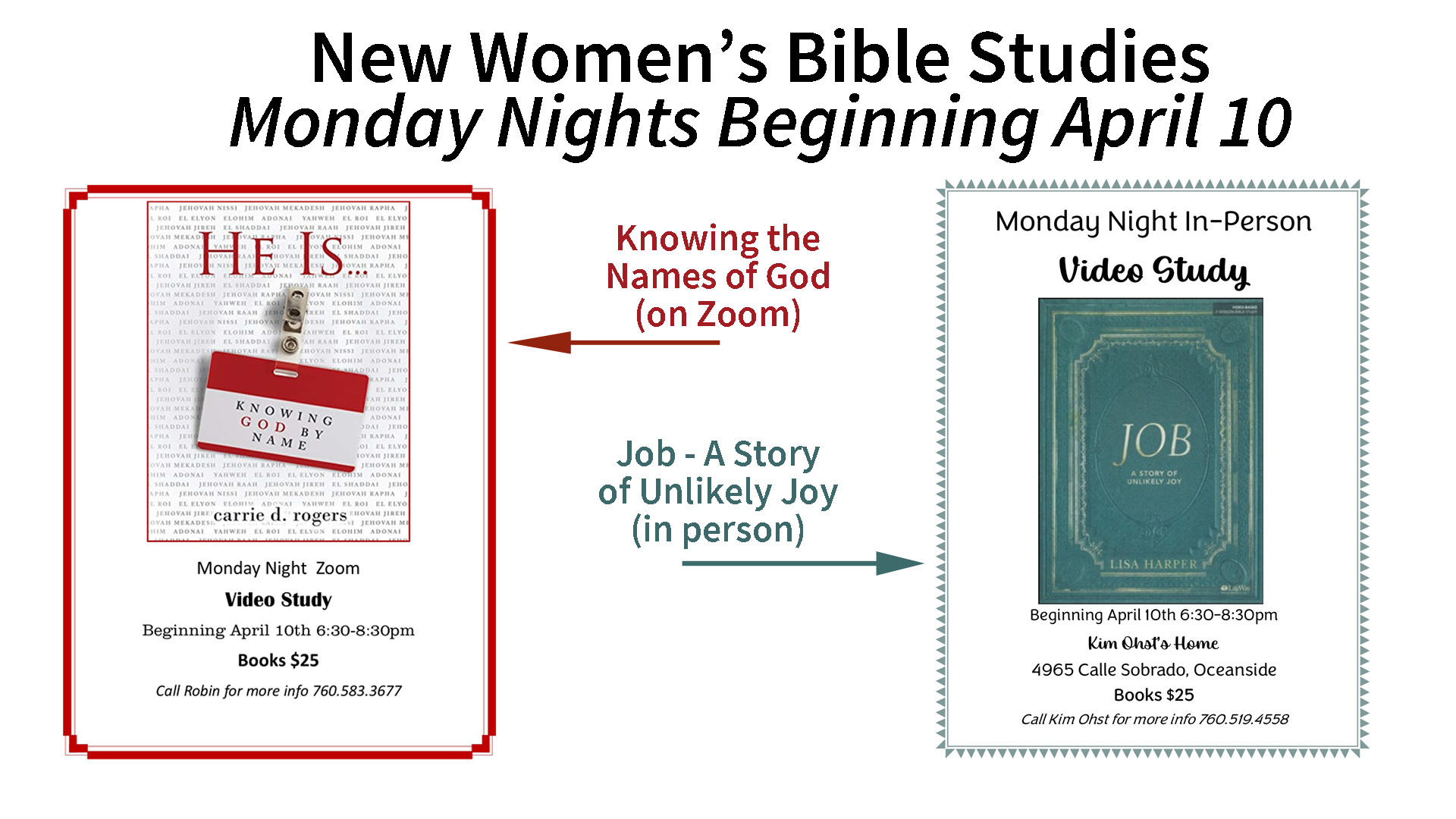 The first is a Monday Night Zoom Study on the Names of God:  Beginning Monday, April 10th 6:30-8:30pm, we'll do a 10 week study via Zoom using the book He Is…Knowing God by Name by Carrie D. Rogers and the corresponding videos.  Books are $25 and the study will be led by Robin (760.583.3677).  Last day to sign up is April 2nd.
The second is a Monday Night In Person Study on Job:  Monday, April 10th 6:30-8:30pm begins the Lisa Harper study of Job: A Story of Unlikely Joy at Kim Ohst's home (4965 Calle Sobrado, Oceanside).  Books are $25 and the last day to sign up is April 2nd. Please text or call Kim for more info 760.519.4558.
Ladies Tea Saturday, April 22nd
Ladies, you are invited to join us for a lovely afternoon.  Our theme for the tea is "Relationships that Refresh the Soul".  Margy Hill will be our speaker.  Tickets are $10 and you can sign up at the table in the lobby to bring food or host a table.  For more information, please call Kim Ohst 760.519.4558.
Breath of Heaven Golf Tournament Fundraiser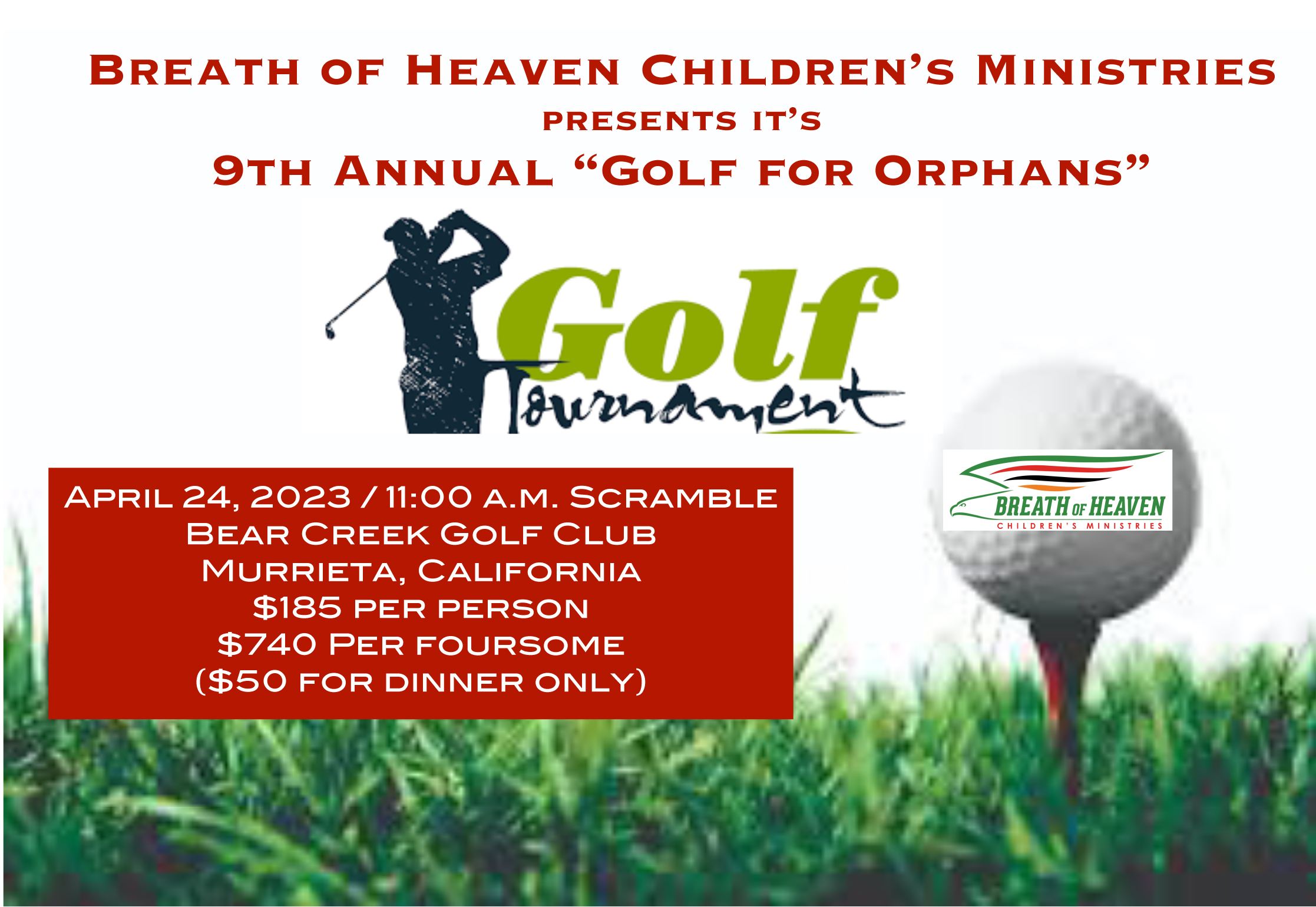 I also want to make sure you know about our annual Breath of Heaven Golf Tournament on April 24 to raise funds for our orphan care village in Zambia, Africa. To sign up for the golf tournament email Tom LaManna at tomlamanna50@gmail.com or go to the Breath of Heaven website www.bofheaven.com.  Dinner will be served immediately following the tournament.
The vision of Breath of Heaven is to have a children's village for orphaned children consisting of 14 homes, an elementary school, high school and vocational college, a church and a medical clinic. Thanks to sponsors, donors, and fundraising events such as this year's golf tournament, we have achieved many of these goals. Here is where we stand and our needs in each of these areas:
• Eight homes currently house 96 orphaned children. Over 30 children still need sponsorship.
• Two "transition homes" are preparing older children for reintegration into the community, career development and/or the pursuit of higher education.
• Hope clinic is open and providing medical attention to those on the Breath of Heaven properties, as well as the local community. We still have need for medical equipment. Our most immediate need is a blood analyzer so that samples do not have to be sent to an outside source for analysis.
• The Breath of Heaven Technical Secondary School opened in January and the Vocational Training College will open in June. Donations are needed to finish furnishing the facilities and to put the landscaping in place.
Breath of Heaven Children's Ministries is a non-profit corporation that is giving orphaned and vulnerable children in Zambia "hope and a future". Please join us for golf. If not, please consider supporting us in any manner you can. Help us serve the needs of the most vulnerable children in Zambia.
Would you like to go to Africa?
We are planning a missions trip to Zambia in Africa leaving the last week in August and returning 2 weeks later.  If you've been paying attention, you'll notice that the dates have changed again, but we think this is really likely to be the dates that we go.  We'll have room for a team of up to 12 people.  We don't know the cost yet, but a ballpark will be in the neighborhood of $3000.  If you'd like to learn more, contact me and I'll tell you more about what we'd be doing and the qualifications needed for going on a missions trip.  My email is rohst@gracevcf.org, and my phone number at the church is 760-754-2974.
Before I go, let me remind you of two more great events coming up at the end of the summer that I'd love you to join me on.  The first is the Vineyard National Conference July 31-August 3.
I am super excited about the Vineyard USA doing their conference like a family camp for the first time in my memory.  We're having our national conference at a retreat center with something for all ages.  When I was a kid, my church had family camp, and it was so fun and life changing.  And a few years back a few of our Grace families went to family camp at Forest Home in California, but we never had anything quite like this.  Check it out at https://conference.vineyardusa.org/  This looks like an amazing retreat center, and I'm dreaming about bunches of us from our whole church going to it.  It could be part of your summer vacation plans in the Blue Ridge Mountains of North Carolina.  I'll be honest, it sounds fairly expensive to fly across the country to do this, but I think it would be a very worthwhile investment, so I'm gonna see if my family can swing it.  We've got about 5 months left to save up the money for it.  Trust me- there's nothing like a Vineyard national conference.  And when things seem difficult to accomplish, there's always prayer – God gives amazing answers when we present our requests to Him.
The 2nd thing is our annual Marriage Getaway in Palm Desert.
2023 Marriage Getaway at La Quinta
Come away with your spouse for a weekend of encouragement, relaxation, and worship!
When: August 25-27, 2023
Location: La Quinta Resort & Club
49-499 Eisenhower Drive,La Quinta, CA 92253
Main Speakers: Ryan & Stacy Pfeiffer
Comedian: Mike Rayburn
Optional Session Speakers: Dr. Terry & Sharon Hargrave
Our 13th annual Marriage Getaway returns in 2023 to the gorgeous La Quinta Resort & Club. The 45 lush acres of the La Quinta Resort feature 7 restaurants, 41 climate-controlled pools, 21 tennis courts, eight pickleball courts, and a spa. Your Couple Weekend Ticket includes a two-night stay in a King Bed Casita, self-parking, resort fees & taxes, Marriage Getaway event admission for all three days, and Saturday & Sunday continental breakfast. Each couple has the opportunity to extend their stay up to 3 nights prior and 3 nights post the Marriage Getaway Weekend for an additional cost.
For more information, please visit https://www.therelationshipresource.org/marriage-getaway.
And that's it for this week's update.
Blessing and love to each of you,
Ron Ohst
---
Tithes and Offerings Online
THANKS for taking ownership in the life and ministry of Grace Vineyard!  And thanks to all of you who are stepping into a lifestyle of generosity with your tithes and offerings.  It really does take all of us doing our part with the income God has entrusted to us for His church. If you'd like to give your tithe or offering online, click the donate button below.