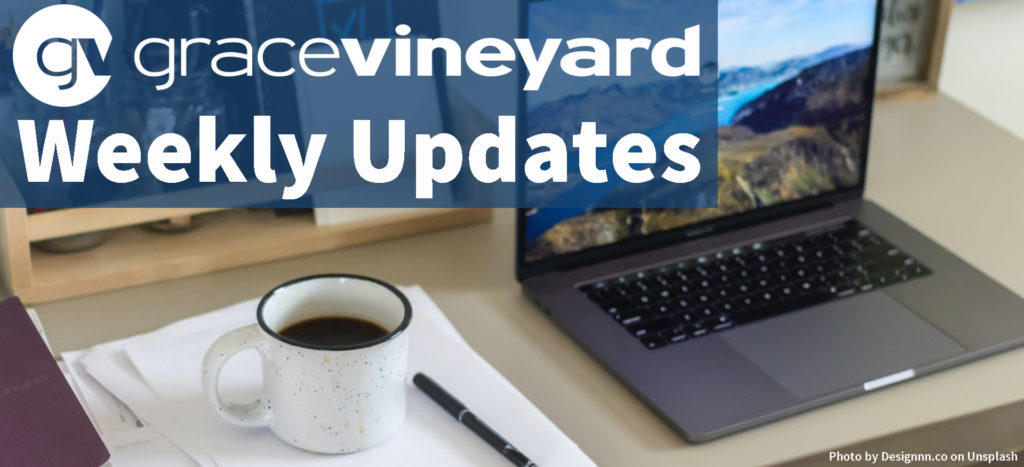 March 10, 2023
Hi Grace Vineyard and friends of Grace Vineyard,
As I'm writing this, it's a bit cold and rainy out there!  What a wet season we've been having.  I was just told that we got an inch of rain in 3 hours today!  As I write those words, my mind immediately turns to the spiritual symbolism of rain that leads us to sing songs with words like:
Let it rain let it rain
Open the floodgates of Heaven (repeat 3x)
We feel the rain of Your love
We feel the wind of Your Spirit
And now the heartbeat of Heaven let us hear
(From "Let It Rain", by Michael Farren)
No matter the words, that is the heart cry of so many of us around our nation as we've been praying for a fresh outpouring ("outpouring" sounds like rain, doesn't it?)  of God's Spirit on our nation, and all around are signs that this is indeed a season of "fresh rain".  Let's keep asking, seeking, and knocking as we pray for revival in our day.
Of course, this is my weekly email update for Grace Vineyard and I like to keep you up to date on all the happenings in our community, and this week there is a lot to tell you about.  I'll start with a bullet point summary, then take the time to spell them out more fully:
Ladies walk on Saturday, March 11
Men's Breakfast on Saturday, March 11
Fred Bradley's Celebration of Life on Saturday, March 11
Crocheting Beanies on Saturday, March 11
Spring Ahead Saturday night – set your clocks 1 hour forward
Sunday Morning Sermon Sneak Peak
Discovering Your Prayer Language Workshop, Sunday March 12
Opportunity to help a Ukrainian Refugee Family in Oceanside – now!
San Diego Awake Regional Prayer Gathering, Friday March 17
Passover Seder Dinner with Chosen People Ministries, Thursday March 30
Night of Art and Worship, Sunday April 2
2 New Women's Bible Studies beginning April 10
Breath of Heaven Annual Golf Tournament Fundraiser, April 24
That's 14 things to tell you about (and knowing me, I'm probably forgetting some)!  You might want to have your calendar ready so you can add the events that interest you to your personal calendar!   Let's go…
Ladies Oceanside Pier Walk Saturday 3/11
Ladies, it's time for our monthly walk/hike.  This is a great time for some sweet fellowship, enjoying the outdoors, and getting some light exercise.  We'll meet Saturday, March 11th, at 9am on the sidewalk by the sign to the Oceanside pier that's across from the 333 Pacific Restaurant at 9am.  Call Kathy Green if you plan to attend 760.583.1779.
Men's Breakfast Saturday 3/11
Men, it's time for our monthly breakfast at Ty's Burgerhouse, 515 Mission Ave, just around the corner from the church.  We enjoy a really great breakfast that includes eggs, potatoes, bacon, and bisquits and gravy.   We worship together, and hear a great talk – this week from our great friend, Joel Incorvaia.  See you all at 8am!
Celebration of Life For Fred Bradley – Saturday March 11, 1pm
We want to make sure all of you know you are invited to join us as we remember and celebrate the life of our dear brother Fred Bradley on March 11 at 1pm at Grace Vineyard.  Fred touched all of our lives with his kind, friendly, encouraging demeanor.  We'll join together to worship the Lord and honor Fred's life.  After the service we're all invited to stay for fellowship around some of Fred's favorite foods — taquitos, quesadillas, and pie.  Help us celebrate Fred's life and bring comfort and encouragement to the Bradley family during this season of mourning our separation from Fred while we long for our coming reunion in heaven.
Crocheting Beanies, Saturday March 11
The ladies are gathering at Treina's home (936 Sierra Court, Vista) 5-7pm to crochet beanies.  You can crochet a beanie for yourself or to donate to a person in need.  Marty will be teaching us.  If you already know how, please join us.   Bring your own yarn and crochet hook.  You can purchase yarn at Walmart, Hobby Lobby, Joann's or Michaels.  Marty recommends starting with thicker yarn.  The yarn you choose will tell you what size hook to buy on the label.  Here are a couple of websites to check: https://bluestarcrochet.com/best-yarn-for-crochet-hats/, and   https://www.averylanecreations.com/2019/03/30/my-favorite-yarns-for-beanie-hats/.  Bring a snack if you like.  Please let Kim Ohst know if you plan to attend or if you have any questions by texting 760.519.4558.
Daylight Savings Time – Spring Ahead This Saturday
You might want to take nap on Saturday, cuz we lose 1 hour of sleep this weekend.  Set your clocks forward by 1 hour before you go to bed on Saturday, because Daylight Savings Time begins Sunday at 2am.  That means when you wake up on Sunday morning, your body might tell you that it feels like 7am, but it will really be 8am.  Plus I know none of you wants to be late for church!
The Holy Spirit – God's Empowering Presence
This coming Sunday I'll be speaking again on the Kingdom of God – "Living the Future Now: How the in-breaking of God's Kingdom Changes Everything".  I hope you're enjoying learning about this topic as much as I am.  Last week we introduced the theme of Spiritual Gifts – spiritual tools for doing Kingdom Works.  This Sunday will learn about the one who gives us gifts, the Holy Spirit.  It turns out that infilling of the Spirit is another experience of the in-breaking Kingdom of God, and that's why we can refer to Him as "The Promised Holy Spirit" – the one promised in the Old Testament prophecies about the coming Kingdom of God, and the one Jesus described as the Father's promise – "And now I will send the Holy Spirit, just as my Father promised. But stay here in the city until the Holy Spirit comes and fills you with power from heaven." (Luke 24:49, New Living Translation).  There is so much we can learn about the wonderful 3rd person of the trinity, but I think we'll focus on learning how He empowers us to live the life of the future now in the Kingdom of God.
Discovering Your Prayer Language Workshop – March 12
One of the spiritual tools, or spiritual gifts, the Holy Spirit gives us is speaking and praying in languages given by the Holy Spirit. Sharon Evans is going to lead a workshop on discovering your prayer language after church on March 12th.  This 1 hour interactive workshop will look at relevant Bible passages, discuss practical tips for discovering your prayer language and answer questions including when and how to use it.  In the second half of the class we will wait upon the Lord and you will receive prayer as we seek the Lord for this gift.  We will meet in a Sunday School room after church on Sunday, March 12, 2023.  Contact Sharon at amusicalmom@gmail.com if you have any questions.  Those who have their prayer language are encouraged to come and pray for others.
Opportunity to Help a Ukrainian Refugee Family
Most of you will remember Jane Register from World Relief who spoke at our church last year about the refugee in our back yard.  She texted me today to ask if we have anybody in our church who lives not too far from the Tri-City area, specifically Roselle street.  Jane writes:
We have a Ukrainian mom that got in a bad car accident and her car was nearly totaled. She just needs help getting to the grocery store every once in a while. Like "hey Olga, I am going to the store, wanna jump in the car with me?"  She lives off of Roselle in one of our host homes. Her name is Olga and she has 2 sons. One is going to Palomar Community College and she has a high school freshman at Coastal Academy.  She would greatly appreciate help with rides to school. I think he was trying to walk/bike/bus. Her husband remains in Ukraine fighting unfortunately. She is a dog groomer also and has a mobile dog grooming business but has not been able to work for 2 months because of her car accident.
This is exactly the kind of need we've talked about: very easy to meet this need and show the love of Jesus in a practical way.  If you can help with this need, even just a little, could you text me at 760-713-6478, or email me at rohst@gracevcf.org, and I'll connect you with Jane?  What a blessing it will be for both you and this family!
San Diego Awake Regional Prayer Gathering March 17
This is an invitation to a regional prayer gathering from our friends Matt and Amy Stoehr at the River Family Church in Vista. In Amy's words, "I know we are all sensing the Lord is gathering us to pray together, and reach our city, and its so wonderful to see many worship and prayer and outreach gatherings. In partnership with Billion Soul Harvest, Hope California, Pray California and the Church of our Region we are hosting San Diego Awake prayer gathering Friday March 17. We want you to come, and also please invite anyone who the Lord puts on your heart who is praying for the will of God manifested in our city and state and nation right now at this important time. Please forward this invitation. Bring a lawn chair ad we will look forward to meeting with you Friday. Call me if any questions! 760.224.4650"
That sounds GREAT to me, and I hope many of us can join this event.
"Messiah in the Passover" Seder Dinner
We are planning a special Passover Seder dinner on Thursday, March 30th, with Chosen People Ministries' Michael Cohen. The Messiah in the Passover presentation is a powerful visual message not only of Israel's freedom from slavery in Egypt, but of the redemption of individuals from the bondage of sin through the atoning work of Jesus.  The program is designed to give participants a deeper understanding both of Passover and of the Communion table.   We will hold the dinner in the back of the church where we have our potlucks.  You'll find this to be a uniquely inspirational evening.  There will be a signup table in the lobby after church this Sunday.  The cost is $10.
Night of Art and Worship April 2nd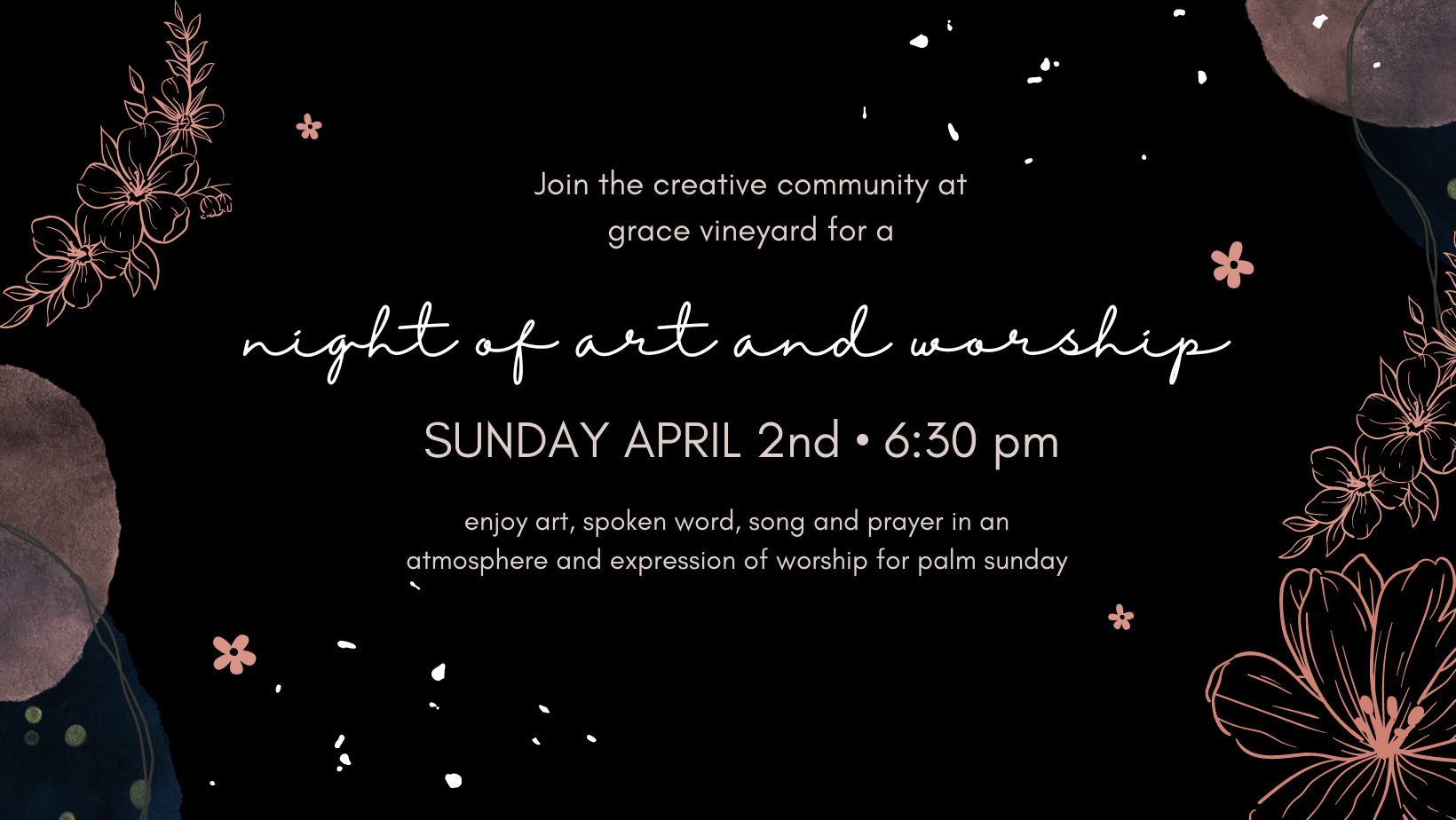 Save the date for our next worship gathering, April 2nd
Join us for a special, extended time of worship and ministry. We'll have live music on the terrace as well as art in the lobby — all expressions of praise are welcome as we honor Palm Sunday, the day that Jesus rode into Jerusalem as a humble King.
ARE YOU CREATIVE?
We are looking for people who want to share a creative expression that night. If you have a song, a work of art, a poem, spoken word or even a culinary treat you'd like to share with our community, please submit your work/expression of interest to Amy Huzil via email : Ammeepearl@gmail.com .
We will also be needing volunteers for food and refreshments ~ contact Amy by email or phone (858-254-8008) to get involved.
Two New Women's Bible Studies in April
Monday Night Zoom Study on the Names of God:  Beginning Monday, April 10th 6:30-8:30pm, we'll do a 10 week study via Zoom using the book He Is…Knowing God by Name by Carrie D. Rogers and the corresponding videos.  Books are $25 and the study will be led by Robin (760.583.3677).  Last day to sign up is April 2nd.
Monday Night In Person Study on Job:
  Monday, April 10th 6:30-8:30pm begins the Lisa Harper study of Job: A Story of Unlikely Joy at
Kim
Ohst
's home (4965 Calle Sobrado, Oceanside).  Books are $25 and the last day to sign up is April 2nd. Please text or call
Kim
for more info 760.519.4558.
Breath of Heaven Golf Tournament Fundraiser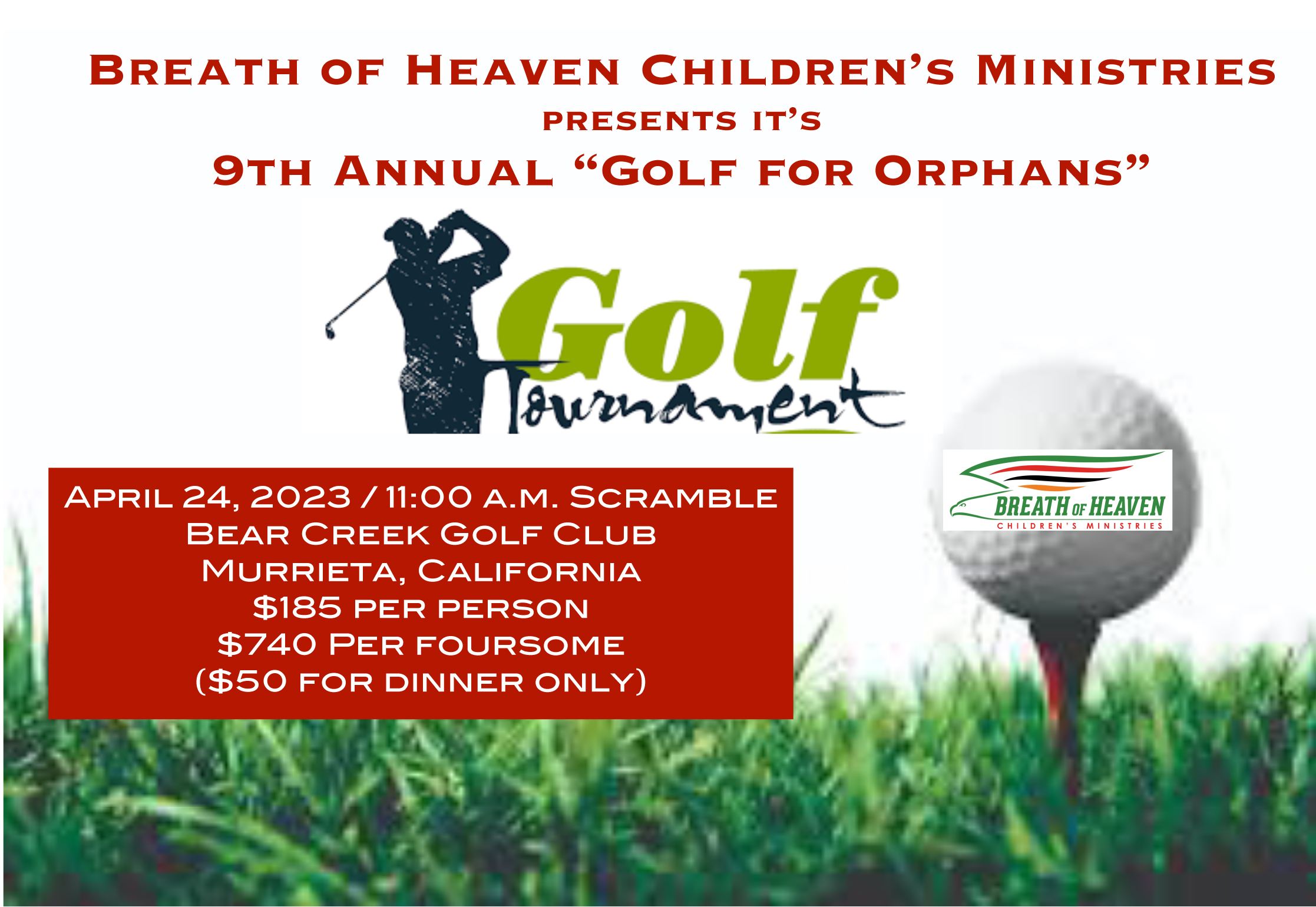 It's time for our annual Breath of Heaven Golf Tournament on April 24 to raise funds for our orphan care village in Zambia, Africa. To sign up for the golf tournament email Tom LaManna at tomlamanna50@gmail.com or go to the Breath of Heaven website www.bofheaven.com.  Dinner will be served immediately following the tournament.
The vision of Breath of Heaven is to have a children's village for orphaned children consisting of 14 homes, an elementary school, high school and vocational college, a church and a medical clinic. Thanks to sponsors, donors, and fundraising events such as this year's golf tournament, we have achieved many of these goals. Here is where we stand and our needs in each of these areas:
• Eight homes currently house 96 orphaned children. Over 30 children still need sponsorship.
• Two "transition homes" are preparing older children for reintegration into the community, career development and/or the pursuit of higher education.
• Hope clinic is open and providing medical attention to those on the Breath of Heaven properties, as well as the local community. We still have need for medical equipment. Our most immediate need is a blood analyzer so that samples do not have to be sent to an outside source for analysis.
• The Breath of Heaven Technical Secondary School opened in January and the Vocational Training College will open in June. Donations are needed to finish furnishing the facilities and to put the landscaping in place.
Breath of Heaven Children's Ministries is a non-profit corporation that is giving orphaned and vulnerable children in Zambia "hope and a future". Please join us for golf. If not, please consider supporting us in any manner you can. Help us serve the needs of the most vulnerable children in Zambia.
That is easily the most information packed email I have ever sent you!  You might want to print this one out so you can refer to all the events coming up in the next month or so.
Blessings and love to each of you!  See you tomorrow at Fred's Celebration of Life!
Ron Ohst
---
Tithes and Offerings Online
THANKS for taking ownership in the life and ministry of Grace Vineyard!  And thanks to all of you who are stepping into a lifestyle of generosity with your tithes and offerings.  It really does take all of us doing our part with the income God has entrusted to us for His church. If you'd like to give your tithe or offering online, click the donate button below.