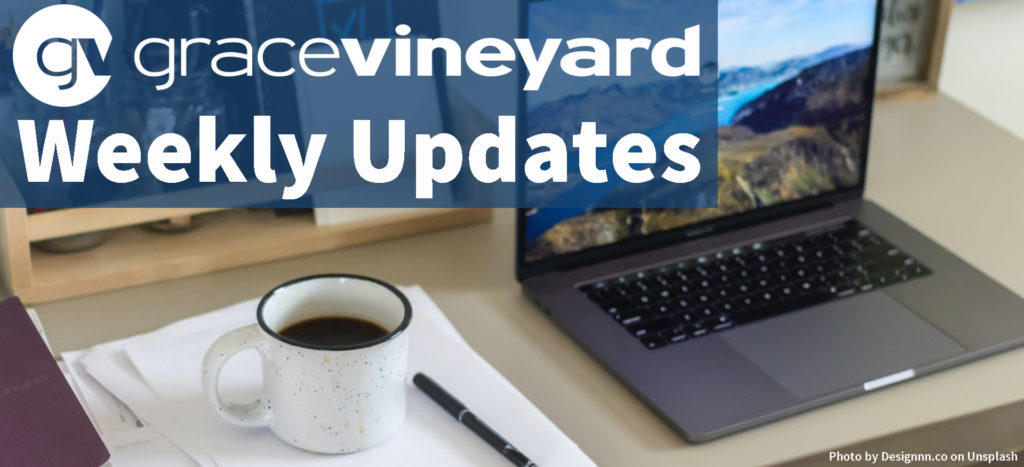 March 3, 2023
Happy New Weekend, Grace Vineyard and friends of Grace!
Actually, Happy New March Weekend!  Another February is in the books.  It was a good month, wasn't it?!  In fact, it might turn out to be a very historically significant month with what appear to be legitimate revival fires spreading around our nation, especially among young people.  It started as a simple, every-day, chapel service at Asbury University (note: not Asbury Seminary as some mistakenly report) when the students just wouldn't leave and began to worship, pray, and testify 24 hours a day for the next weeks.   I've been following an evangelist named Nick Hall as he writes and vlogs about this, and one of his posts about an event he led last Sunday afternoon includes this line: "A man came in a wheelchair, partially paralyzed that hadn't walked in two years, and danced on stage — I don't even come from a charismatic background so I don't even have a paradigm for what the heck is happening!?!!"  This guy is just overwhelmed as he continues to write about how the Lord is moving miraculously around the country and even internationally. Here's one article, in case you are interested: https://www.charismanews.com/us/91660-the-asbury-revival-is-not-gone-it-s-spreading.  He says he's now calling his charismatic friends to help mentor him so he can understand all the miracles he's seeing, not to mention the public repentance of so many believers, and the salvation of so many new Christians.  It's really exciting to hear Nick talk about what he's been witnessing in the video that's embedded in that article.  February, 2023 was a GREAT month to see the in-breaking of the Kingdom of God. Let's keep praying for God to keep pouring out His Spirit around our nation to bring renewal to the church and awakening to those outside the church.
Join us for prayer Sunday Morning at 8:30.    Last Sunday morning a group of us gathered before church to call out to the Lord in the lobby at 8:30.   I'm going to be there again this coming Sunday morning, and you're all welcome to join us.
Spiritual Tools for Kingdom Works
Last Sunday I introduced the phrase "Enacted Inaugurated Eschatology" as a way to understand the Kingdom of God, which can be explained like this:
Eschatology – the study of the final intervention of God's Kingdom at the end of the world
The Lord will become King
The King will come to deliver His people.
When the Lord becomes King He will make all things
Inaugurated eschatology – the promise of God's coming Kingdom has begun to be fulfilled in Jesus' first coming
The powers of the age to come have broken through into this present evil age already.
Wherever Jesus is made Lord and King, the Kingdom comes
We live in the tension of the "already/not-yet" kingdom; inaugurated but not fulfilled.
Enacted inaugurated eschatology – we who receive Jesus as Lord and King are called and empowered to actively participate in the promise of the Kingdom being fulfilled
Christ followers receive the promised Holy Spirit – this is the Kingdom breaking in
The Holy Spirit empowers us to proclaim the message and the works of Jesus – the Kingdom breaking in
The Great Commission calls us to not only believe, but to live out the reality of the Kingdom until Jesus returns.
Well, if we're going to actively participate in the promise of the Kingdom being fulfilled, we need some spiritual tools to do the works of the Kingdom.  In the Bible, these are sometimes called "spiritual gifts", but I really think of them as "tools of the trade", and that's what we'll be exploring on Sunday.  I look forward to seeing you Sunday morning as we come face to face with the Lord in our worship, and as we are instructed, equipped, and encouraged by our time in God's Word.  See you at 9:30am!
Discovering Your Prayer Language Workshop – March 12
One of those spiritual tools, or spiritual gifts, is speaking and praying in languages given by the Holy Spirit. Sharon Evans is going to lead a workshop on discovering your prayer language after church on March 12th.  This 1 hour interactive workshop will look at relevant Bible passages, discuss practical tips for discovering your prayer language and answer questions including when and how to use it.  In the second half of the class we will wait upon the Lord and you will receive prayer as we seek the Lord for this gift.  We will meet in a Sunday School room after church on Sunday, March 12, 2023.  Contact Sharon at amusicalmom@gmail.com if you have any questions.  Those who have their prayer language are encouraged to come and pray for others.
Would you like to go to Zambia in June?
We are planning a trip to Breath of Heaven Children's Village in Zambia, Africa in June, and we still have room for a couple more people to go with us.  If you would like to know more, contact me at 760-713-6478 or rohst@gracevcf.org.
Spanish Ministry Prayer Meeting This Sunday, March 5
When Rubén Quintero was at Grace Vineyard on January 31st we had a meeting for those with a heart to see a Spanish speaking ministry birthed at our church.  Our next step is to begin praying together for the Lord's direction and provision.  If you have an interest in Spanish ministry, please join us after church on Sunday March 5th.  For more info, you can text me directly at 760-713-6478 or email me at rohst@gracevcf.org.
"Messiah in the Passover" Seder Dinner
We are planning a special Passover Seder dinner on Thursday, March 30th, with Chosen People Ministries' Michael Cohen. The Messiah in the Passover presentation is a powerful visual message not only of Israel's freedom from slavery in Egypt, but of the redemption of individuals from the bondage of sin through the atoning work of Jesus.  The program is designed to give participants a deeper understanding both of Passover and of the Communion table.  We'll be taking signups and giving more details soon, but for now I wanted you to be able to save the date. We will hold the dinner in the back of the church where we have our potlucks.  You'll find this to be a uniquely inspirational evening.
Celebration of Life for Fred Bradley
We want to make sure all of you know you are invited to join us as we remember and celebrate the life of our dear brother Fred Bradley on March 11 at 1pm at Grace Vineyard.  Fred touched all of our lives with his kind, friendly, encouraging demeanor.  We'll join together to worship the Lord and honor Fred's life.
And that's it for this week's email newsletter.  God bless you richly as you enjoy your weekend.  See you Sunday morning at 9:30.
With love,
Ron Ohst
---
Tithes and Offerings Online
THANKS for taking ownership in the life and ministry of Grace Vineyard!  And thanks to all of you who are stepping into a lifestyle of generosity with your tithes and offerings.  It really does take all of us doing our part with the income God has entrusted to us for His church. If you'd like to give your tithe or offering online, click the donate button below.