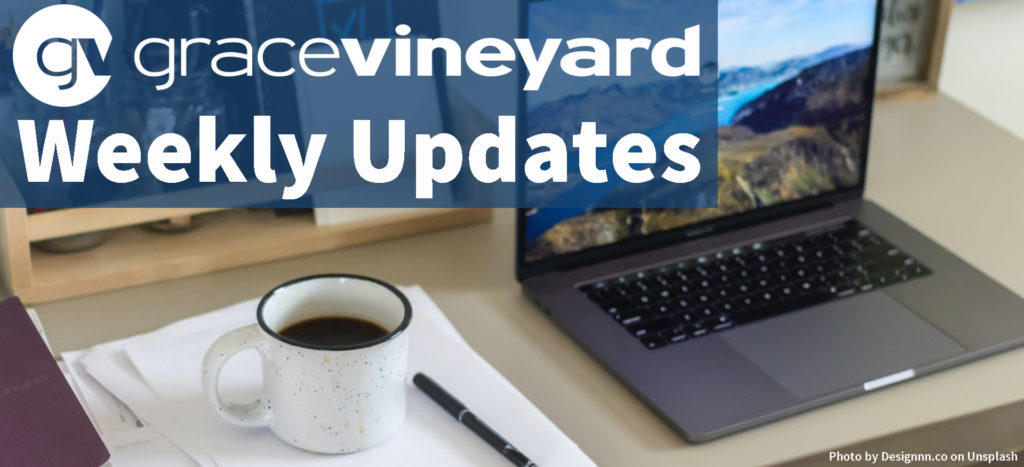 February 25, 2022
Hello Grace Vineyard and Friends!  It's already Friday, so it's time for our weekly update.  Here's what's coming up in the next couple of weekends:
Sidewalk Worship at the Regal Courtyard
You've been hearing Susan talk about it on Sundays, and the time is here!  This Saturday a bunch of us are going to do some Sidewalk Worship at the courtyard in front of the Oceanside Regal, just around the corner from our church.  We'll meet at Grace Vineyard at 2:30, and then walk over to the Regal Courtyard together.  This is going to be fertile soil for some Holy Hellos.  Join us as we sing worship songs we all know and love, and watch as people are drawn in by the worship and God Conversations start poppin' up all around us.  Before you know it you might find yourself praying for someone.
Last week we began a new series called "Thriving for a Lifetime, Insights from 1 John".  You can listen to the message on our podcast right here:
1 John was written by John the Apostle, who was arguably Jesus' closest friend while He lived and ministered around Jerusalem. John is now near the end of his life, he's the last of the 12 apostles still living, he's probably in his nineties, and you get the clear impression from his letter that he is still thriving in life.  We're learning from his example and his instructions how we too can thrive for a lifetime.   I'm really enjoying studying this book with you.  This week we'll pick up where we left off, starting at 1 John 1:5.  If you'd like, read this section before we come together on Sunday and listen for what the Holy Spirit might be revealing to you for your life:
1 John 1:5-2:17

5 This is the message we have heard from him and declare to you: God is light; in him there is no darkness at all. 6 If we claim to have fellowship with him yet walk in the darkness, we lie and do not live by the truth. 7 But if we walk in the light, as he is in the light, we have fellowship with one another, and the blood of Jesus, his Son, purifies us from all sin.

8 If we claim to be without sin, we deceive ourselves and the truth is not in us. 9 If we confess our sins, he is faithful and just and will forgive us our sins and purify us from all unrighteousness. 10 If we claim we have not sinned, we make him out to be a liar and his word has no place in our lives.

2:1 My dear children, I write this to you so that you will not sin. But if anybody does sin, we have one who speaks to the Father in our defense — Jesus Christ, the Righteous One. 2 He is the atoning sacrifice for our sins, and not only for ours but also for the sins of the whole world.

3 We know that we have come to know him if we obey his commands. 4 The man who says, "I know him," but does not do what he commands is a liar, and the truth is not in him. 5 But if anyone obeys his word, God's love is truly made complete in him. This is how we know we are in him: 6 Whoever claims to live in him must walk as Jesus did.

7 Dear friends, I am not writing you a new command but an old one, which you have had since the beginning. This old command is the message you have heard. 8 Yet I am writing you a new command; its truth is seen in him and you, because the darkness is passing and the true light is already shining.

9 Anyone who claims to be in the light but hates his brother is still in the darkness. 10 Whoever loves his brother lives in the light, and there is nothing in him to make him stumble. 11 But whoever hates his brother is in the darkness and walks around in the darkness; he does not know where he is going, because the darkness has blinded him.
12 I write to you, dear children, because your sins have been forgiven on account of his name.
13 I write to you, fathers, because you have known him who is from the beginning.
I write to you, young men, because you have overcome the evil one.
I write to you, dear children, because you have known the Father.
14 I write to you, fathers, because you have known him who is from the beginning.
I write to you, young men, because you are strong,
and the word of God lives in you, and you have overcome the evil one.

15 Do not love the world or anything in the world. If anyone loves the world, the love of the Father is not in him. 16 For everything in the world — the cravings of sinful man, the lust of his eyes and the boasting of what he has and does — comes not from the Father but from the world. 17 The world and its desires pass away, but the man who does the will of God lives forever.
See you at 9:30 on Sunday. If you are unable to join us in person this week, please join us via zoom at Zoom Meeting ID  153 112 432, Passcode 684814.
Serving at Bread of Life Next Friday
On the first Friday of every month, Grace Vineyard serves a the Bread of Life Rescue Mission. We need volunteers to show up at 1919 Apple Street in Oceanside at 5pm on Friday, March 4th. We'll serve our neighbors a hot dinner, welcome and pray for those with needs, and help clean up after dinner. You'll be done somewhere near 6:30. We also need donations – it costs about $100 to provide a complete meal for all our guests. Call or Text Nancy Beck at 760-696-2078 for more info. Nancy will also be in the lobby this Sunday after church to answer all your questions and get you signed up to help.
Face to Face next Saturday
Ladies – it's your turn to get together for another Face to Face women's home group.  On Saturday, March 5th, meet from 2-4 in our backyard at 4965 Calle Sobrado.  Kim will be speaking on a subject she's titled "Comfortable with the Uncomfortable", and Ammee Huzil will be leading in worship.   If you have any questions, contact Kim at 760-519-4558, or kimohst@gmail.com.
I hope you have a wonderful weekend.  I hope to see some of you on Saturday for Sidewalk Worship, and the rest of you, I'll see on Sunday at 9:30 for Worship!
Love and blessings to each of you,
Ron Ohst
---
Tithes and Offerings Online
THANKS for taking ownership in the life and ministry of Grace Vineyard – it takes all of us!  Your faithfulness in financial stewardship is essential at this time as we navigate some difficult budget issues.  If you'd like to give your tithe or offering online, click the donate button below.