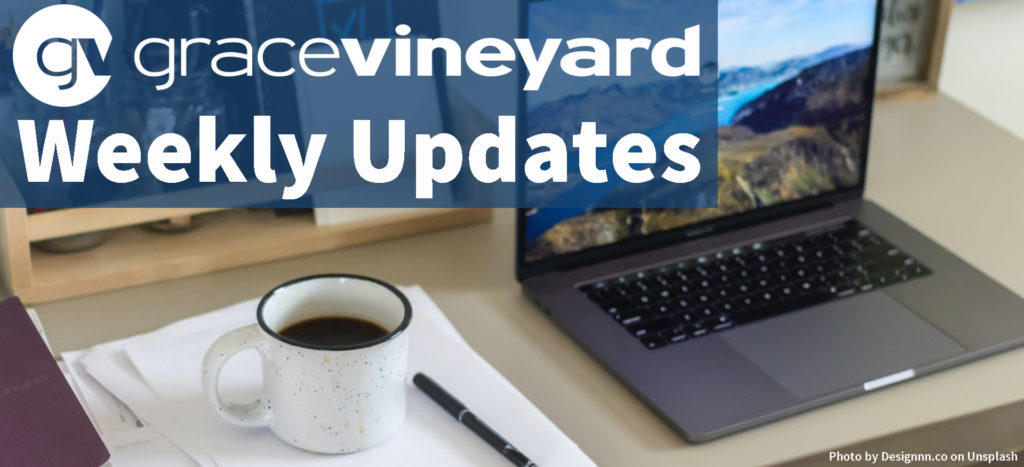 February 24, 2023
Hello Grace Vineyard and friends of Grace Vineyard,
It's time for this week's email update.  I think it has been quite an exciting week around the country with the Asbury outpouring spreading to other universities, both secular and religious,  high schools and more.  People, especially young people, around the globe are hungering for a real encounter with God, and God is meeting that hunger.  I'm praying that all over the world, wherever 2 or more are gathering in Jesus' name, they will experience this same incredible, peace-filled, holy presence that people are reporting at these university gatherings.  In case you haven't been hearing about it, here's one of many articles, this one in The Atlantic, written by a fellow Vineyard guy, that describes what has been happening at Asbury – Thomas Lyons Article.  I think I said in last week's email that from the perspective of Kingdom theology (like what I've been preaching in our "Living the Future Now" series), revivals of this nature are an expected manifestation of God's kingdom breaking in among us.  Two wonderful prophecies from the Bible are worth repeating:
Acts 2:17-21 – "'In the last days, God says, I will pour out my Spirit on all people….And everyone who calls on the name of the Lord will be saved.'"
and
Habakkuk 2:14 – "For the earth will be filled with the knowledge of the glory of the Lord, as the waters cover the sea."
This would be a good time to step out in faith with some "Holy Hello's".  I think many, many people are hungry for a real encounter with God.  I heard another story at the Thursday night group from our own Michael – he was praying for someone at a local Walmart, and soon there was a line of people there asking him to pray for them too.  Let that sink in – people lining up to ask for prayer, in a Walmart!  That sounds like hunger to me.
By now you've probably heard the pattern that goes something like this:
Jesus Follower: "Excuse me. Could I ask you a question?"

Other person: "Okay.  What is it?"

Jesus Follower: "Well, my name is Ron and I love praying for people.  I was wondering if you have any needs in your life I could pray for right now?"

Other person: "Sure…(goes on to share a need)."

Jesus follower blesses them with prayer, conversation continues…

Jesus follower: "Could I ask you one more question?"

Other person: "ok."

Jesus follower: "Have you ever asked Jesus to come into your life?"

….
People sharing Jesus like this in every day places is happening like never before,  and we'd all do well to join the party!
I'll be back opening the Word with you this coming Sunday.  I feel led to discuss how salvation works from a Kingdom perspective with a talk about 3 aspects of Jesus the King: Servant King, Warrior King, Sending King.   I think we'll be inspired and overflow with worship as we explore what Jesus our King has done to bring salvation and restoration to our broken world.  And the "Sending King" part will challenge us to respond to Jesus' plan for our lives.  I hope you'll join me for worship at 9:30.
Invitation to Join Me at 8:30 for Prayer This Sunday…
Actually,  let me change that 9:30 start time.  I'd like to invite any of you who are interested to come an hour early at 8:30 and join me for prayer.  Let's seek the Lord together for an outpouring of His Spirit right here at Grace Vineyard like we're hearing about around the country!
By the way, Snake was AWESOME last Sunday!  If you'd like to hear his message again, we've posted it on YouTube.  Check it out right here:
Worship and Song Connect is Back
After a brief hiatus, our worship and creative connect small group is back on Monday Evenings starting at 6:30 p.m. Join Ammee and the Grace Creative Community every 2nd and 4th Monday evening in the Terrace. All levels of experience are welcome. We do focus on music and songwriting, but we'll be exploring other avenues of creative expression this year, like painting, writing, and more.
Celebration of Life for Fred Bradley
We want to make sure all of you know you are invited to join us as we remember and celebrate the life of our dear brother Fred Bradley on March 11 at 1pm at Grace Vineyard.  Fred touched all of our lives with his kind, friendly, encouraging demeanor.  We'll join together to worship the Lord and honor Fred's life.
City Prayer Oceanside
We've started hosting another prayer meeting at Grace Vineyard.  This one is led by Roy and Josefina Lopez.  It's called "City Prayer Oceanside", and meets at 7:30PM at Grace Vineyard on Tuesday evenings.   Roy describes this prayer meeting like this:  "We invite all churches and Christian believers to unite with us to pray for Pastors, Churches, Families, Lost Souls, Our City, our Country, in Jesus' name. Our goal is to Come together with God's people and pray for the salvation of souls, empowerment of His church, outpouring of the Holy Spirit, and Revival."  If you'd like more info, contact Roy at 760-224-5269, L.Roy35@yahoo.com, or on Facebook @cityprayerOside.
Spanish Ministry Prayer Meeting Sunday March 5, 12pm
When Rubén Quintero was at Grace Vineyard on January 31st we had a meeting for those with a heart to see a Spanish speaking ministry birthed at our church.  Our next step is to begin praying together for the Lord's direction and provision.  If you have an interest in Spanish ministry, please join us after church on Sunday March 5th.  For more info, you can text me directly at 760-713-6478 or email me at rohst@gracevcf.org.
Discovering Your Prayer Language Workshop – March 12
Sharon Evans is going to lead a workshop on discovering your prayer language after church on March 12th.  This 1 hour interactive workshop will look at relevant Bible passages, discuss practical tips for discovering your prayer language and answer questions including when and how to use it.  In the second half of the class we will wait upon the Lord and you will receive prayer as we seek the Lord for this gift.  We will meet in a Sunday School room after church on Sunday, March 12, 2023.  Contact Sharon at amusicmom@gmail.com if you have any questions.  Those who have their prayer language are encouraged to come and pray for others.
Prayer for Ukraine This Weekend
As you know, we pray for a different nation or missionary every Sunday morning.  February 24th was the 1 year anniversary of the invasion of Ukraine, and people around the world are being challenged to fast and pray for victory of Ukraine and for its spiritual revival and restoration.  As we go into this weekend, I wanted you to know in advance what we will be praying for on Sunday, and encourage you to pray for Ukraine throughout the weekend.  Prayer is powerful!
Have a wonderful rest of your weekend.  I'll see you Sunday morning, expectant for an encounter with the Lord!
Blessings and love to each of you,
Ron Ohst
---
Tithes and Offerings Online
THANKS for taking ownership in the life and ministry of Grace Vineyard!  And thanks to all of you who are stepping into a lifestyle of generosity with your tithes and offerings.  It really does take all of us doing our part with the income God has entrusted to us for His church. If you'd like to give your tithe or offering online, click the donate button below.