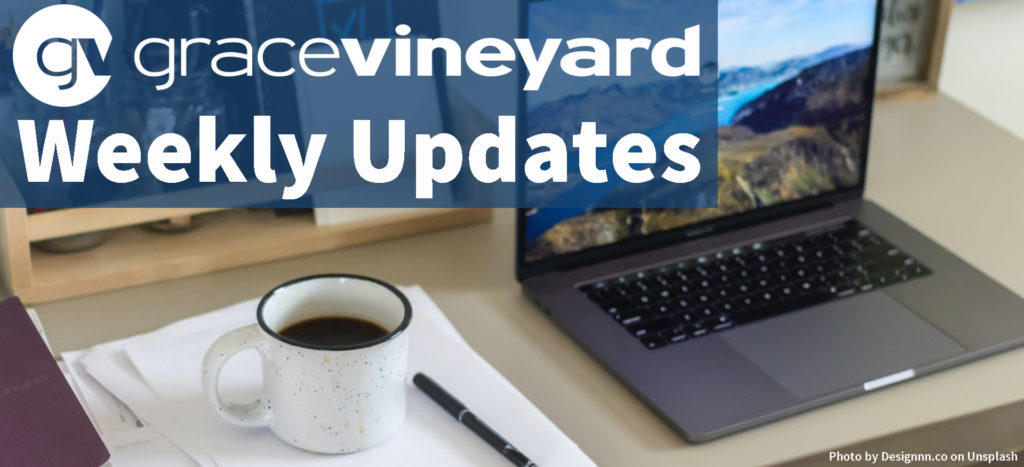 February 18, 2023
Happy Saturday, Grace Vineyard and Friends.
I hope you're having another great week. I don't know about you, but as I think about the last week, it feels like a lot has happened between last Saturday and today.  Was the Super Bowl less than a week ago?! That was a great party – thanks for all who came.  And I hope the romantic couples in our community had a love filled Valentine's Day.   Here we go with another of our Weekly Updates from Grace Vineyard…
First, I think I should at least mention what's going on in Wilmore, Kentucky.  Some of you would know that Asbury University there in Wilmore has a history of revival.  I was slightly familiar with the 1970 revival that took place there, but I just discovered there have been many outpourings there over the last century.  Check out this list:
"In February 1905, during a blizzard, a prayer meeting in the men's dormitory spilled out to the rest of campus and the town of Wilmore.
"In February 1908, revival broke out while someone prayed in chapel; the revival lasted two weeks and was signified by prevailing prayer and intercession.
"In February 1921 the last service of a planned revival lasted until 6 a.m., and services were extended for three days.
"In February 1950 a student testimony led to confessions, victories and more testimonies. This went on uninterrupted for 118 hours and became the second leading news story nationwide; it is estimated that 50,000 people found a new experience in Christ as a result of this revival and witness teams that went out from it.
"In March 1958 revival began in a student fasting prayer meeting that spilled over into chapel and lasted for 63 hours.
"On February 3, 1970, Dean Custer B. Reynolds, scheduled to speak in chapel, felt led to invite persons to give personal testimony instead. Many on campus had been praying for spiritual renewal and were now in an expectant mood. Soon there was a large group waiting in line to speak. A spirit of powerful revival came upon the congregation. The chapel was filled with rejoicing people. Classes were cancelled for a week during the 144 hours of unbroken revival, but even after classes resumed on February 10, Hughes Auditorium was left open for prayer and testimony. These sessions were presided over by Reynolds, Clarence Hunter and other faculty. Some 2,000 witness teams went out from Wilmore to churches and at least 130 college campuses around the nation."
"In March 1992 a student confession during the closing chapel of the annual Holiness Conference turned into 127 consecutive hours of prayer and praise.
"In February 2006 a student chapel led to four days of continuous worship, prayer and praise.
And now something significant is happening again.  It started with a simple, run-of-the-mill chapel service on February 8th. When the chapel service ended, the students didn't leave.  They kept worshiping and praying…and now 10 days later, the chapel is still filled with students and praying, worshiping, repenting, giving testimonies, consecrating their lives to Jesus, experiencing healing miracles, and more.  Thousands and thousands of people are gathering there in this small town, coming from all over the world.  If you're interested, here's one of many articles trying to understand what the Lord is doing there — Revival at Asbury.
I think it's good for us to pay attention when it looks like God's Kingdom is breaking in amongst us.  The last 2 times I've preached, I've been speaking on the topic, "Living the Future Now: how the in-breaking of God's Kingdom changes everything".  From the perspective of Kingdom Theology, these revival experiences, starting in the book of Acts, recorded in chapters 2, 4, 8, 10, 19, and continuing throughout history until the present day, are nothing less than the experience of the powers of the coming age breaking in amongst us, or as John the Baptizer and Jesus put it, "The Kingdom of God is near. Repent and believe the good news!"  My prayer is that a Spirit inspired and empowered hunger for the Lord would be the experience not only of students in Kentucky, but of all of all of us all over the world.  Would you join me in praying for this?
Speaking of Prayer, we are opening up Grace Vineyard's building on Tuesday evenings at 7:30pm for another prayer meeting.
It's called City Prayer Oceanside, and the organizers describe it this way: "We invite all churches and Christian believers to unite with us to pray for Pastors, Churches, Families, Lost Souls, Our City, our Country, in Jesus' name. Our goal is to Come together with God's people and pray for the salvation of souls, empowerment of His church, outpouring of the Holy Spirit, and Revival."
And while we're talking about prayer, I'll mention the prayer meeting I go to Tuesday-Thursday mornings right from my home cuz it's a zoom prayer meeting.
Shannon Frye leads this one, and people from many nations are often joining us.  We start at 7am by reading a chapter of the Bible together, then we share prayer needs, then we pray, and we're done by 8am.  Join us by clicking on this link:  Meeting ID: 812 2225 0027,
(Password: 006314).
5 Crowns of Heaven
We've got a special treat for you this coming Sunday morning: I've invited Snake (some of you know him as Richard) Ertel to bring the message, and he will be preaching on "The 5 Crowns of Heaven", opening up the scriptures describing rewards in heaven for those who serve Jesus – the "Victors Crown", "Crown of Rejoicing, "Crown of Righteousness", "Crown of Life", and "Crown of Glory".  If you've heard Snake before, you know this is going to be a very inspiring morning for all of us.
Authentic Manhood in Mid-March
Our Men's Ministry is getting ready to launch Authentic Manhood in Mid March.  The specific day and time has not yet been finalized, so if you're interested in learning more, contact Steve Pittman at 760-525-0748 and ask him more questions, or let him know your preferred day and time.  They want to pick a time that best meets the needs of our men.  If you're not familiar with Authentic Manhood, give this video a quick look:
As I'm typing this letter, I'm letting one idea remind me of the next idea I want to share with you, and mentioning that Authentic Manhood video reminded me of another video channel you might find interesting.  We've been uploading some of our Sunday morning videos to our youtube channel.  Check it out and click that subscribe button to always be notified when we post a new video – Grace Vineyard – YouTube.  Here's the video for last Sunday's sermon:

I want to also look to the future to tell you about 3 retreat opportunities for you later this year:  The Vineyard National Conference in August, the Marriage Getaway (also in August), and the Grace Women's Retreat in October.
First, the Vineyard National Conference…
Summer Vacation Retreat in North Carolina
I am super excited about something the Vineyard USA is doing for the first time in my memory.  We're having our national conference at a retreat center with something for all ages.  When I was a kid, my church had family camp, and it was so fun and life changing.  And a few years back a few of our Grace families went to family camp at Forest Home in California, but we never had anything quite like this.  Check it out at https://conference.vineyardusa.org/  This looks like an amazing retreat center, and I'm dreaming about bunches of us from our whole church going to it.  It could be part of your summer vacation plans in the Blue Ridge Mountains of North Carolina.  I'll be honest, it sounds fairly expensive to fly across the country to do this, but I think it would be a very worthwhile investment, so I'm gonna see if my family can swing it.  We've got about 6 months to save up the money for it.  Trust me- there's nothing like a Vineyard national conference.  And when things seem difficult to accomplish, there's always prayer – God gives amazing answers when we present our requests to Him.
2023 Marriage Getaway at La Quinta
Come away with your spouse for a weekend of encouragement, relaxation, and worship!
When: August 25-27, 2023
Location: La Quinta Resort & Club
49-499 Eisenhower Drive,La Quinta, CA 92253
Main Speakers: Ryan & Stacy Pfeiffer
Comedian: Mike Rayburn
Optional Session Speakers: Dr. Terry & Sharon Hargrave
Our 13th annual Marriage Getaway returns in 2023 to the gorgeous La Quinta Resort & Club. The 45 lush acres of the La Quinta Resort feature 7 restaurants, 41 climate-controlled pools, 21 tennis courts, eight pickleball courts, and a spa. Your Couple Weekend Ticket includes a two-night stay in a King Bed Casita, self-parking, resort fees & taxes, Marriage Getaway event admission for all three days, and Saturday & Sunday continental breakfast. Each couple has the opportunity to extend their stay up to 3 nights prior and 3 nights post the Marriage Getaway Weekend for an additional cost.
For more information, please visit https://www.therelationshipresource.org/marriage-getaway.
2023 Women's Retreat
We'll be doing our Women's Retreat at Pine Valley October 20-22.  The cost will be $230 for private bath lodge rooms, $210 for shared bath lodge rooms and $180 for dorm rooms.  You can begin to pay for this retreat and we'll keep track of it for you.  If you pay online www.gracevcf.org/give or in person, please note that it's for the women's retreat.  If you end up not attending, we will refund your money.  Please email kimohst@gmail.com or text Kim Ohst at 760.519.4558 to let her know what type of room you are reserving.  We have limited availability.
Whew!  This update was a bit longer than usual, so if you read all the way to here, give yourself a pat on the back!
Much love and blessings to each of you,
Ron Ohst
---
Tithes and Offerings Online
THANKS for taking ownership in the life and ministry of Grace Vineyard!  And thanks to all of you who are stepping into a lifestyle of generosity with your tithes and offerings.  It really does take all of us doing our part with the income God has entrusted to us for His church. If you'd like to give your tithe or offering online, click the donate button below.