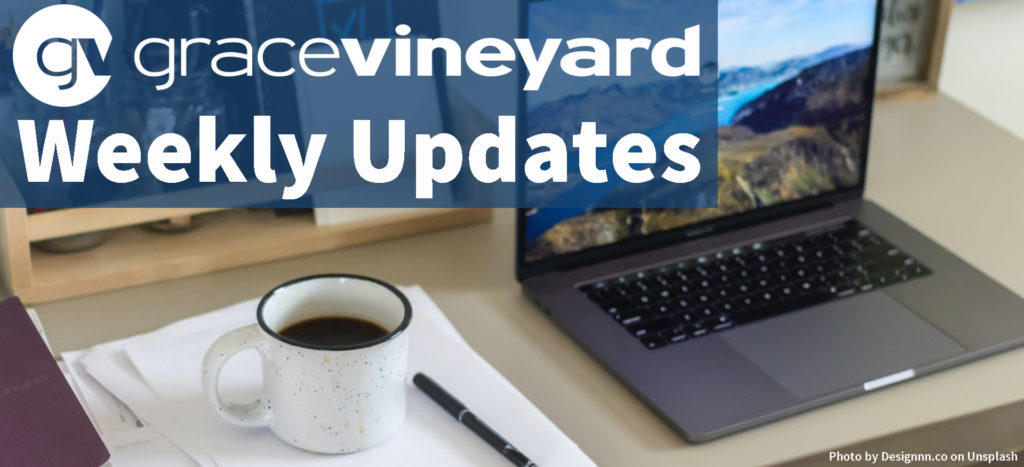 February 18, 2022
Hello Grace Vineyard and Friends!
Another Happy Friday to you.  I hope you have something pleasant planned for you weekend.  In just a little bit I'm headed off to our son's final 7s Rugby match of the High School season.  I think it's gonna be COLD in the stands!  We were talking last night at home group about finding the Joy and the Presence of the Lord in the stuff of life – gardening, watching your kids play sports, whatever thing that may seem "unspiritual" but is really a gift from God and can be entered into with a worshipful heart. May your Saturday be filled with worship no matter how you spend your day.   (You can ask me on Sunday if I was able to find God in the football stadium on Friday night and experience a moment of worship!)
On Sunday, I'm going to launch a new study in 1 John.  I've been getting really inspired as I study this short little book near the end of the New Testament.
Scholars think John wrote this late in his life, as late at 90 or 95 A.D. Just imagine, John is now an old man, and he's been living for 60+ years since the Crucifixion, Resurrection, and Ascension. But you get the feeling that this last living Apostle, now in the sunset of his life, is still thriving in life and experiencing so much joy in the Presence of the Lord.  I read his letter with an appetite to learn his secrets for thriving for a lifetime, and that's what I'm calling this series. The first chapter is only 10 verses long.  Why don't you read it a couple times before we come together on Sunday morning.
I know some of the Zoom folks look to my emails for the meeting ID, so here you go.  We'll be in-person in our beautiful theater at 9:30am, but for those who need to join us from home, here's the zoom info: https://us02web.zoom.us/j/153112432?pwd=WlJjbWZNeHo0NXBKM0VvbDkrYXV2QT09, Meeting ID: 153 112 432, Password: 684814.
Last Sunday Michelle Ertel introduced a new exciting ministry at Grace called "Care 4 U Ministry", and I wanted to mention it again this week.  This ministry's mission is to practically care for our Grace Vineyard Family.  The team is made up of Michelle Ertel, Angelita Estrella, Bonnie Stang, and Nancy Beck. They will do things like calling/texting/email us just to provide a connection point and offer prayer.  When people have extra needs during times such as delivering a baby, a hospital stay, a death in the family, etc, the Care 4 U ministry will try to help with practical things like preparing meals, cleaning, and shopping.  Would you like to be available to help when a need arises?  Give one of the team members a call and let them know how you'd like to be available.  Do you have a specific need that we as a church family might be able to meet?  Give them a call.  This really sounds like an awesome ministry to me.  Thank you Care 4 U Team!
Men – Sign Up For The Men's Retreat This Sunday
I want to mention one more thing before I run off to the Rugby tournament — the Men's retreat is now one month away!   Men, if you haven't signed up, this is the week to do it.  We're going to have a great time in the mountains at Palomar Christian Conference Center – our favorite spot for retreats.  This place has so many things to do during free time – hiking, football field, horseback riding, paintball field, skeet shooting, rifle range, archery range, and more.  Plus the food is the best.  But the most important part will be the experience we have as brothers together, learning more what it means to be a man of God.  I hope you'll be able to join us.  Register at the table on the terrace this Sunday.  If you have any questions, contact Snake at 760.622.4572 or rertel777@gmail.com.  Here's a fun fact – the men from Generation Church are going to be joining us!
Okay.  I'm outta here for Friday Night!   God bless you each.  Have an outstanding weekend.  And don't forget to take care of the goose!  (If you didn't get that last reference, you might wanna give last week's message a listen – it's available on gracetalks.org)
Love and blessings to each of you,
Ron Ohst
---
Tithes and Offerings Online
THANKS for taking ownership in the life and ministry of Grace Vineyard – it takes all of us!   If you'd like to give your tithe or offering online, click the donate button below.  Please remember we are "getting our house ready for guests" and have several thousand dollars worth of important improvements waiting on our offerings. If your offering is for a specific purpose such as building or benevolence, please note that where it will prompt you with "what's this donation for?"  Thanks!