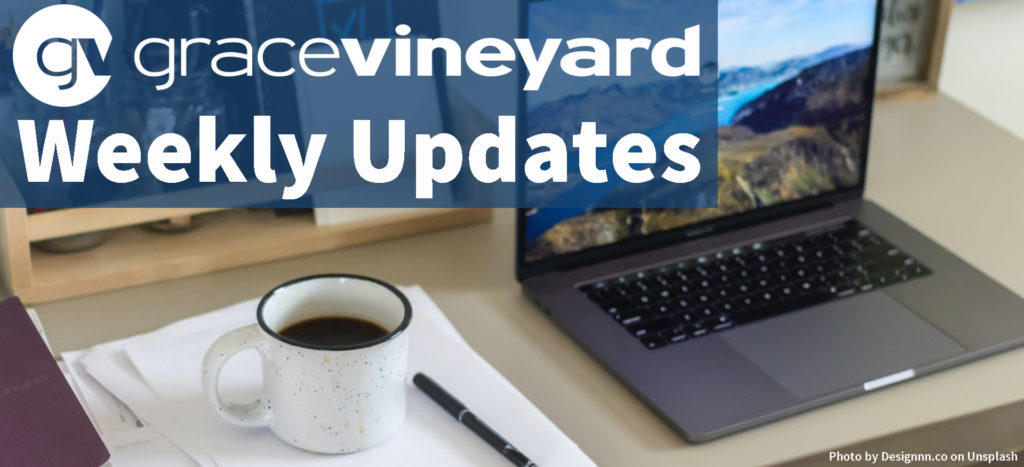 February 11, 2023
Happy Weekend, Grace Vineyard and Friends of Grace!
Right now as I'm writing it's a little after 2pm on Saturday, and there's already been some great Grace Vineyard fellowship happening today.  A bunch of our ladies met at Batiquitos Lagoon Nature Center this morning's monthly ladies walk, and a bunch of men met for breakfast at Ty's and heard a great devo on prayer from David Yoder.  I love how our church family enjoys each other!  And we have one of the biggest national celebrations of the year coming up tomorrow at 3pm – The Super Bowl Party!
Join us Sunday afternoon for a Super Bowl Party.  It wouldn't hurt to figure out if your gonna root for Philadelphia Eagles or the Kansas City Chiefs before tomorrow, and it definitely wouldn't hurt if you would start planning your favorite game day food for the party.  We're going to open up the curtains and show the game on the big screen.  Fun! Party starts at 3pm; kickoff is at 3:30pm.
Living The Future Now: How the in-breaking of God's Kingdom changes everything
Last week I began a new series of vitally important truths that are the foundation of how we do ministry in the Vineyard.  In a sense, this is a training exercise for our growth as an "army of healers".  If possible, try to give last week's talk a listen as you prepare for tomorrow's teaching.  We put it on YouTube so you could access it easily from any device or even your smart tv.  Here's where to find it:
That brings up a good point – pretty much all of our sermons are available on our youtube channel – Grace Vineyard – YouTube.  Some of the videos are really just the audio from our podcast (gracetalks.org), but in this case I created a couple of graphics that I thought were important to help get the message across, so we have the video from Sunday morning for you.
Tomorrow I will continue exploring the theme of God's Kingdom and how it's in-breaking quite literally changes everything, with a look at the means by which Jesus and His apostles, and all of His disciples are empowered to not only declare the message but do the works of the Kingdom – that means is His Power and Authority, which are remarkably available to all His disciples even to this day.  But how that works is not always obvious, so we want to learn together how to be fully empowered disciples of Jesus.  I hope you'll join me tomorrow at 9:30 for part 2 of this series.
This week we said goodbye (for now) to a wonderful member of our Grace Vineyard family, Fred Bradley. I'll share with you what Fred and Cynthia's daughter, Debbie, wrote on Facebook – "Last night my daddy took his last breath here on earth and opened his eyes in heaven. He was surrounded by his wife of almost 62 years, all 3 of his kids, 5 of his 9 grandkids and his first great grand baby. We prayed together, played worship music, laughed and cried. We rest in the hope we have in Jesus that he is free of pain, and we will see him again in heaven. He was a good husband, wonderful father, fabulous grandfather and a great great grandpa! We will miss him so very much!"
Fred and Cynthia have been such a wonderful part of our church community these past many years.  We are rejoicing with Fred at his new home in heaven, and we are grieving with Cynthia and the rest of their family as we must be separated for a season.  How my heart swells with anticipation when I think of the coming day when Jesus will return and all sorrow and mourning and death will be no more.  How many loved friends and family I look forward to being united with on that day!  Until then, let us love and care for one another deeply here on earth, carrying each other's burdens, sharing each other's sorrows, lifting each other up with encouraging words and prayers.  Michelle Ertel and our Care4U ministry has set up a Meal Train for people to bring meals to the Bradley family at this time.  If you'd like to know more about that, check it out at https://www.mealtrain.com/trains/qnmqg8.  (By the way, if you don't know about Care4U ministry, and would like to learn more, check out the webpage at https://gracevcf.org/ministries/care-4-u-ministry/– if you have a need, let us know; if you'd like to join the caring team, let us know.)
Summer Vacation Retreat in North Carolina
I am super excited about something the Vineyard USA is doing for the first time in my memory.  We're having our national conference at a retreat center with something for all ages.  When I was a kid, my church had family camp, and it was so fun and life changing.  And a few years back a few of our Grace families went to family camp at Forest Home in California, but we never had anything quite like this.  Check it out at https://conference.vineyardusa.org/  This looks like an amazing retreat center, and I'm dreaming about bunches of us from our whole church going to it.  It could be part of your summer vacation plans in the Blue Ridge Mountains of North Carolina.  I'll be honest, it sounds fairly expensive to fly across the country to do this, but I think it would be a very worthwhile investment, so I'm gonna see if my family can swing it.  We've got about 6 months to save up the money for it.  Trust me- there's nothing like a Vineyard national conference.  And when things seem difficult to accomplish, there's always prayer – God gives amazing answers when we present our requests to Him.
I'll send this email off to you now.  If you can, give that youtube video of last week's sermon a listen, and I'll see you tomorrow morning for worship and tomorrow afternoon for football and guacamole!
Love and blessings to each of you,
Ron Ohst
---
Tithes and Offerings Online
THANKS for taking ownership in the life and ministry of Grace Vineyard!  And thanks to all of you who are stepping into a lifestyle of generosity with your tithes and offerings.  It really does take all of us doing our part with the income God has entrusted to us for His church. If you'd like to give your tithe or offering online, click the donate button below.