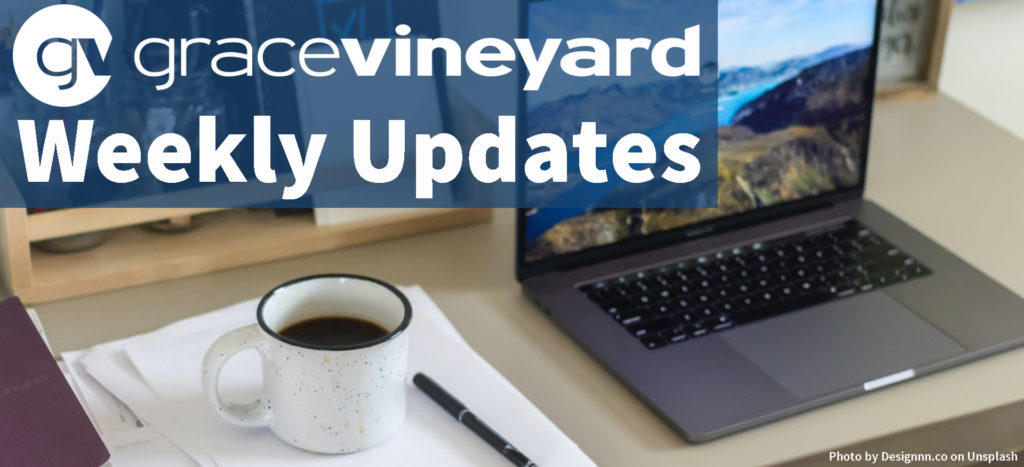 February 5, 2022
Hello Grace Vineyard and Friends,
I'm writing this on Saturday morning.  It's a bit crisp outside, and I'm moving fast so I can make it to my son's rugby tournament that starts in less than an hour.  I hope you're launching into a great day with people you love too.
I'm reflecting, just now, on the wonderful stories of life in our community this week.  I happened to be in the Upper Room just before youth group started on Wednesday, and had the joy of chatting with a young man who told me about how he had just invited Jesus into his life.  He was already experiencing new life and wanted to share it with me.  The next night I was in a living room filled with worshipers at our Thursday night home group, and one the guys told the story of a man they met on the streets when doing mercy ministry this week. The man went from blaspheming the Lord to repenting in a matter of minutes.  And "coincidentally" ran into the guy from our home group later in the day on the beach and the 2 of them decided to have an impromptu Bible Study.  Immediately, the new believer was applying what they read in the Word to his own situation in a way that sounded like the Holy Spirit was talking directly to him.  Last night a bunch of you served a hot meal and plenty of loving kindness to our neighbors at the Bread of Life Rescue Mission, and this morning a group of volunteers are helping an elderly woman from our community who has been in medical care facilities for the last 2 years (imagine that situation!) get ready to move back into her own place (long story, but there's going to be a lot of furniture and box moving).  Practical ways to demonstrate the love of Jesus in our community and beyond.  Well done, Grace Family!
By the way, if you'd like be in stories like these rather than just reading about them in an email, it's very easy.  You just gotta step on in.
Send me an email to rohst@gracevcf.org or text/call our church office at 760.754.2974 to ask about the next opportunity to get connected with one of these life-giving opportunities, and I'll connect you with the right people.
Here's a couple things that are coming up that you'll want to know about:
This Sunday we're continuing our "Equipping The Saints" series with a very practical, "How-To" session on how everybody who knows Jesus can lead an effective prayer encounter.  I'm planning on training you in some simple mindsets and practices for helping somebody experience a healing encounter with Lord.  Don't miss it!
As most Americans know, next Sunday the 13th is Super Bowl Sunday.  We thought it would be fun to watch it together on the Big Screen in our beautiful theater.  The game is scheduled to start at 3:30, so we're gonna start at 3pm.  Of course, a SuperBowl party isn't complete without SuperBowl food, so bring your favorite Gameday food to share.  Contact Steve Rogers at 760.500.4324 or srogers@gracevcf.org for questions about food, or anything else, and especially to ask him how you can help put this party on.
Next Saturday is the 2nd Saturday of the month, so it's time for our Men's Breakfast.  Men – this a GREAT way to start to get more connected with the Men of Grace.  Delicious breakfast, worship, fellowship, and an inspiring word.  This month's speaker is our old friend, Jeff Davis.  It will be great to hear Jeff's latest adventures and insights on living as a man before the Lord.
Stewardship in 2022
I need run off to my son's rugby tournament right now, but as I head for the door, let me just remind us all of the blessing and responsibility of financial stewardship in the church of Jesus Christ.  Since ancient times right up to the present God has been consistent in how he wants to partner with people like us to do his work of redeeming the world.  He always invites people to be his partners, with Him supplying all the resources we need, and our response of spending the resources He entrusts to us not on ourselves, but on His purposes.  On the practical side of paying for things like buildings, and the pay of workers, whether it was in the temple, or is in the church today (see Numbers 18:21-22 and 1 Corinthians 9:13-14) God's sovereign plan is to entrust us with the ability to make income and then instruct us to give the first 1/10th of that income to the church (or temple in the ancient times) as a beginning, and then give additional offerings as He leads.  This plan is the foundation of financial stewardship.  Many of us have experienced the joy of living this kind of life, discovering that when we give, God gives back more than we started with.  I've found that people who don't trust God with their money are often burdened with financial stress as a regular course.  As 2022 is now in full swing, I want to encourage all of us at Grace Vineyard to step into this freedom.  We need it individually, and we need it as a family.  When some of us of hold back, all of us suffer.  This kind of thing happened from time to time in the history of Israel.  Once during the time of Nehemiah, God sent a prophet to the nation to address the issue with these words: "Should a person rob God? But you are robbing me. You ask, 'How have we robbed you?' You have robbed me in your offerings and the tenth of your crops. So a curse is on you, because the whole nation has robbed me.  Bring to the storehouse a full tenth of what you earn so there will be food in my house. Test me in this, says the Lord All-Powerful. I will open the windows of heaven for you and pour out all the blessings you need. I will stop the insects so they won't eat your crops. The grapes won't fall from your vines before they are ready to pick, says the Lord All-Powerful.  All the nations will call you blessed, because you will have a pleasant country, says the Lord All-Powerful." (Malachi 3:8-12).  Here's a thought – if you are one who just can't seem to work up the faith and courage to give 1/10th of your income to the Lord, perhaps you should take a baby step and start with 1/100th this month (that's 1%), and increase it to 2% bye the 2nd month, and so on, until you get to the 10% mark.  My personal approach is to dive in with the full 10%, but I know of folks who have taken the ease-in-slowly approach successfully, so I mention it as a possibility.  In any case, I want us to be a people who have shown God that He can trust us with the very little things of worldly wealth, so He can then trust us with the true riches of his Kingdom Resources (that's what Jesus said in Luke 16:10-11).
God bless you today!  I'm off to watch some rugby now!
I'll see you tomorrow morning for equipping in effective prayer encounters!
Love to each of you,
Ron
---
Tithes and Offerings Online
THANKS for taking ownership in the life and ministry of Grace Vineyard – it takes all of us!   If you'd like to give your tithe or offering online, click the donate button below.  Please remember we are "getting our house ready for guests" and have several thousand dollars worth of important improvements waiting on our offerings. If your offering is for a specific purpose such as building or benevolence, please note that where it will prompt you with "what's this donation for?"  Thanks!