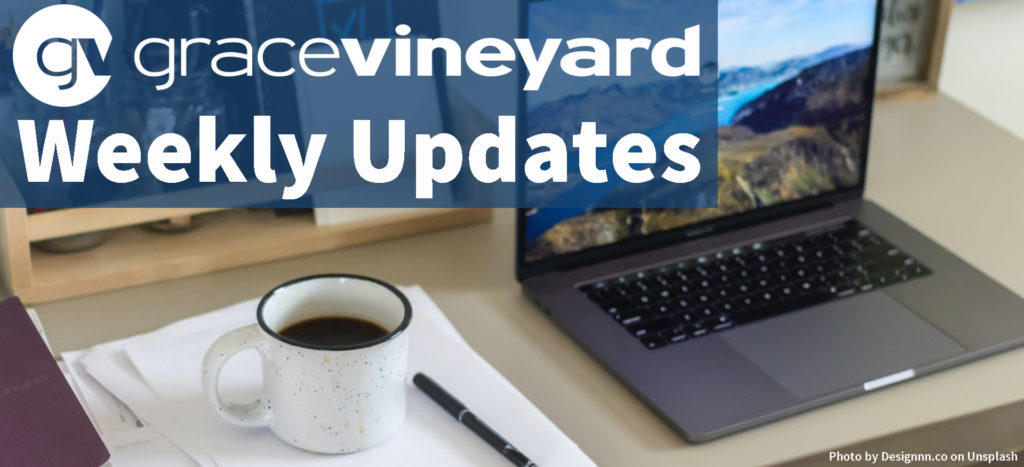 February 4, 2023
Happy Saturday, Grace Vineyard and Friends of Grace Vineyard.
Welcome to February!  I wonder if I should start this Grace Vineyard Weekly Update email with a public service reminder — attention Husbands and Boyfriends: you have 10 days to purchase those flowers, chocolates, cards, and special gifts for Valentines Day. 🙂  February is a special month for several reasons: Valentines Day like I just mentioned, my wife's birthday, my Zambian son's birthday, plenty of local snow for snowboarding and ski trips, and the Super Bowl.  Okay, most of you know I'm not a big sports fan, so I honestly  haven't been following the NFL this season, however I do enjoy a good party, and we've got one coming up next week.
Join us next Sunday afternoon for a Super Bowl Party.  It wouldn't hurt to figure out if your gonna root for Philadelphia Eagles or the Kansas City Chiefs before next Sunday, and it definitely wouldn't hurt if you would start planning your favorite game day food for the party. We're planning on showing the big game on the big screen, so that's pretty fun!  If you wouldn't mind, please text or call Steve Rogers at 760-500-4324 to let him know that you're coming and what you're planning on bringing so we can make our party plans.
Before the big game, we've got a couple other events for everybody on Saturday, February 11th.  First, for the ladies, we have our monthly walk/hike:
Ladies, meet at the Batiquito Lagoon Nature Center, 7380 Gabbiano Lane, Carlsbad, at 9:00AM next Saturday, February 11th.  This is a great time for some fellowship in the beautiful outdoors.  If you can make it, please let Kathy Green know by texting/calling her at 760-583-1779.
Then for the men, we have our monthly men's breakfast.
Men, we meet for breakfast on the 2nd Saturday of every month at Ty's Burgerhouse, 515 Mission Ave, just around the corner from the church, at 8am.  We have a great breakfast, worship, and an inspiring word. This month our own David Yoder is going to bring the word.  If you've never been before, we hope this month we'll be your first. Join us!
Gracetalks Podcast
Did you know all our Sunday morning sermons are available on demand via our Gracetalks Podcast?  Check it out at gracetalks.org.  The month of January was especially rich as 4 different speakers spoke from the theme "Cherishing the Nations-The Beauty of the Gospel across Cultures".  For your convenience, you can hear Rubén Quintero's Talk from last Sunday on "The Perfect Scene" right here.
New Teaching Series Launches This Weekend
I'm calling this series "Living the Future Now – how the in-breaking of God's Kingdom Changes Everything".  At this point in church history, it's pretty much consensus among theologians that the central message of the entire Bible and certainly the central message of Jesus, is "The Kingdom of God".  But what is meant by "The Kingdom of God" is often confusing to people.  You might be unaware that in the Vineyard, our understanding of The Kingdom of God undergirds everything we do, how we worship, how we pray for people, how we view salvation, healing, deliverance, our entire philosophy of ministry.  I often mention aspects of the Kingdom of God throughout my preaching, but now I have felt led to lead us in a focused study of the topic for a little season. I think you'll find it very interesting, and I know that it is essential training for our mission as a community, so I'll hope you'll make an effort to join us for this series.
We need your Missions Pledge
As I just mentioned, we spent the month of January focusing on missions and developing the heart of Jesus for all peoples – cherishing the nations.  As a church family, we support the work of missions through a pledge program.  Every year, the individuals in our congregation pray and plan an amount they think they can give every month for the next year.  We let the Missions Team know by filling out a pledge card, either online or on paper, and then the Missions Team compiles that information to let our missionaries know how much money they can expect to receive from us every month.  Many of you participated in 2022, and perhaps you just plan on continuing what you've been doing the last year – even if that's the case, could you let us know by filling out the pledge from at gracevcf.org/pledge23?  Thank you!  Our missionaries so appreciate our support, and I really appreciate you all giving of your resources together as a family to advance the cause of Christ globally!
Two more things to mention today…
Stories in the Garden Writing the Story Saturday Morning Group for Women And Men

"Stories in the Garden: Writing the Story" will be starting very soon, launching on the third Saturday of every Month beginning February 18th, meeting at the church 9-10:30am.  Have you ever wanted to write devotions, short stories, poetry, your memoir or a novel? When it comes to writing, there are many different ways to express your creativity and share your message. If you are curious about the craft of the written word, join Michele Goane and others as we create community around writing with the purpose to encourage, equip and have accountability on the journey.  No experience is necessary. All levels are welcome. Please bring a journal or writing paper and pen.  This group is for women and men.  If you are interested in this group, please call Michele Goane 619.952.6100 or email her at goaneplaces@gmail.com.
2023 Women's Retreat – Time to Begin Saving
We'll be holding our Women's Retreat at Pine Valley October 20-22.  The cost will be $230 for private bath lodge rooms, $210 for shared bath lodge rooms and $180 for dorm rooms.  You can begin to pay for this retreat and we'll keep track of it for you.  If you pay online at
www.gracevcf.org/give
 or in person, please note that it's for the women's retreat.  If you end up not attending, we will refund your money.  Please email 
kimohst@gmail.com
 or text Kim Ohst at 760.519.4558 to let her know what type of room you are reserving.  We have limited availability.
The Lord's richest blessings to each of you!
with love,
Ron Ohst
---
Tithes and Offerings Online
THANKS for taking ownership in the life and ministry of Grace Vineyard!  And thanks to all of you who are stepping into a lifestyle of generosity with your tithes and offerings.  It really does take all of us doing our part with the income God has entrusted to us for His church. If you'd like to give your tithe or offering online, click the donate button below.