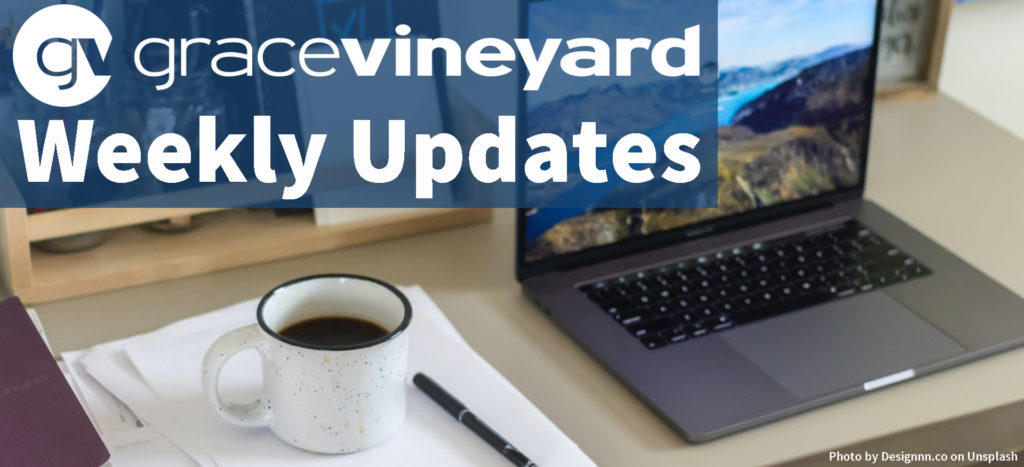 January 28, 2023
Hello Grace Vineyard and Friends of Grace,
Happy Saturday to you.
For a change of pace, I've had a very relaxing Saturday so far!  Haven't done that in a long time, but it sure has been nice. (I usually take Mondays as my Sabbath, and try to avoid stress and pressures while my soul rests. It's just rare for me to slow down on Saturdays too).  I hope you are finding some moments to rest from the week's work too.   Here's the weekly update for Grace Vineyard…
Rubén Quintero Tomorrow at Church
I am so happy to finally share my great friend Rubén Quintero with you.  I met Rubén about 5 or 6 years ago at a Vineyard leaders retreat, and we immediately hit it off.  As you'll experience tomorrow, he is a very gracious, wise, peaceful, and kind man.  Rubén pastors the Imperial Valley Vineyard church in El Centro.  He's also a CPA and also works as a corporate chaplain for an agricultural company, ministering to the spiritual needs of their employees. (Corporate chaplaincy is a somewhat new concept that some business leaders are using to enhance the workplace by providing resources for the spiritual side of their employees…pretty cool idea).
Rubén has in the past overseen the La Viña churches in the US, and currently leads the Hispanic Association, where he serves by representing and advocating for the Hispanic community in the Vineyard movement so they can be cared for and grow as leaders and pastors for their local churches.  It's probably pretty obvious how he is a great fit to bring our final message in our January series, "Cherishing the Nations-the beauty of the Gospel across cultures".
By the way, Josh Armstrong brought a us a really great message last week, introducing the idea of "thin places".  You can hear that message on our podcast at gracetalks.org.  Check it out right here:
International Potluck This Sunday
In keeping with our "Cherishing the Nations" theme for January, we're doing international fare for our monthly after-church potluck this Sunday.  Kim's bringing a German dish cuz we both have German ancestry.  Another friend told me he's bringing curry turkey meatballs with a mango glaze and possibly mango lassi for a beverage/dessert.  Wow! I surely hope one of us is bringing some local Mexican food, which is one of my favorites.  Our monthly potlucks have been such a great way for us to connect with each other and I hope you'll all be able to join us right after church. I'm definitely looking forward to some international dishes!
Spanish Ministry Vision Luncheon after Church
Have you ever heard people talk about their "heart language"?  Most people in the world today outside of the United States speak at least 2 languages.  They might be perfectly fluent in both, but there's something unique about the language they learned from their mother, or at least the one they mostly heard as a small child.  This is their heart language and it is profoundly powerful when talking about spiritual issues, life in Christ, and especially when praying or singing worship songs to the Lord. Like its name indicates, it simply touches the heart. I've personally never had to spend much time other than in school speaking a language other than my heart language, so I was completely unfamiliar with this concept until someone told me of their experience.
Well, in Oceanside, we are surrounded by people who's heart language is Spanish, and I believe we have a calling to effectively minister the love and Gospel of Jesus to the hearts of the people in our city.  So, I've been praying for some years now that we would be able to launch some ministry in Spanish, perhaps a Bible Study, perhaps plant a Spanish Church (Vineyard is called La Viña in Spanish).  This Sunday after church Rubén Quintero will join those of us who are interested in talking about the possibilities while the rest of the church is enjoying the International Potluck. Don't worry, we won't miss lunch, we'll just take our food to the Ship Room in Clubhouse Grace.  If you need more info on that, you can still text me today at 760-713-6478.
Stories in the Garden Writing the Story Saturday Morning Group for Women And Men

Can you believe we'll be in February this coming Wednesday?  "Stories in the Garden: Writing the Story" will be on the third Saturday of the Month beginning February 18th, meeting at the church 9-10:30am.  Have you ever wanted to write devotions, short stories, poetry, your memoir or a novel? When it comes to writing, there are many different ways to express your creativity and share your message. If you are curious about the craft of the written word, join Michele Goane and others as we create community around writing with the purpose to encourage, equip and have accountability on the journey.  No experience is necessary. All levels are welcome. Please bring a journal or writing paper and pen.  This group is for women and men.  If you are interested in this group, please call Michele Goane 619.952.6100 or email her at goaneplaces@gmail.com.
2023 Women's Retreat – Time to Begin Saving
We'll be holding our Women's Retreat at Pine Valley October 20-22.  The cost will be $230 for private bath lodge rooms, $210 for shared bath lodge rooms and $180 for dorm rooms.  You can begin to pay for this retreat and we'll keep track of it for you.  If you pay online at
www.gracevcf.org/give
 or in person, please note that it's for the women's retreat.  If you end up not attending, we will refund your money.  Please email 
kimohst@gmail.com
 or text Kim Ohst at 760.519.4558 to let her know what type of room you are reserving.  We have limited availability.
And that's it for this week's update.  It's gonna be great tomorrow (Sunday) being with all of you for worship, a great message with Rubén Quintero, ministry time as the Spirit leads us, and an international lunch together.  Can't wait!
with blessings and love to each of you,
Ron Ohst
---
Tithes and Offerings Online
THANKS for taking ownership in the life and ministry of Grace Vineyard!  And thanks to all of you who are stepping into a lifestyle of generosity with your tithes and offerings.  It really does take all of us doing our part with the income God has entrusted to us for His church. If you'd like to give your tithe or offering online, click the donate button below.