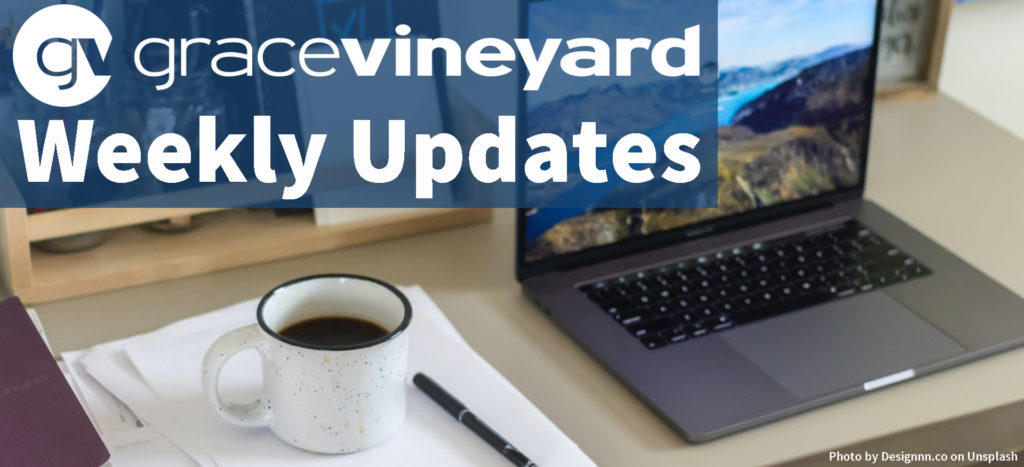 January 21, 2022
Hi Grace Vineyard and Friends,
It's Friday night and it's time (past time!) to send you my weekly update email.  I suspect that some of you won't be looking at your email until after Saturday morning, but for those who do I want to make sure you know about a special event taking place at 11:00am on Saturday, January 22.
We have an opportunity to love our neighbors in Oceanside in a powerful way. Michael Aplikowsky leads teams of people during the week to bring kindness, food, and prayer to our neighbors who are living on the streets of Oceanside.  I've gone with them a few times, and it is wonderful!    I know for some of you, this will get you out of your comfort zone, and that's a really good thing!  It's actually surprisingly easy to tag along with the team that does this all the time, and engage in conversations that often lead to some beautiful "Holy Hello" opportunities for prayer and spiritual conversations.  We'll meet at the church on Saturday, January 22nd,at 11:00am, talk for just a bit, then go out on the streets, and be back by 1pm.  I really encourage you to step out of your comfort zone, if necessary, and join the team for what just may be a life-changing experience.
Saturday Night Alive, 5pm Saturday
This Saturday evening, the Grace Vineyard auditorium is going to be rockin.  Gary Lee of In The Midst 777 has been hosting the Saturday Night Alive music event for some time, and is now bringing it to the Grace Vineyard Theater.  There will be a number of bands playing, and a short evangelistic message.  Fun for all ages, *free*, and a great event to bring your friends to, especially if they are still on their journey toward giving their lives to Jesus!  Hope to see you there, starting at 5pm.
New Women's Bible Study Launches Feb 7
Ladies, join us on Monday nights beginning February 7.  We will be going through Beth Moore's study "Chasing Vines".  Here's a short promo video describing the series:
We'll meet on Zoom on Monday nights from 6:30-8:30.  The cost is $25 for the books.  To register or find out more information, contact Kim Ohst at 760.519.4558 or kimohst@gmail.com
Click on the button below to pay the registration fee online: