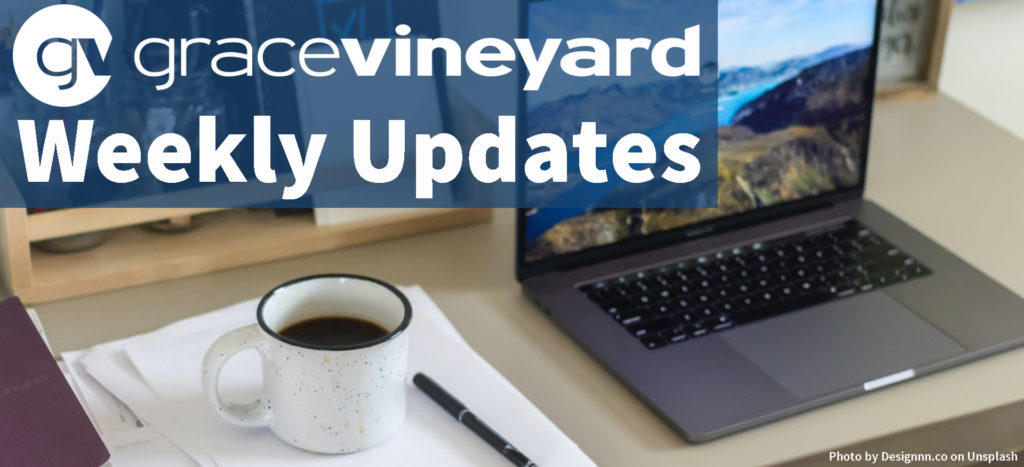 January 14, 2022
Hello Grace Vineyard and Friends!
How are you all doing this week?  We're doing a lot better in the Ohst household than we were in my last update.  Last week I was letting you know that we had 3 positive covid cases in my house. This week we're down to Zero positive cases, so that's good news!  I will be able to be with you in person again this weekend.
Last weekend, you'll remember, Treina Nash brought a really insightful and inspiring message titled "The Genesis of Spiritual Development" where she explored the process by which we become spiritually mature using parallels in the 7 days of creation. If you missed it, or would like to listen again, we've posted the sermon video on our youtube page right here:
New Series – Equipping The Saints
This Sunday I'm going to begin a new teaching series called "Equipping the Saints".  Probably I could have kept these next teachings under the heading "The Christian DNA" that we were working with before, but the next 3 messages I plan to bring will be so focused on equipping us to do the works of ministry, the works of the Kingdom of God that Jesus modelled and then sent out at least 84 disciples to do, that I thought I'd do better to give them their own series title.  In any case, I'm hoping and praying to see an increase in our midst of the kind of ministry we read about in the gospels and the book of Acts.   Come prepared to learn and be challenged!  This week we"ll be focusing on the topic of power and authority that the Holy Spirit imparts to Jesus' disciples for accomplishing His purposes in our world today.
New Five Week Home Group
Starting this coming Thursday, we will have a 5 week home group that will focus on growing in experiencing and worshipping God.  We've got room for about 12 people.  The group meets in Oceanside, near Mira Costa College at 7pm on Thursdays – January 20, 27, February 3, 10, and 17.  We'd love for you to join us, so give us a text, call, or email to get the details — 760-754-25974, or homegroups@gracevcf.org.
Next Week – Street Ministry
I want to make sure you get this on your calendar if at all possible.  Next Saturday, January 22nd, we have an opportunity to love our neighbors in Oceanside in a powerful way. Michael Aplikowsky leads teams of people during the week to bring kindness, food, and prayer to our neighbors who are living on the streets of Oceanside.  I've gone with them a few times, and it is wonderful!  I'm hoping to join them on the 22nd.  I know for some of you, this will get you out of your comfort zone, and that's a really good thing!  It's actually really easy to tag along with the team that does this all the time, and engage in conversations that often lead to some beautiful "Holy Hello" opportunities for prayer and spiritual conversations.  We'll meet at the church on Saturday, January 22nd, talk for just a bit, then go out on the streets, and be back by 1pm.
Saturday Night Alive January 22
Many of you know our good friend Gary Lee of the band In The Midst 777.  He has been putting on a Saturday night concert series for some time in Oceanside, and he's asked to bring it to our building. We're excited to share our beautiful venue for a great evangelism opportunity.  There will be 2 Rap artists and one band for this all ages live music event, and it begins at 5pm.  Yet another opportunity to invite our friends to encounter Jesus.
And that's it for this week's update.
See you all on Sunday.  If you are unable to join us in person this week, please join us via zoom at Zoom Meeting ID  153 112 432, Passcode 684814.
Blessings and love,
Ron Ohst
---
Tithes and Offerings Online
THANKS for taking ownership in the life and ministry of Grace Vineyard – it takes all of us!   If you'd like to give your tithe or offering online, click the donate button below.  Please remember we are "getting our house ready for guests" and have several thousand dollars worth of important improvements waiting on our offerings. If your offering is for a specific purpose such as building or benevolence, please note that where it will prompt you with "what's this donation for?"  Thanks!