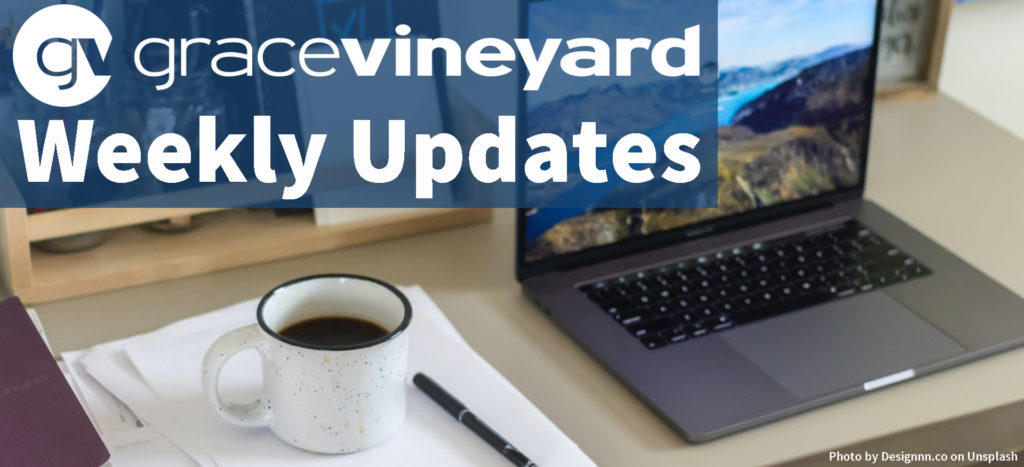 January 13, 2023
Hello Grace Vineyard and Friends of Grace.
It's time for another of my weekly update emails.  If you're like me, even though it's only the 13th of January, it feels like the whirlwind of Christmas season is long, long ago, and the new year is well under way.  As a church, on January 1st we launched a month of pressing into the theme "Cherishing the Nations: the beauty of the Gospel across cultures".  On the first Sunday our own global nomad, Sharon Mitchell,  talked to us about the beautiful diversity of cultures around the world, highlighting how each bears the imprint of God.  The following Sunday, last Sunday, our friends who serve in Asia joined us for a powerful morning of ministry and inspiration.  What I keep hearing from folks is how they were impacted but the young people who spoke.  There was definitely more than the usual number of people receiving prayer and prophetic words for an extended period of time after the service ended.  I hope and pray that that level of hunger and engagement will continue as we press on into this theme for the next 3 Sundays.
This week I'll be speaking, and I plan to begin with the last scripture that Sharon Mitchell shared with us on January 1st.  In the 5th chapter of the Revelation, we're transported with the apostle John into a heavenly vision where a symbolic scroll sealed with seven seals is in the hand of God, possibly symbolizing God's final unfolding of the consummation of history, and it appears that nobody in the cosmos is worthy to open the seals and the scroll.  Then John is told to weep no longer (he had been weeping at the propsect that the scroll would remain sealed) because "The Lion of the Tribe of Judah" is worthy.  We know that title refers to Jesus the Messiah.  Then instead of a lion, a lamb appearing as though it had been slain, takes the scroll, and the heavens burst into songs of worship to The Lamb.  What is it that makes Him worthy?  The scriptures declare He is Worthy because He cherishes the nations; cherishes to the extent that He spends His own life blood to purchase people from every tribe, and nation, and tongue.  That's where I plan on beginning our talk on Sunday, and I'll move from there to showing from the scriptures how it is that we partner with Jesus in this very act of love for the nations.  Here's the Revelation passage:
Revelation 5:9-14
9 And they sang a new song:

"You are worthy to take the scroll
and to open its seals,
because you were slain,
and with your blood you purchased men for God
from every tribe and language and people and nation.
10 You have made them to be a kingdom and priests to serve our God,
and they will reign on the earth."

11 Then I looked and heard the voice of many angels, numbering thousands upon thousands, and ten thousand times ten thousand. They encircled the throne and the living creatures and the elders. 12 In a loud voice they sang:

"Worthy is the Lamb, who was slain,
to receive power and wealth and wisdom and strength
and honor and glory and praise!"

13 Then I heard every creature in heaven and on earth and under the earth and on the sea, and all that is in them, singing:

"To him who sits on the throne and to the Lamb
be praise and honor and glory and power,
for ever and ever!"

14 The four living creatures said, "Amen," and the elders fell down and worshiped.
I hope you'll join us to worship the King of Kings together on Sunday morning, as well as to be transformed as we open His Word together!
Hopefully you've all figured out that the theme "Cherishing the Nations" is for our annual Missions Emphasis Month.  One of the things we do is invite everybody to get involved financially with our Grace Vineyard Missions program.  We support our missionaries with a pledge system: people in our congregation pledge to give a certain amount for missions every month, and our Missions Team in turn lets our missionaries know what they can depend on from us as they prepare their budgets for the coming year.  If you have already been giving to missions, and plan on continuing into the new year, it is important that you let us know so that we can let our missionaries know.  Please click here to fill out your 2023 pledge form online:  gracevcf.org/pledge23.  If you'd like to learn more about the missions we support, please check out gracevcf.org/missions.
ATTENTION SPANISH SPEAKERS
On Sunday, January 29th, our guest speaker will be Ruben Quintero, leader of the Vineyard USA Hispanic Association.  After church everyone who speaks Spanish, or who would be interested in joining us, are invited to meet with Ruben and hear from him what it could look like for us to start a Spanish ministry at Grace Vineyard.  This is something I have really wanted for many years.  Ultimately I would love to see a La Viña church planted in Oceanside.  If you are interested in joining us, would you text or call me at 760-713-6478 please?  And join me in praying that we could reach the Spanish speaking people in Oceanside with the Gospel of Jesus and the power of the Holy Spirit.  You can learn more about the Vineyard Hispanic Association here:  https://vineyardusa.org/associations/hispanic-association/
Men's Breakfast Saturday at 8am
Men, it's time for our monthly men's breakfast.  We're happy to have Steve Pittman back with us.  Steve is a veteran of men's ministry – he's actually the guy who brought Authentic Manhood to Grace Vineyard – and he has been a tremendous blessing to our men in the recent years.  Guys – you won't want to miss this.  (apologies if you are only getting this email via text notifiation, as it will be too late for you — I'm working to have it in standard email by Friday night).
Women's Beach Walk Saturday at 9am
Saturday, January 14th our ladies will meet at 9am on the grassy area at the corner of Pine and Carlsbad Blvd. Please let Kathy know if you plan to attend 760.583.1779.  (Again, my apologies if you are only seeing this via text notification.  It should be in standard email on Friday night).
Soul Line Dancing and Chili Cook-off January 21st
We are planning a very fun evening next Saturday from 5:30-8:30pm.  We'll have Line Dancing to Soul Music and a chili cook-off.  There will be info in the lobby after church on Sunday.  There's lots of things to sign up to help pull this event on, so please stop by the table on Sunday morning.
Stories in the Garden Writing the Story Saturday Morning Group for Women And Men

"Stories in the Garden: Writing the Story" will be on the third Saturday of the Month beginning February 18th, meeting at the church 9-10:30am.  Have you ever wanted to write devotions, short stories, poetry, your memoir or a novel? When it comes to writing, there are many different ways to express your creativity and share your message. If you are curious about the craft of the written word, join Michele Goane and others as we create community around writing with the purpose to encourage, equip and have accountability on the journey.  No experience is necessary. All levels are welcome. Please bring a journal or writing paper and pen.  This group is for women and men.  If you are interested in this group, please call Michele Goane 619.952.6100 or email her at goaneplaces@gmail.com.
2023 Women's Retreat – Time to Begin Saving
We'll be holding our Women's Retreat at Pine Valley October 20-22.  The cost will be $230 for private bath lodge rooms, $210 for shared bath lodge rooms and $180 for dorm rooms.  You can begin to pay for this retreat and we'll keep track of it for you.  If you pay online at
www.gracevcf.org/give
 or in person, please note that it's for the women's retreat.  If you end up not attending, we will refund your money.  Please email 
kimohst@gmail.com
 or text Kim Ohst at 760.519.4558 to let her know what type of room you are reserving.  We have limited availability.
And that's gonna do it for this week's email update.
Blessings and love to each of you,
Ron Ohst
---
Tithes and Offerings Online
THANKS for taking ownership in the life and ministry of Grace Vineyard!  And thanks to all of you who are stepping into a lifestyle of generosity with your tithes and offerings.  It really does take all of us doing our part with the income God has entrusted to us for His church. If you'd like to give your tithe or offering online, click the donate button below.