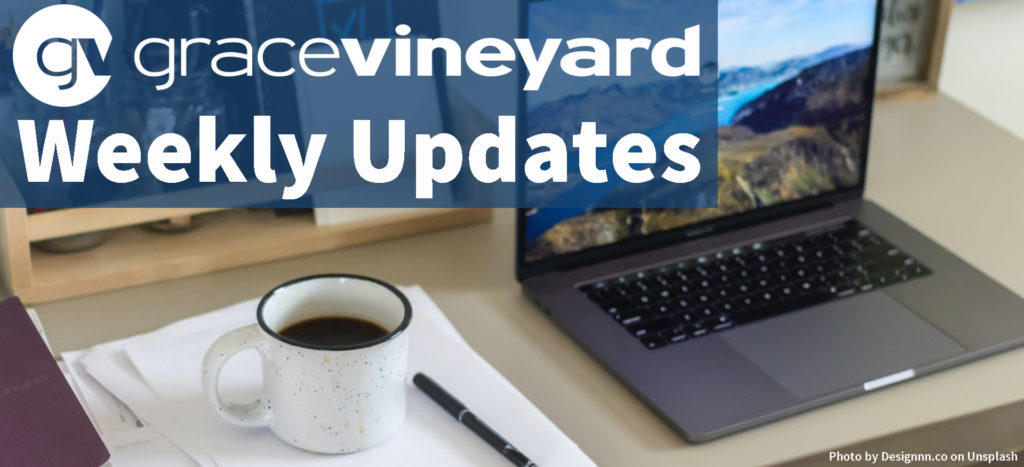 January 7, 2022
Good afternoon my Grace Vineyard Family and Friends!
How are you doing this first week of 2022?!  My first week of 2022 has been, shall we say, challenging…but I'm actually full of smiles and joyful hope as I sit here at my kitchen table typing.  I'm sitting at my kitchen table and not at my desk in the church office because on Monday afternoon I took a Covid test and it came back positive.  I think I'm considered symptom free – no fever, very infrequent cough, I can taste, I guess the main symptom is that I am more tired/fatigued than usual.  Two others in my household tested positive, and one tested negative, so we've been isolating in our home this week.  So why do I have a smile on my face and joyful hope in my heart?   Because of you all, my Grace Vineyard family.  The common denominator for everyone who knows our situation is that they are praying and asking what they can do for us, do we need anything?… how can they help us?  I am loved by my God and I am loved by my church family, and that gives me a sense of joyful hope.  I've heard that a number of you are also facing some covid challenges of your own; would you let me know if you are so I can be praying for you too?  Send me an email at rohst@gracevcf.org, or text me at 760-713-6478.  Just now (while I'm writing this update) I got a text from one of us who works at Scripps hospital to let me know the 5 Scripps hospitals are 1/2 full with Covid patients – he hasn't it seen it this full since March, 2020 – and he wanted me to encourage people to help avoid getting or spreading infection by keeping a distance from others and wearing a mask.  I would add, let's keep praying! Prayer is powerful, and I hope you'll join me in asking our loving God to bring this pandemic to an end!
Here's the latest happenings around our Grace Vineyard family:
Sunday Morning – The Genesis of Spiritual Development
When I tested positive for Covid on Monday I knew I'd be cutting it close with the 5-day isolation period for Sunday morning and couldn't be sure that I'd be able to join everyone in person, so I called our great friend Treina Nash.  We were already planning on Treina bring a teaching on "The Genesis of Spiritual Development" later this month and we just moved the schedule around a bit.  Using the story of creation in the first book of the Bible, Genesis, we'll discover steps in becoming spiritually mature that parallel the 7 days of creation.  It's a fascinating, informative, and empowering teaching that will benefit us all as we grow in spiritual maturity.  Treina will be teaching in person for the Sunday morning service, but I'll be joining via Zoom.  If you need to stay home too, join me at  Zoom Meeting ID  153 112 432, Passcode 684814.  It's been a while since I joined you all on zoom, so I'm really looking forward to connecting with many of you again in this format.
But before we get to Sunday, we have a couple events for our Grace Family to Enjoy
Saturday Ladies Walk
Ladies, did you know we have a monthly Ladies Walk?  That's right, while the men are eating biscuits and gravy at their monthly men's breakfast, the ladies are fellowshipping while doing a light hike in one of the many beautiful locations around San Diego County.  This month the walk is at Hosp Grove by the Mall.  Meet at Hosp Grove Playground off Jefferson at 9am.  Please call or text Kathy Green at 760-583-1779 to let her know you are planning to come.
Men's Breakfast This Saturday
Men, its' time for our monthly Men's Breakfast – Saturday, January 8th, at Ty's Burger House, 515 Mission Ave.  We're excited to welcome back Christian Twombly!!  Men – this is a really great opportunity to enjoy some delicious food and fellowship with your brothers from Grace Vineyard.  If you need any information, or if you'd like to find out about other mens' ministry opportunities, reach out to Richard "Snake" Ertel at ‪760-622-4572‬ or rertel777@gmail.com.
Christmas Decoration CleanUp This Sunday
Our building was prettier than ever for Christmas, and we sure enjoyed all those decorations during the season, but it's time to put the decorations away.  Susan Franke is leading a team of volunteers to take down the Christmas trees and put away the decorations this Sunday after church this.  Many hands make light work, and if a bunch of us help, we'll get it done very quickly.  Please plan on sticking around and helping this Sunday!  If you have any questions, please call or text Susan Franke at ‪760-419-2273‬.
And that's it for this week's email update.  Have a wonderful weekend!
With blessings and love,
Ron Ohst
---
Tithes and Offerings Online
THANKS for taking ownership in the life and ministry of Grace Vineyard – it takes all of us!   If you'd like to give your tithe or offering online, click the donate button below.  Please remember we are "getting our house ready for guests" and have several thousand dollars worth of important improvements waiting on our offerings. If your offering is for a specific purpose such as building or benevolence, please note that where it will prompt you with "what's this donation for?"  Thanks!