August 26, 2022
Hello Grace Vineyard and Friends of Grace Vineyard,
It's time for another edition of our weekly email.  I hope you're experiencing the nearness of the Lord as we enter another weekend!   Once again the Lord has been good to my family.   I want to give a personal thank you to those of you who were praying for my dad, Gerry Ohst, this week.  He went into the hospital last Sunday morning with acute respiratory failure, covid-pneumonia, and congestive heart failure.  Praise God, he was able to go home on Thursday.  He'll be turning 90 in November, so it was certainly an answer to prayer to see him pull through this!  He's still got some recovering to do, but the important thing is that he's getting plenty of oxygen from his own lungs now, which indicates that the pneumonia is well under control.
That answer to prayer makes a nice segue to remind you all of our Tuesday-Thursday morning prayer meeting on Zoom. We regularly see our prayers answered in that meeting, and it is very faith-building!  At this meeting we read a chapter of the Bible together, briefly discuss it, share prayer needs, and pray, and we do it all between 7 and 8 AM! I'd love for you to join us this week, here's the info you need:
Meeting ID: 812 2225 0027
Password: 006314
Check Out Jesus Party – Fridays at 6:22 PM
I just got back from tonight's Jesus Party, and it was awesome.  You should check it out some time.  Every Friday at 6:22PM at Lifeguard Tower #2, there's a Jesus Party.  People were giving their lives to the Lord, people were getting prayed for, people were eating pizza, as I was leaving a group of people were heading down into the water to do baptisms, there was worship, there was preaching, there were people from several churches and there were people who just came from the beach.  I'm telling you, it was Glorious! God is on the move in San Diego. The group keeps growing, so I expect any time now it's going to have to split into 2 Jesus Party groups.  Please join me in praying for this and other church planting movements in our county that are leading people to Jesus and forming new communities of believers.
We had such a great time last Sunday with Eddie and Bethany Roach.  If you weren't able to be with us, here's a video of their message called "Beyond Imagination".  I think you'll enjoy the inspiration from God's Word combined with amazing stories from their work in Cambodia:
Guarding The Treasure
This Sunday I'll be bringing a message I'm calling "Guarding the Treasure By Passing it On".
We'll be looking at some passages in the first 2 chapters of 2 Timothy.  This is most likely the last letter that Paul ever wrote, and possibly was written only days before his martyrdom.  He has a sense of urgency about passing on the treasure of the Gospel that has been entrusted to him, and gives Timothy instructions for how he too must pass on the treasure.  This is true for all of us, whether we're new to relationship with Jesus, or we've known Him for years and years – we have a treasure entrusted to us, and we guard it by passing it on!  Many people have been sensing and experiencing a fresh work of the Holy Spirit in our time,  and those of us that have been around a while are especially called in this season to guard the treasure that has been entrusted to us over the years by faithfully passing it on to others (many of whom are newer to the Faith) who will also be ready to pass it on.  This is the way the Kingdom of God advances, and it's really important that we are faithful to this calling.  We'll look at passages like this –
I remind you to fan into flame the gift of God, which is in you through the laying on of my hands. For God did not give us a spirit of timidity, but a spirit of power, of love and of self-discipline. (2 Timothy 1:6-7)

Guard the good deposit that was entrusted to you — guard it with the help of the Holy Spirit who lives in us. (2 Timothy 1:14)

And the things you have heard me say in the presence of many witnesses entrust to reliable men who will also be qualified to teach others. (2 Timothy 2:2)
We are living in exciting times, spiritually!  I hope to see you Sunday.  If at all possible, please join us in person – we really miss out when we're not together.  If you are unable to be with us in person, you can join us online via Zoom, https://us02web.zoom.us/j/153112432?pwd=WlJjbWZNeHo0NXBKM0VvbDkrYXV2QT09, Meeting ID: 153 112 432, Password: 684814.
Great Success with Could You Cup Packing Event
I just want to take a moment to celebrate our Women's Ministry.  Last Saturday a group of women met at our home to pack up CouldYou Cups to help solve the problem of "Period Poverty" (a global poverty problem where an estimated 500 million women globally miss work or school due to lack of access to feminine hygiene products).  Our women packed over 3,000 CouldYou Cups!  Way to Go women's ministries!!  You guys are awesome.
Here are some more opportunities to enter into life with your Grace Vineyard family…
Practical Love in Action
We have another service opportunity.  Our friend Dorothy Shelton has moved to Vista and we'd like to help her out with light housework and running errands.  If you are able to help once a month for 1-2 hours, please let Kim know by texting or calling 760-519-4558, or by emailing her at
kimohst@gmail.com
.
Women's Retreat is Coming up October 21-23
We're going to Pine Valley this year.  More details will be released in the coming weeks, but we wanted to give you the pricing so you can begin to save for the retreat.  You can make payments weekly or monthly.  Just be sure to make note that the payment is for the retreat when you contribute online or in person at church.  Costs: $210 private bath lodge, $190 shared bath lodge, $165 dorm room. 
Mark your calendar for a multi-church outreach coming up in October in Oceanside.
MovementSD Saturday October 1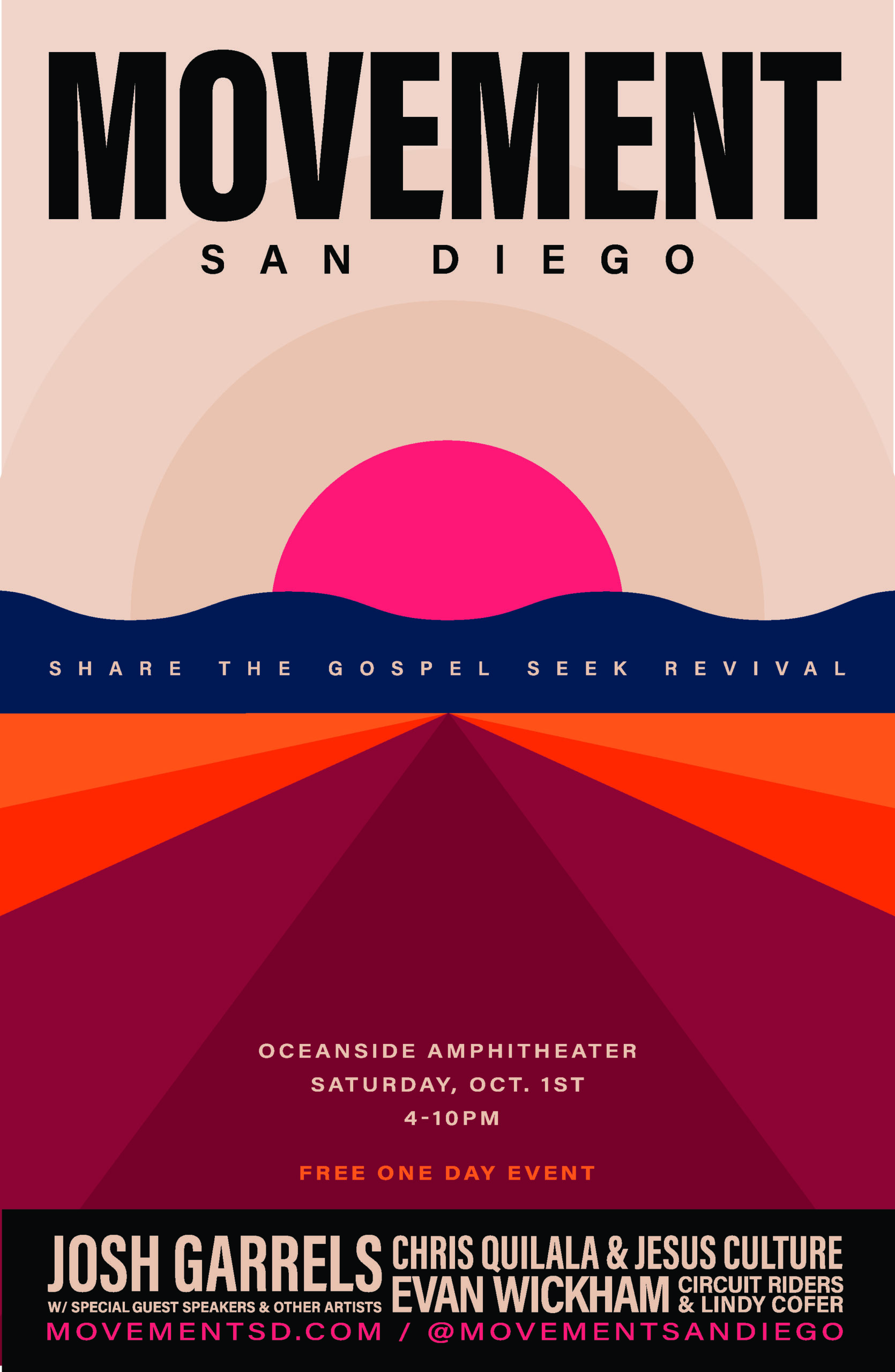 The churches of Oceanside are coming together on October 1st from 1-4PM at the Oceanside Amphitheater in an event called MovementSD.  Check it out at movementsd.com.  Featuring some amazing music and Gospel speakers, the day is designed for evangelism and worship. Mark your calendars!
Keep Steve Rogers & Honduras Vineyards in Your Prayers
Steve Rogers is in Honduras right now supporting pastors and church planters in the Vineyard movement there. Please keep Steve and the local team in your prayers as they overcome practical and spiritual obstacles in building up the church of Jesus Christ in this region.
Speaking of supporting Vineyard Church in other nations, I've just accepted an invitation that I think you'll want to know about.  The Vineyard churches of Zambia are hosting a national conference and they've invited me to be a keynote speaker at it.  Damas Kwamfa is the national director of Vineyard churches in Zambia, and he just wrote this to me:
Greetings. Just to let you know that the church here in Zambia is praying for you . Our prayer for you is that God will share with you his heart for missions here in Zambia as prepare your teaching and he that grants insight to you, anointing and power on your message. We further pray that the Lord will keep you in sound health and finally grant you safe travel to Zambia and back to your home. We believe this is a pivotal moment for us here in Zambia as we seek to join God in his mission. Thanks again for accepting our invitation.
I'm inviting you to be praying for us as well, as we prepare for this trip.  The conference is at the end of October, and Michael Aplikowsky will be joining me on this ministry trip.  Of course, while we're in Zambia we'll be stopping at Breath of Heaven Children's Village to visit the children and the staff there.  In a wonderful coming together of people and ministries, it's looking very likely that Jennifer Rowe will be coming with a team from couldyoucup.org in Uganda at the same time that we are there to do some training at Breath of Heaven, and  that the new Hope Medical clinic will become a distribution point for CouldYouCups in Lusaka, Zambia! We're praying that we can bring 1000 CouldYouCups to Breath of Heaven.
It's so exciting to me that the Lord is using Grace Vineyard to advance His Kingdom in Oceanside and around the world!  I pray this movement only continues.
That's it for this week's connection email with you.  God bless each of you richly.
With much love,
Ron Ohst
---
Tithes and Offerings Online
THANKS for taking ownership in the life and ministry of Grace Vineyard!  And thanks to all of you who are stepping into a lifestyle of generosity with your tithes and offerings.  It really does take all of us doing our part with the income God has entrusted to us for His church. If you'd like to give your tithe or offering online, click the donate button below.