August 19, 2022
Hello Grace Vineyard Family and Friends of Grace Vineyard,
It's another beautiful week in this Paradise we call San Diego.  I hope your week was awesome! For some of us, our kids are back in school (or are driving back to school if they are away at college).  God bless you as you navigate another season of change!
Around Grace Vineyard we are experiencing the blessings of being a sending church.  Last Sunday we heard stories from our team that just returned from Zambia where we were ministering both at Breath of Heaven Children's Village and with the Bridgepoint Vineyard Church in Lusaka.  I wrapped our time up with a short sermon that I called "Real God, Real People, Real Impact".  If you'd like to hear those stories, you can watch a video of last Sunday right here (complete with lots of photos from Zambia):
Eddie and Bethany Roach
This Sunday we are so excited to welcome Eddie and Bethany Roach.   The Roaches are full time missionaries in Cambodia, and are very dear to us as our first long term missionaries to be sent from our church.  Before being called to Cambodia, Eddie used to be our youth pastor, and Bethany did a ton of street ministry around Oceanside.  On top of being amazing people, they are also amazing speakers; I know you're going to love hearing them on Sunday and will be very blessed and encouraged!
Steve Rogers in Honduras
Last Sunday we also got to pray for Steve Rogers as he prepared to fly to Honduras where he is working with Vineyard churches there.  In this picture he is just returning from a new village they visited where they are hoping to plant another Vineyard church.  Steve writes,
"We just came back to La Esperanza from Aradas (the new village). We caught a ride in the back of a four-wheel-drive pick up to get to the top of one of the mountains where the church that we slept inside is. From there we hiked up and down mountains for two days visiting a total of 11 families. I probably hike 30 miles in two days (or at least it feels that way). I had the pleasure of ministering in a very very Pentecostal church in Spanish! So much fun! I believe at least 20 people from that town are going to come to our conference. Tonight we will camp outside Blanca's house (the place mark and I baptized Juan). Tonight and tomorrow we are celebrating Joselyn's 20th birthday (hey girl we ministered to the first time I came by myself) she's an orphan that lives with Blanca.

You can pray that hearts are opened, disciples are made, and that it results in the birth of a Vineyard group."
The conference he is referring to is a leadership conference that Steve was invited to teach at.  What an incredible honor and joy it is for our Grace Vineyard family to be able to participate in the Great Commission around the world.  It's one of the many things I love about our church family!
Special Sunday Evening Service
Steve Rogers normally leads our Sunday Evening service, but since he's in Honduras right now, we have a special guest leading our time in the Word this Sunday night — Dustin Nelson!  Many of you heard Dustin a few Sunday mornings ago while I was in Africa, so you know you're going to have an inspiring and joyful time as Dustin shares.  Ammee Huzil will be leading in worship. See you at 6pm!
Here's some upcoming events that the women will want to know about:
Women's Ministry "CouldYou Cup" Packing Event August 20th
We have a chance to address period poverty (lack of access to menstrual products that causes women to miss work and school).  Globally, 1 in 10 girls miss school every month because of period poverty.  Tomorrow, on Saturday, August 20th, the women's ministry will be packing CouldYou Cups at my house (4965 Calle Sobrado, Oceanside) beginning at 11am.  Pizza and salad will be provided.    Please email
kimohst@gmail.com
or text 760.519.4558 if you'd like to join the ladies.  If you're unfamiliar with the CouldYouCup solution to period poverty, check them out at
https://www.couldyoucup.org
.
Practical Love in Action
We have another service opportunity.  Our friend Dorothy Shelton has moved to Vista and we'd like to help her out with light housework and running errands.  If you are able to help once a month for 1-2 hours, please let Kim know (her contact info is in the previous paragragh).
Women's Retreat is Coming up October 21-23
We're going to Pine Valley this year.  More details will be released in the coming weeks, but we wanted to give you the pricing so you can begin to save for the retreat.  You can make payments weekly or monthly.  Just be sure to make note that the payment is for the retreat when you contribute online or in person at church.  Costs: $210 private bath lodge, $190 shared bath lodge, $165 dorm room. 
And for everybody, mark your calendar for a multi-church outreach coming up in October in Oceanside.
MovementSD Saturday October 1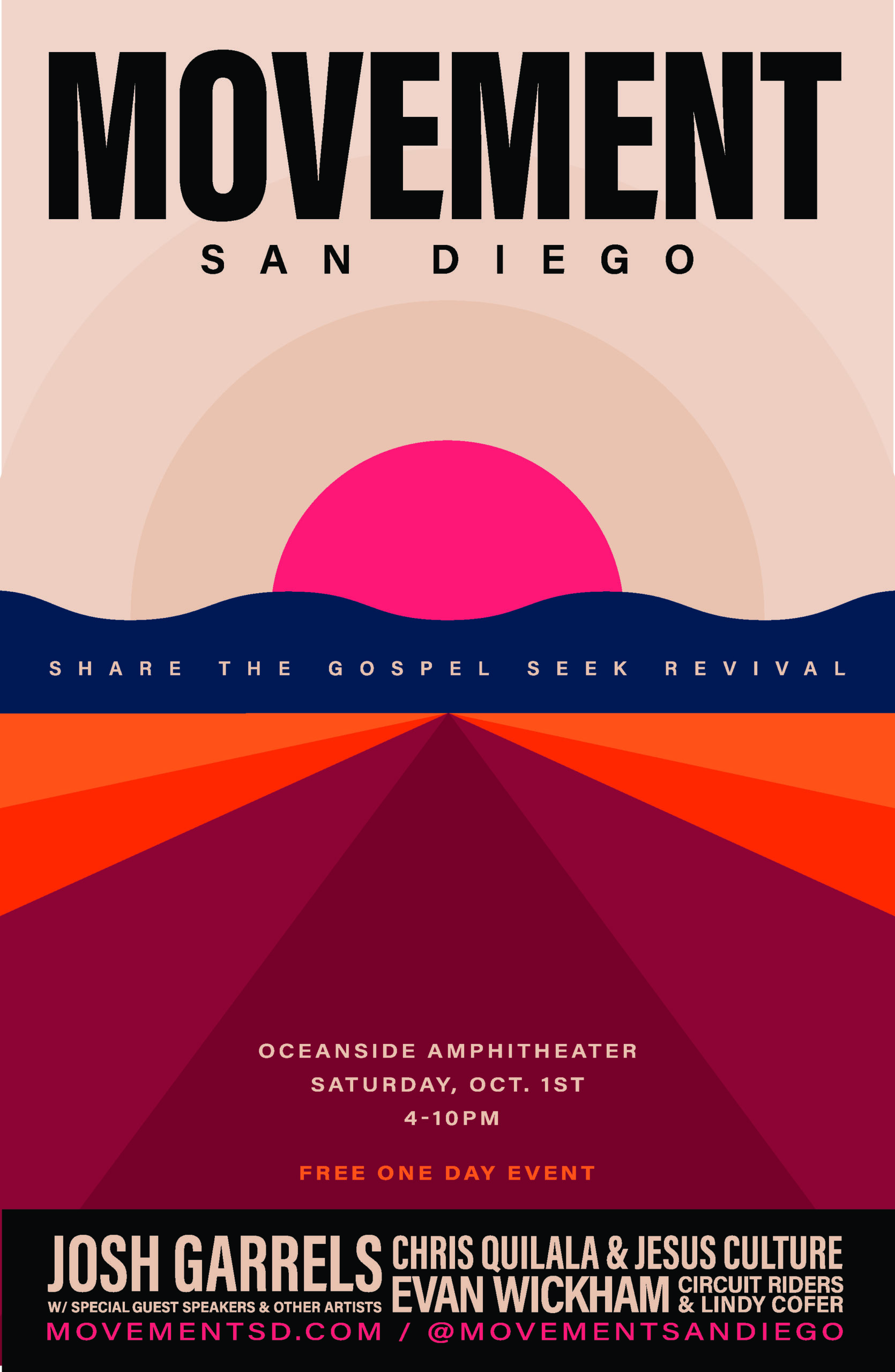 The churches of Oceanside are coming together on October 1st from 1-4PM at the Oceanside Amphitheater in an event called MovementSD.  Check it out at movementsd.com.  Featuring some amazing music and Gospel speakers, the day is designed for evangelism and worship. Mark your calendars!
God bless your weekend richly!
With love,
Ron Ohst
---
Tithes and Offerings Online
THANKS for taking ownership in the life and ministry of Grace Vineyard!  And thanks to all of you who are stepping into a lifestyle of generosity with your tithes and offerings.  It really does take all of us doing our part with the income God has entrusted to us for His church. If you'd like to give your tithe or offering online, click the donate button below.