April 7, 2023
Hello Grace Vineyard and Friends of Grace Vineyard,
Happy Easter Weekend to you each.
As I am writing, we are almost at the end of Good Friday.  A young man I met in Ndola, Zambia wrote this poem for Holy Week that I thought was beautiful.  I thought I'd share it with you (His name is Lusekelo Kwamfa, and he's the son of the national director of the Vineyard in Zambia):
A NEW COVENANT

Poems of the Holy Week

Blessed evening; a holy night.

There sat Jesus and His faithful disciples; Oh what dread awaited their master! Oh how horrid would be the day following. A day full of scorn, brutality, shame and death.

The Master, knowing all things, broke bread and said, "This is my body, broken for you." He then lifted the blessed cup of wine and said, "This is the blood of the new covenant, poured out for many."

A new covenant, a new agreement, a new era.

A covenant promised of old; an oath proclaimed in Holy Scripture.

A covenant unlike the old; a covenant far better and more extraordinary than any would have thought.

A covenant open to all, not just the Jews; a covenant not based on the faithfulness of sinful humans but the faithfulness of God.

A covenant initiated by God, not man; a covenant in which God shall dwell in the hearts of men, removing their stony heart; a covenant where God's people can know Him personally; a covenant where the faithful God promises never to abandon His people.

The inauguration of this covenant came at a cost; its initiation required a sacrifice.

Not the sacrifice of bulls or goats but the sacrifice of the Lamb of God, God's beloved son.

He gave up His life out of His own volition; He laid it down for His people; a faithless people; straying sheep; stubborn souls, hell bent on destruction.

This covenant is offered to all who believe in the Lamb of God, all who submit to Him as King.

Rejoice all you His saints! Sing to the Lord you His people.

His covenant is an everlasting covenant; though we be unfaithful to our King, He will be forever faithful. Though we break His law, He shall never leave us nor forsake us. Though He shall discipline us, He shall surely not cast us away.

The Lord gave up His life to have us as His own, to be part of His new covenant; a covenant initiated by His blood; a covenant based on His grace, not our righteousness.
I think that captures the heart of the weekend well.
Sunday morning is Easter Sunday!  We celebrate the most important day of history, the day Jesus Christ was raised from the dead.  He conquered death and the grave.  The incredible promise is that His resurrection life becomes the basis for all of us who have put our faith in Him.  On Sunday morning I am planning on bringing a talk on the theme, "The Cross and The Empty Tomb: How they impact our lives today".  I hope you'll each try to invite a guest to join us – Easter is perhaps the best day to invite a guest to come to church with us.
Jesus Walk Next Saturday
Next Saturday, April 15th, beginning at 10am, a group of us will be meeting at the Oceanside Transit Parking Structure for a "Jesus Walk".  We will be walking, worshiping, praying, fellowshipping and anything else Holy Spirit leads us to do.  Ultimately we are praying for some "Holy Hello's" with people we meet along the way.  Please join us for a great adventure!
Ladies Tea Saturday, April 22nd
Ladies, you are invited to join us for a lovely afternoon tea on Saturday, April 22nd, beginning at 1pm.  Our theme for the tea is "Relationships that Refresh the Soul".  Margy Hill will be our speaker.  Tickets are $10 and you can sign up at the table in the lobby to bring food or host a table.  For more information, please call Kim Ohst 760.519.4558.
Breath of Heaven Golf Tournament Fundraiser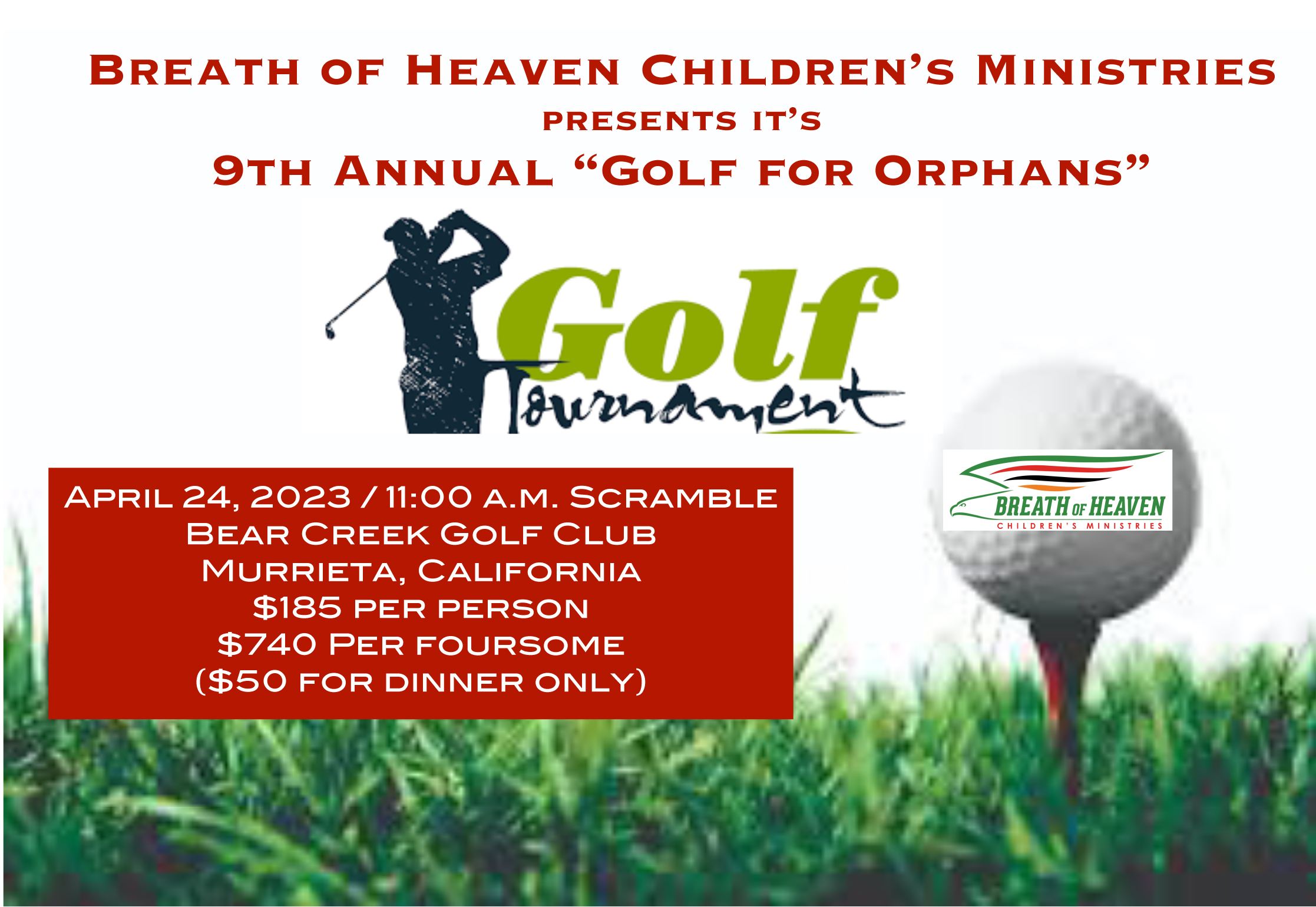 I  want to make sure you know about our annual Breath of Heaven Golf Tournament on April 24 to raise funds for our orphan care village in Zambia, Africa. If you don't golf, keep reading, cuz I also don't golf either, but there's a way for us non-golfers to also get involved – we just go to the banquet after the tournament.  To sign up for the golf tournament email Tom LaManna at tomlamanna50@gmail.com or go to the Breath of Heaven website www.bofheaven.com.  Dinner will be served immediately following the tournament.
The vision of Breath of Heaven is to have a children's village for orphaned children consisting of 14 homes, an elementary school, high school and vocational college, a church and a medical clinic. Thanks to sponsors, donors, and fundraising events such as this year's golf tournament, we have achieved many of these goals. Here is where we stand and our needs in each of these areas:
• Eight homes currently house 96 orphaned children. Over 30 children still need sponsorship.
• Two "transition homes" are preparing older children for reintegration into the community, career development and/or the pursuit of higher education.
• Hope clinic is open and providing medical attention to those on the Breath of Heaven properties, as well as the local community. We still have need for medical equipment. Our most immediate need is a blood analyzer so that samples do not have to be sent to an outside source for analysis.
• The Breath of Heaven Technical Secondary School opened in January and the Vocational Training College will open in June. Donations are needed to finish furnishing the facilities and to put the landscaping in place.
Breath of Heaven Children's Ministries is a non-profit corporation that is giving orphaned and vulnerable children in Zambia "hope and a future". Please join us for golf. If not, please consider supporting us in any manner you can. Help us serve the needs of the most vulnerable children in Zambia.
Have a wonderful Saturday.  I look forward to seeing you all on Resurrection Sunday at 9:29 AM!
With blessing and love,
Ron Ohst
---
Tithes and Offerings Online
THANKS for taking ownership in the life and ministry of Grace Vineyard!  And thanks to all of you who are stepping into a lifestyle of generosity with your tithes and offerings.  It really does take all of us doing our part with the income God has entrusted to us for His church. If you'd like to give your tithe or offering online, click the donate button below.